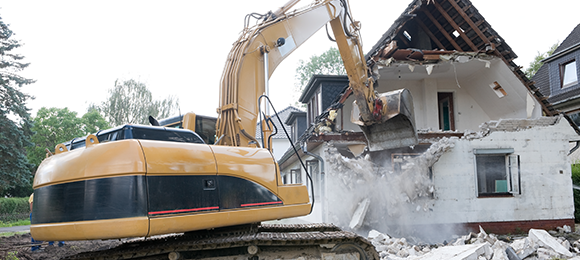 Updated July 7, 2022
If you need demolition work done but don't know where to start, you've come to the right place!
Demolition doesn't have to be complicated, and Hometown specializes in making demolition simple.
Our team of experts can answer the most common questions people have...
---
---
Where can I learn more about the demolition process?
Right here!
Check out Demolition 101 or any of our other demolition guides, tips, and more...
House Demolition
Do you have a fire-damaged structure that needs to be demolished?
Mobile Home Demolition
Pool Removal
Barn Demolition
Interior Demolition and Remodels
Tank Removal
Concrete Removal
---
How much does demolition cost?
As you might guess, demolition costs can vary depending on a number of factors, like:
the type of demolition (interior demolition, commercial demolition, etc.)
the extent of the demolition work
whether or not hazardous materials are present
who you hire to do the work
Learn more about average costs...
---
Can I perform demolition work myself?
While it's certainly possible to do demolition work yourself, it isn't always advised.
There are a million things that can go wrong during demolition, so the DIY route should only be taken if you have experience doing the work and are confident in your abilities.
Learn more about DIY demolition:
---
How do I find the best demolition contractor?
Hometown makes it beyond easy to find the ideal contractor for you and your project, whether you're demolishing an entire house or ripping out a concrete driveway.
Start by going to HometownDemolitionContractors.com, then enter the name of what you need to be removed (e.g. house, shed, pool, etc.).
We'll ask you a couple follow-up questions to determine which contractors fit your needs. Then, we'll show you all the contractors in your area that offer that service.
From there, you can read company profiles and see what other customers have to say about their experience working with that contractor.
You can request quotes from as many contractors as you'd like, making it easy for you to compare contractors and save.
---
---
Keep reading about finding the right contractor: