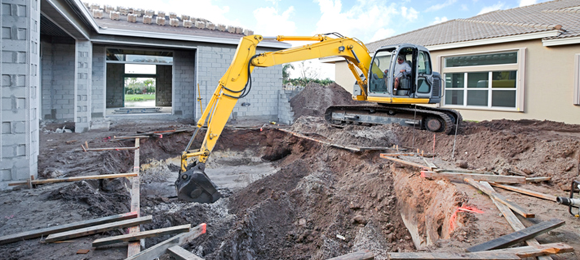 Updated April 28, 2023
Inground pool removal typically involves draining the pool, drilling holes in the bottom, demolishing the top, and filling the pool with the rubble and additional dirt soil. However, above ground pool removal is less complicated, involving just draining the pool, tearing it down, and hauling it away. On average, it costs roughly $6,500 to demolish an inground pool and $2,200 to remove an above ground pool.
In this guide, we'll break down the pros and cons of pool removal, average costs and cost factors, how to hire the right contractor, and more.
Table of Contents:
---
---
Pros & Cons of Removing a Pool
Benefits of Pool Removal
You save time and money on swimming pool maintenance.
If you sell your house, it may increase the number of potential buyers and make your home easier to sell.
You no longer have the additional hazards and liabilities that come with pool ownership.
You have more yard space for other activities or landscaping opportunities.
If you have young children, removing your pool eliminates the potential safety hazards associated with pool ownership.
Cons of Removing a Pool
You no longer have a pool to swim in.
If you love using your pool and plan to live in the same home for the foreseeable future, then keeping it is worth the cost of upkeep. But if you're an infrequent swimmer, the benefits of pool removal far outnumber the drawbacks.
Keep reading:
Inground Pool Removal Methods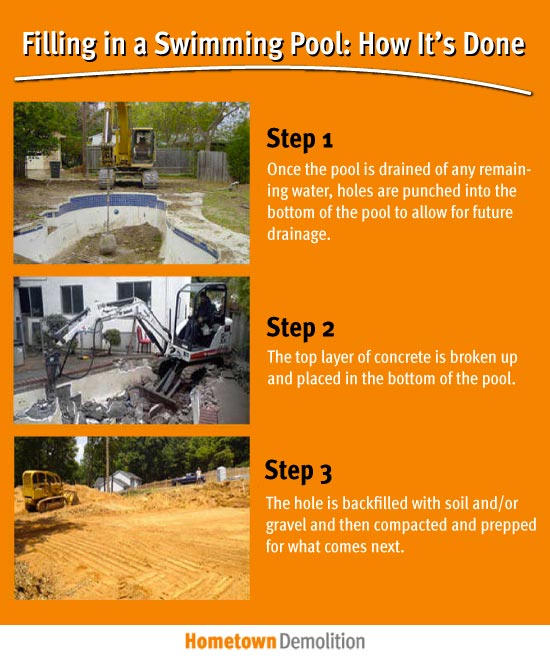 Method 1: Filling in a Pool (Partial Removal)
How It's Done
Filling in a pool involves draining the pool, punching holes in the bottom, demolishing the top layer of the pool (18' - 36'), placing the rubble in the bottom, filling in the pool with additional dirt and topsoil, and compacting the soil.
Partly removing and filling in a pool is the most common form of pool demolition and is generally the least expensive option.​
Pros of Pool Fill In
The most affordable option of inground pool removal
Fastest to complete - typically 2-3 days
Cons of Pool Fill In
This will be something you have to disclose to future buyers of the property, and it could affect the value of your home.
If this method isn't performed properly, there is an increased risk of sinkage, swelling, or lack of proper seepage. (Have the backfill performed by an engineering technician greatly decreases the chances of this.)
A majority of cities consider the area of the former pool to be non-buildable, meaning no additions or dwellings can exist there. However, the area is still suitable for sheds, concrete, landscaping, trees, etc.
Unless your city requires it, the partial fill-in can be done without the oversight of an engineering technician. However, if you're not confident in your contractor's experience and ability to do the job correctly, having the backfill supervised by an engineering technician can offer added protection and peace of mind.
Learn more:
Method 2: Complete Pool Removal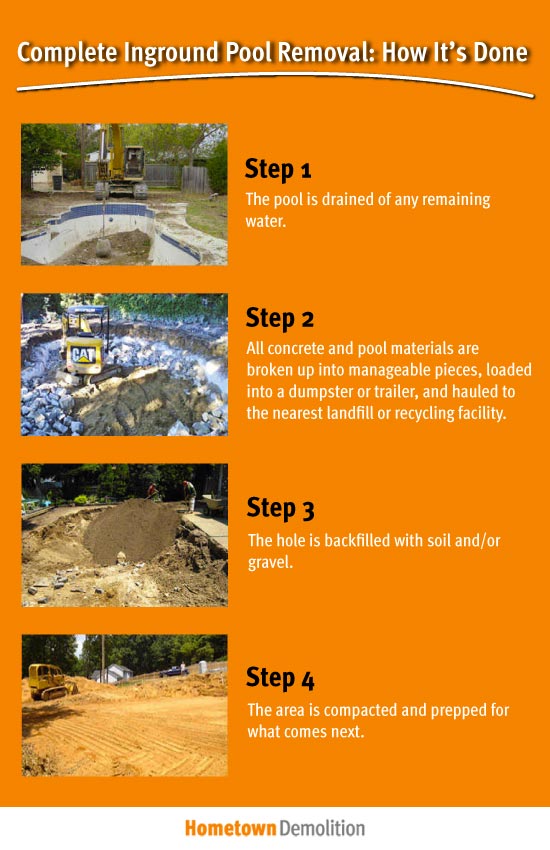 How It's Done
The pool is drained, and all materials, like concrete/gunite, fiberglass, liner, re-bar, etc., are removed and hauled away.
The area is then filled with soil and/or gravel and compacted (without the supervision of an engineer).
Pros of Complete Pool Removal
Although you will have to disclose that you fully removed a pool that was once on the property, it should have little to no impact on your home's value.
With no concrete buried in the old pool, the risk of sinkage and seepage is greatly reduced, even eliminated.
Cons of Complete Pool Removal
A majority of cities consider the area of the former pool to be non-buildable, meaning no additions or dwellings can exist there. However, the area is still suitable for sheds, concrete, landscaping, trees, etc.
This option is more expensive than partial removal.
In some areas, you will need to have an engineer supervise the filling and compacting process. They will also perform density testing and submit a final engineer review declaring the area "buildable."
---
---
Above Ground Pool Removal Methods
There are multiple types of above ground pools, but the removal process is basically the same for each one (and much easier to perform than an inground pool removal). Generally speaking, hiring a reputable contractor to handle your above ground pool removal is the easiest and best solution.
How Above Ground Pool Removal Works
Step 1: Pool Is Drained
The easiest way to do this is with a pump, and there is typically a sewer point within 100 feet of the pool.
Step 2: Pool Is Torn Down
Depending on the type of pool you have, this process will vary a bit, but it typically involves unscrewing bolts, taking a sledgehammer to the walls, and ripping them apart.
Step 3: Pool Is Hauled Away
Rent a dumpster or hire a junk removal company to get rid of the resulting debris, but be sure to recycle whenever possible. This will save on costs and help keep debris out of the landfill.
Step 4: Repair the Pool Site
Once the pool is gone, there's going to be a patch of dead grass in its place (or in some cases, a layer of sand or stone). If a new pool is replacing the old one, this won't matter. But if you want to have grass in its place, your contractor might be able to assist in repairing the grass for a fair price. Be sure to ask!
---
---
Cost to Fill in a Pool
The average cost to remove an inground pool ranges from $3,500-$15,000 for a medium size pool with relatively easy access. Costs can rise to well over $10,000 for a large pool with a large deck and difficult pool access.
The cost to remove an above ground pool varies considerably—just like inground pool removal—ranging from $1,000-$3,000 on average. However, above ground pool removal can cost as little as a few hundred dollars or as much as $5,000 in some cases.
Pool removal cost depends on several factors, like...
Type of pool (above ground or inground)
Size of the pool
Accessibility of the pool area
Method of pool removal
The contractor you choose
Pool Removal Permits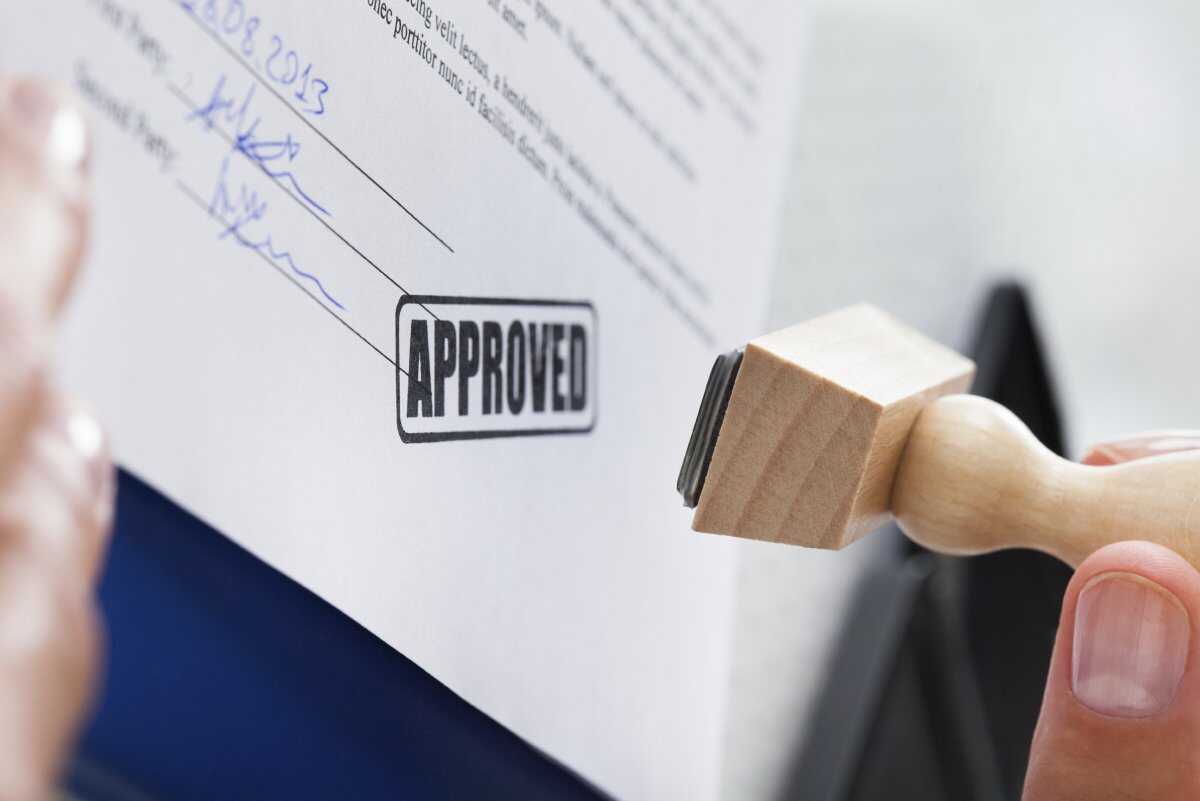 In most cases, you need a permit to fill in a pool, but that will depend on your local government. The cost of a permit can be anywhere from free to several hundred dollars depending on your local municipality.
Many local governments have rules regarding how a pool must be removed. Some may have zoning ordinances or codes stating that a pool must be completely removed, not just filled in. If partial pool demolition and removal is allowed, there may be specific protocols on how the pool must be filled in.
If a contractor isn't willing to pull necessary permits, this is a red flag. Be sure to educate yourself on the other red flags to look for when searching for the right contractor.
---
---
Pool Demolition Contractors
Pool removals can be costly, especially inground pool removals, so it's best to get multiple estimates and various opinions on the best way to go about the pool demolition project. We recommend getting quotes from at least three qualified pool removal contractors in your area.
Your pool removal estimate should be in writing and include all pertinent details, like:
Dates for project start and completion
Payment schedule (pay for work as it's completed)
Who is responsible for obtaining and paying for any necessary pool removal permits
The equipment that will be used to remove the pool
What will be done to protect your property from damage
How to contact the contractor with any questions, change orders, etc.
Hiring an experienced pool removal contractor to handle the job is important for a number of reasons, but more than anything, it's for your protection. Depending on the heavy equipment used to demolish your pool, damage can be done to landscaping, driveways, septic tanks, sewer connections, etc. A qualified pool removal contractor will carefully consider how to gain access to the pool, and what size/type of equipment is best for your particular swimming pool and yard.
Similarly, when it comes to inground pool removal, backfilling the area improperly can lead to costly problems down the road. So no matter what removal method you choose, you should always hire someone who is licensed and insured to do the work.
Learn more:
---