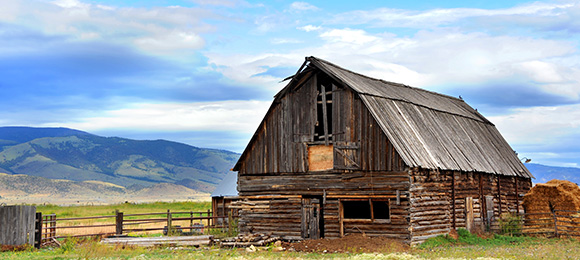 Updated July 15, 2022
If you have a barn on your property that you're looking to tear down, this is an excellent starting point.
Learn all about the various methods of barn removal, how much each method typically costs, how to find the best person for the job, and more.
Jump to:
---
---
Barn Overview
The most widespread barn type in America is the English barn, also known as a three-bay barn.
English barns are built with timber post-and-beam framing and have three bays or sections.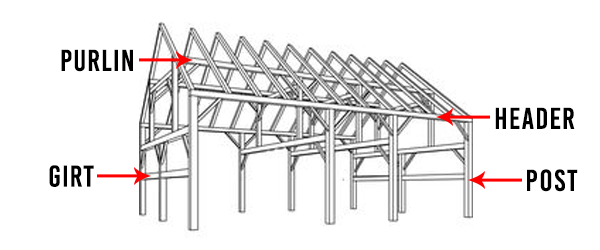 ---
Barn Demolition vs Barn Deconstruction
Many people don't realize that demolition isn't the only option when it comes to getting rid of an unwanted barn.
Demolition is most definitely the most common option, but deconstruction is a close second.
Deconstruction is like reverse construction. Rather than bulldozing the whole barn down, it is carefully dismantled piece by piece with the intention of salvaging as much wood as possible.
Because deconstruction is done by hand rather than heavy equipment, the process is more labor-intensive than demolition.
This means that deconstruction takes longer and tends to be costlier than demolition.
However, that extra time and money can pay off.
If you intend to sell the salvaged barn wood, the money made could offset the cost of deconstruction.
So, under the right circumstances, you could essentially have your barn removed for little to no cost, while keeping material out of our landfills and wreaking havoc on our environment.
Barn Demolition Process
Demolishing a barn is extremely straightforward.
The barn is torn down using heavy equipment, like an excavator or bulldozer, until there's nothing left standing.
From there, the debris is loaded into a dumpster and hauled off the property.
Barn Deconstruction Process
Take things off the walls and remove everything from the interior of the barn.
Dismantle the exterior of the barn, such as paneling and windows.
Carefully tear away the roof of the barn.
Remove rafters and support beams.
Finish removing remaining posts.
Clean up around the perimeter of the barn, leaving no scraps behind.
Read more: Deconstruction vs Demolition: When to Deconstruct a Building
---
---
Barn Removal Cost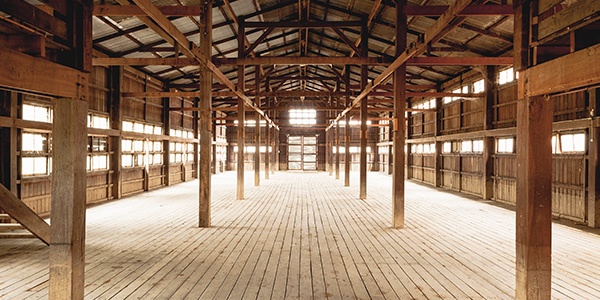 Based on national averages, it typically costs between $5,000 and $6,000 to demolish a 30 ft. x 40 ft. post-and-beam barn.
This average cost includes mechanical demolition and debris disposal.
The average cost to deconstruct a barn can double that (or more), but keep in mind that re-coup costs from that salvageable wood could offset these price hikes.
However, the cost to tear down a barn depends on a number of factors:
Method of removal—demolition or deconstruction
Size of the barn
Materials used to build the barn
Accessibility of the barn
Amount of debris—non-salvageable and salvageable
Where your barn is located
Who you hire to do the work
Keep reading: It Pays to Have Your Barn Demolished
Keep in mind that salvageable wood isn't always apparent until the barn is dismantled, as rotted wood is often hidden. The more salvageable wood pulled from the barn, the more money you are likely to save on the work.
---
Barn Demolition Debris Disposal
Not all contractors that demolish or deconstruct barns offer to clean up the debris when they're done.
Once a barn is demolished, there will be a giant pile of rubble that will need to be hauled to the nearest landfill.
Even if a barn is deconstructed, it's likely that not all the barn will be salvageable, so there will still be debris that needs to be disposed of properly.
Make sure you discuss who will be responsible for hauling the debris off your property with your contractor. Debris disposal can add up fast, so you'll want to have a clear understanding of what is included in the contractor's quote.
Learn more: A DIY Guide to Construction Debris Removal
---
Qualified Barn Demolition Contractors
Due to the relative simplicity of barn demolition and deconstruction, it's oftentimes looked at as a DIY project.
But just because someone can do the work, doesn't necessarily mean they should do it.
Reputable barn demolition and deconstruction contractors should have general liability insurance and verifiable references from other customers who have received these services.
Hometown Demolition Contractors makes the process of finding a qualified barn demolition contractor beyond easy.
You can read company profiles and verified customer reviews, as well as request quotes from as many contractors as you'd like.
---
---
Get the best price by comparing a minimum of 2-3 contractors.
Confirm who will clean up the debris, whether or not they will collect the necessary permits to do the work, and what's included in the price.
Getting quotes from multiple contractors will help ensure you get the absolute best deal for the work.