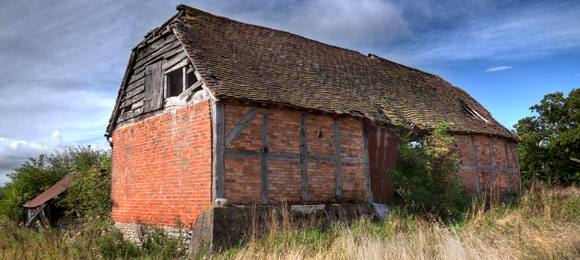 Updated March 9, 2023
Old barn wood is highly desirable in the construction, flooring, and furniture-making industries.
If you have an old barn on your property, you're literally sitting on a goldmine.
However, this isn't always the case, so a little investigating on your part can determine whether or not you're in the money!
---
Deconstruction doesn't offset 100% of demolition costs, and not all contractors do it.
These are two important points to bear in mind when first considering how to go about demolishing your barn.
Contacting multiple demolition companies can ensure you find one that suits your needs, whether it be a straight demolition or a barn dismantling project aimed at reclaiming old barn wood.
Here are some contractors who offer barn salvaging services in the U.S.:​​
Manually dismantling the barn helps recoup some of the initial costs associated with demolishing the barn, but most times will not pay for the entire project.
Additionally, you're responsible for finding a wood buyer in most cases.
Your legwork can pay off in the long run, however, in the form of lower insurance costs and increased property values.
Also important to keep in mind is that not all demolition contractors offer barn deconstruction services and/or sell reclaimed wood on your behalf. In fact, most don't. You may need to call several demolition companies to find one that offers barn dismantling services.
Most demolition contractors that do offer barn deconstruction services are not involved in the secondary sale of the reclaimed wood. In most cases, you'll have to find a way to sell the salvaged wood yourself using any of the tips listed below.
Learn more about hiring the right contractor:
What are old-growth barn timbers used for?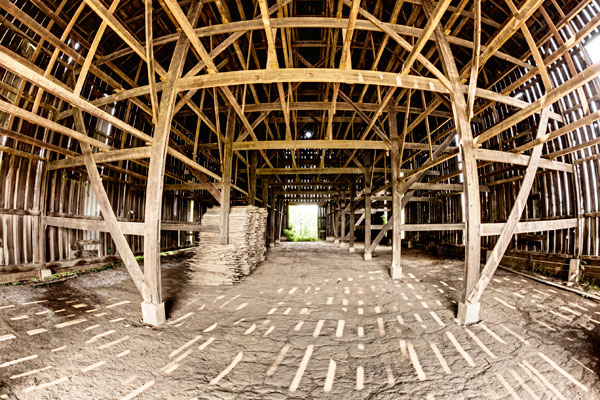 The value in old barns lies in the old-growth wood holding it up. Barns built 100+ years ago often contain valuable old-growth timbers, particularly wood beams, columns, and siding. Most of the "good" timber is the interior stuff that hasn't been exposed to the elements.
Old-growth wood can be salvaged and used in constructing new barns and many other applications, including:
Building one-of-a-kind furniture and tables
Flooring planks
Focal pieces in homes (e.g., mantels)
Building and creating art/sculpture
What is the value of old-growth barn timbers?
There's no definitive answer to this question. The most accurate answer is: whatever a buyer is willing to pay.
However, you can easily expect to get at least 5 times more for old-growth wood than you would for new wood of the same size.
Keep an eye out for:
Chestnut, walnut, hickory, and old-growth pine — These species of wood are the most valuable and most desirable woods, and therefore, fetch more money.
Ax-cut wood and hand-hewn timbers — These are also valuable. You can check your barn wood for signs of ax marks at either end of the timber. Check the entire length of the timbers for signs that is has been manufactured by hand.
Damage, wood rot, excessive nail holes, and insects — These things will lower the value of wood, and some damaged wood is worthless.
Sample price: As you'll see from the video below, an oak beam in good condition can fetch about $5 per board foot, or about $1,000 for a 22-foot timber. This is just one example of pricing, and it can vary significantly based on the condition of the wood, demand, species of wood, quantity, and your location.
How much does it cost to demolish a barn?
It depends on the type of demolition. A total demolition using heavy machinery, such as excavators, is quick and relatively inexpensive.
On the other hand, manually deconstructing the barn to salvage the old barn wood costs much more due to the increased labor and man hours required.
Luckily, the cost of barn deconstruction has dropped in recent years due to the fact there are so many demolition companies out there doing it. There are even companies exclusively doing barn deconstruction projects and nothing else.
Based on figures gathered by Hometown from real barn demolition projects across the nation, the average national cost of demolishing a barn is about $8,000, with most final project costs varying from $1,500-$10,000.
Deconstruction can be double that amount in some cases, but selling the salvaged barn wood can recoup much of these costs.
The cost of your barn removal can vary depending upon your location, size of the project, deconstruction vs. straight demolition, accessibility to the site, and other factors.
Contact a local demolition contractor for a free estimate to get an accurate idea of barn demolition costs.
Read more:
Barn removal – Does it make financial sense?
If the barn is non-operational and serving no purpose on your property, removing it makes perfect financial sense. Here are three reasons why:
Insurance and liability reasons. Old, dilapidated barns are a liability on your property, so you pay higher insurance premiums because of this.
Eyesore = lower property value. An ugly barn drives down the value of a property because of poor curb appeal.
Value of barn wood + value of new space on your property. Selling salvaged barn wood can put money in your pockets. You'll also get a large section of your property back to do whatever you'd like (e.g., plant a garden, install a swimming pool or build a garage/workshop).
Get ideas for your new space: Demo's Done...Now What?: The Benefits of an Outdoor Living Space & Ideas to Fill It
Is there ever a situation where you shouldn't demolish an old, nonfunctioning barn?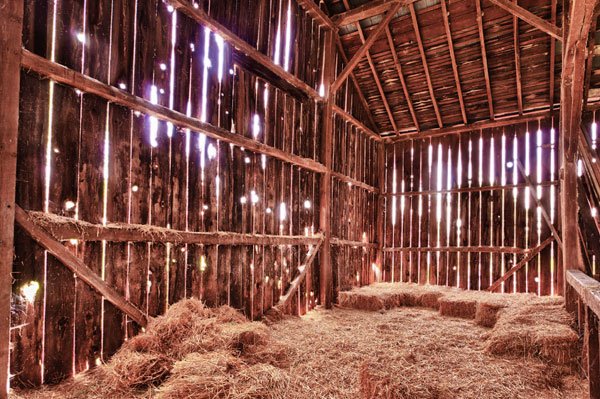 If the barn holds historical significance—like if it was somehow involved in a historical event—demolition isn't the best approach. Preservation may be in order in this case. Demolishing the barn not only destroys a piece of history, but it could be illegal in some cities and states.
Visit your state and local websites, and your local library, and do a little digging to see how historically significant barns are handled. Find out the rules and regulations regarding demolition of old barns, processes, permits, preservation options and other information.
Learn more about this topic by referring to The Preservation of Historic Barns published by the Technical Preservation Services division of the National Park Service website (www.nps.gov/tps).
---