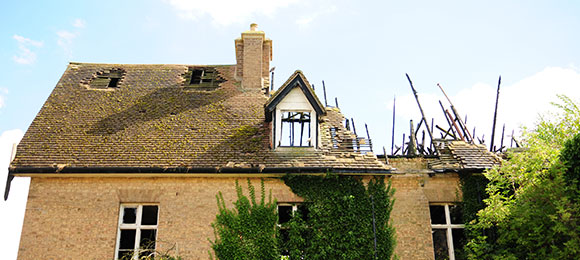 Updated August 1, 2023
Tragedy has struck—your property has been badly fire-damaged. Now what? Filing a fire insurance claim is the next step.
But before doing so, it's important to make sure you know the ins and outs of the fire insurance claims process.
Follow these steps when filing a fire damage claim to make the process as easy as possible and ensure you are getting what you deserve from your insurance coverage.
Steps to Follow:
Protect your property to minimize damage. If your home experienced only a partial loss, be proactive to mitigate further damage. Cover any holes in the walls, tarp the roof to protect the interior from the elements, and if needed, board up to prevent animals, trespassers, and looters.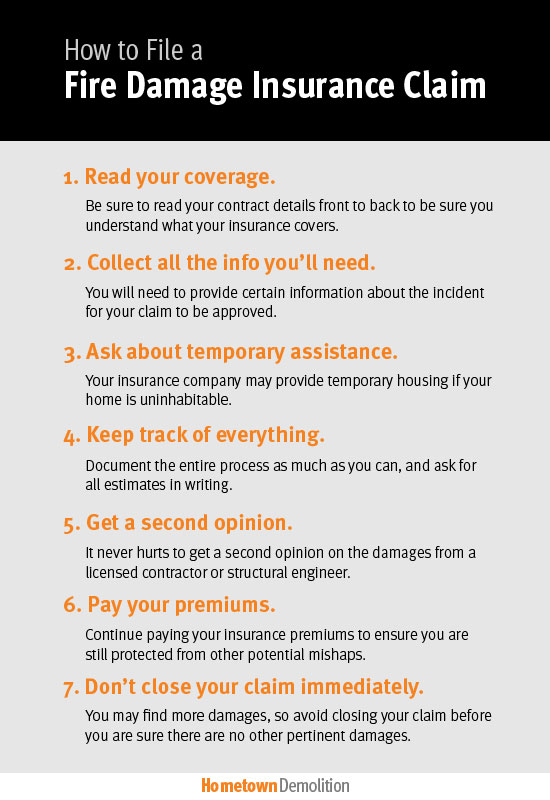 1. Read your coverage (and everything else) top to bottom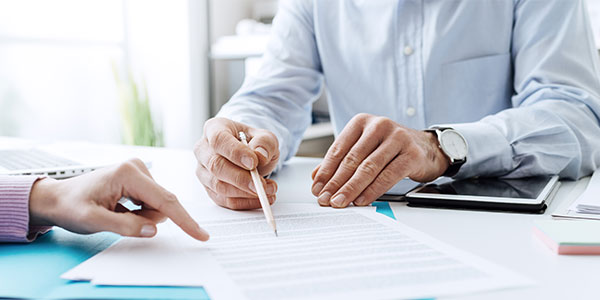 It isn't uncommon for people to feel as if their insurance company doesn't truly have their best interest, and they aren't wrong to be wary.
You may have heard horror stories of insurance companies somewhere outrageously denying a claim.
To avoid a situation like this, know and understand your coverage.
Remember way back when you signed an agreement with your insurance company?
When you did so, you agreed to many things, including a deductible—the amount to be deducted from the total amount claimed.
For example, if your fire damage totals $8,000 and your deductible is $500, you will have to pay $500, while the insurance company pays for the other $7,500.
Your contract details more than just a deductible, however—like the types of disasters covered, and more—so be sure to read it front to back.
If you can't find it, contact your insurance company and request that they send you a new copy of your coverage.
Before you sign anything (e.g. the insurance company adjuster's claim), read it thoroughly—even the fine print—and ask questions if you're unsure of certain verbiage.
2. Gather all the information you'll need
Depending on your insurance company's requirements, you will need to provide certain information in order for your claim to be approved.
Common information necessary to file an insurance claim:
Date of fire damage
Type of claim (fire damage)
Location of fire damage
Detailed list of all damages
Property's condition
All repair/replacement estimates
In-depth list of injuries incurred
Copy of police report
---
---
3. Ask about immediate, temporary assistance
Insurance companies offer various forms of assistance in the event of extensive fire damage.
If your home incurs so much fire damage you can't live in it, your insurance company may provide temporary housing in the meantime.
Similarly, if you were unable to save any of your basic essentials, like clothes and toiletries, ask for an advance.
This advance will be deducted from the total amount of your claim.
This is typically listed in your insurance coverage contract, but it doesn't hurt to ask, even if you don't see it explicitly written in the contract.
4. Keep track of everything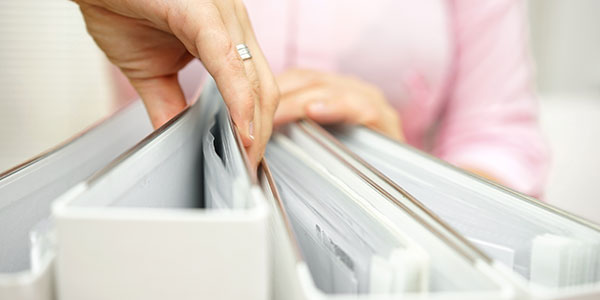 You'll want to document the entire process as much as you can from start to finish.
Take pictures of the damage, and ask for any and all estimates of the destruction—as well as the cost to repair or replace it—in writing.
The more proof you have of the damage, the better. Document everything.
Keep all documents relating to the incident, no matter how insignificant they may seem.
Do not get rid of anything until the insurance company has sent a representative to assess the damage.
In addition, take pictures and/or videos to document everything that was damaged or lost.
Avoid throwing anything away, and make a list of all the damaged or lost items, too.
If your adjuster can physically see the items, it makes the claims process much smoother.
Be sure to keep detailed notes of your living expenses, any communications with your insurance company, and all other pertinent documents. Email, as opposed to phone, is a great way to keep record of communications.
5. Get a second opinion on the extent of the damage
They will be able to determine the integrity of the structure and provide an honest estimate of the total cost of repairs.
6. Continue paying your insurance premiums
Once you've filed your fire insurance claim, don't make the mistake of ignoring your insurance premiums.
Homeowner's insurance includes liability protection, which covers damages caused by pets in distress, and can even cover the new address where you're staying.
If you're unable to continue living in your home, give your insurance agent the address of where you're staying, and have it added to your liability coverage.
7. Hold off on closing your claim
It isn't uncommon for insurance companies to rush fire insurance claims.
This is because the longer your claim is open, the more likely it is that you will find more damages, and the more money the insurance company will have to provide.
Experiencing a fire and filing an insurance claim can be very stressful and hectic, so it's best to wait at least a couple months before giving your insurance company consent to close your claim.
Keep an eye out for sneaky language on checks, like, "accepting this payment will close your claim."
You don't have to accept this. Instead, cross out the language stating your claim will be closed, sign or initial next to it, and send them a letter thanking them for the payment but informing them you do not deem your claim closed at this time.
---
---
Keep reading: