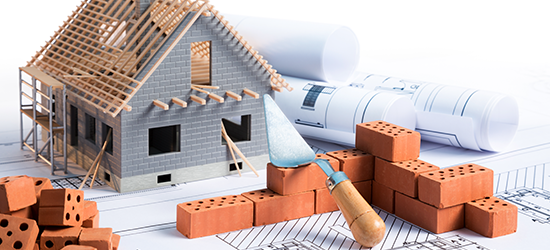 Updated June 13, 2023
Before starting any demolition or renovation project, it is imperative that you are aware of potentially harmful materials on your project site, amongst other preliminary steps. This guide will walk you through the steps involved in planning your project and identifying common harmful materials.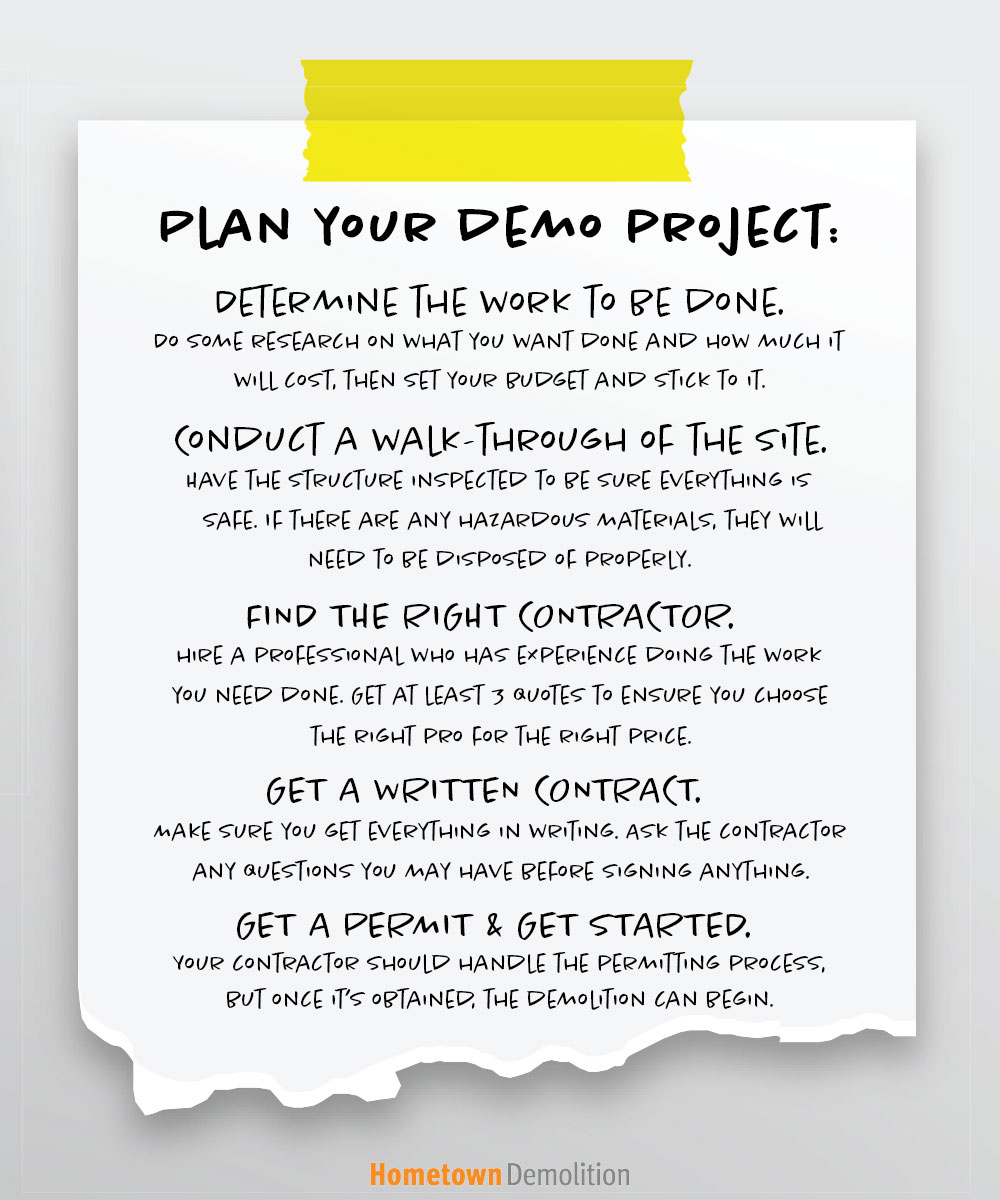 Determine the work to be done.
Determine the maximum amount you are willing to spend and don't go over that budget. The various costs that factor into a house demolition or remodel can be much different than you think, so start a running list of the work you need (or want) done. Then, do a little research to determine average costs to do the work, and add it up to get a decent idea of what it would cost.
The first and most important aspect of the planning process, whether it's a demolition or renovation project, is making sure you have the funds to complete the project as a whole.
Estimating the cost of labor can be tricky, but it's generally safe to plan for labor accounting for 15 - 30% of the total budget. Your budget should also include a 10 - 20% contingency depending on how big or complex your project is.
Learn more about planning your project:
---
---
Conduct a walk-through of the project site.
The walkthrough should include inspecting the structure and surrounding grounds. Be sure it's thorough in identifying items that could contain harmful materials (e.g., asbestos) or other site-related concerns, such as structural defects.
A thorough walk-through should be conducted by an experienced home inspector or contractor.
Before you begin any demolition or renovation project, have the project site thoroughly inspected for the following items, as they may contain hazardous materials:
Appliances
Building materials and fixtures
Caulking
Ceilings
Electrical systems
HVAC systems
Insulation in ceilings and walls
Plumbing
Lighting fixtures/ballasts and bulbs/lamps
Meters and switches
Oil
Paint
Abandoned wells
Batteries
Computers and other electronics
Exit signs
Your state's Department of Natural Resources (DNR) and Department of Health Services (DHS) likely require specific hazardous material identification and testing methods be followed, so be sure to hire an experienced inspector or a contractor that specializes in hazardous material identification and removal if you think it's possible hazardous materials are present.
Hiring a licensed inspector experienced in identifying, collecting samples, and removing hazardous materials will minimize risks as much as possible. Due to the dangers of these materials, the risks are quite numerous, so hiring a pro is a smart choice.


Identify harmful materials.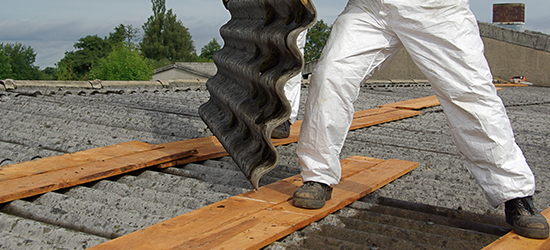 Identifying hazardous materials before starting work on a project site protects you, those working on your project, and nearby neighbors from potentially damaging materials, as well as your project's overall viability.
5 most common hazardous materials found:
Lead
CFCs (chlorofluorocarbons) and halons
Mercury
PCBs (polychlorinated biphenyls)
Be aware of the various health risks.
Asbestos is one of the most widely known human carcinogens and can cause serious health problems when disrupted and inhaled. In older homes, asbestos is commonly found in ceilings, interior/exterior walls, HVAC systems, electrical systems, roofing materials, plumbing, and flooring insulation. It is also found in some appliances with a heating element, blackboards, fire resistant materials, and more.
Lead dust can also pose serious health hazards, like heart/cardiovascular disease, kidney disease, infertility, neuropathy, stroke, memory problems, Alzheimer's disease, etc.
Other, less widely known hazards include CFCs, mercury, and PCBs.
Find the best contractor for your project.
Hometown makes it incredibly easy to find the best demolition contractor for you and your project, whether you're demolishing an entire house or remodeling a few rooms.
Start by going to HometownDemolitionContractors.com, then let us know what work you need to be done. We'll ask you a couple of follow-up questions to determine which contractors fit your needs. Then, we'll show you the contractors in your area that offer that service, or we'll submit your quote on your behalf to those that qualify.
---
---
Keep reading about finding the right contractor:
---
Get permit(s) and a clearly written plan before beginning demolition or renovation.
Before starting any work, get a written statement from your contractor that clearly spells out the work plan, cleanup and remediation processes, and applicable federal, state, and/or local regulations that the contractor is required to follow. Permits may be required.
---
Learn more about demolition and deconstruction: