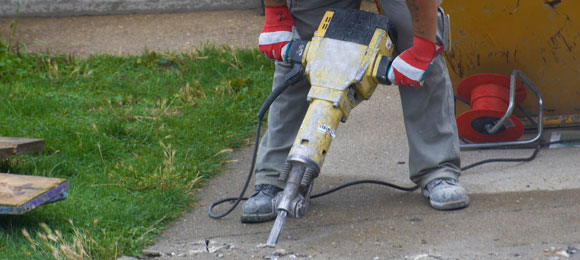 Updated March 15, 2023
Concrete removal is a simple, straightforward process if you know what to expect.
Breaking up concrete yourself might save you money, but it can be time-consuming and backbreaking work.
Plus, if you're hiring a contractor to pour new concrete, handling the demolition yourself might actually wind up costing you more in disposal fees.
Our concrete removal guide will answer customers' biggest questions:
---
Request quotes from local concrete removal companies
---
Should I repair or remove the concrete?
First things first—deciding which approach is best for addressing your concrete project.
Generally, complete concrete removal is your best option if any of the following are occurring on your driveway, patio, sidewalk, or slab:
Multiple cracks - wide and deep cracks that are uneven/settled on one side
Frost heave - part of the concrete is pushed up due to the frost that occurs in colder climates
Settled concrete - caused by the subgrade's improper preparation
Simply repairing the concrete may be the more cost-effective and faster option in these situations:
Thin cracks - small, hairline cracks with no evidence of settling
Sunken concrete - caused by heavy equipment or load (e.g., a heavy dumpster) that was placed on the concrete
Keep in mind: If there is widespread damage, patching cracks and resurfacing concrete may end up being a waste of money, because the same problems will be back shortly.
The video below does a good job of explaining the issues that arise with resurfacing patios, sidewalks, and driveways.
---
---
How much does it cost to have a contractor remove my concrete?
The cost to remove concrete varies by:
amount of concrete that needs to be removed
disposal fees
your location
Money $aving Tip: If contractors in your area are able to haul the concrete to a recycler, you can save a significant amount of money by no longer having to pay 'per ton' dump fees at the landfill.
Here are a few examples of professionally done concrete removal prices:
An average patio or sidewalk removal (100-300 sq ft) costs $1,000-$2,000 on average. However, the cost can be significantly more if the concrete cannot be recycled.
A typical driveway removal costs $1,500 - $2,500 and up, but this is highly dependent on the size of the driveway. Also, if the driveway was completed with reinforced concrete, it's more difficult to remove and the cost to remove it will likely go up.
A concrete foundation removal generally costs $1,000 - $5,000.
Learn more: How Concrete Is Removed and How Much It Costs
How do contractors demolish and remove concrete?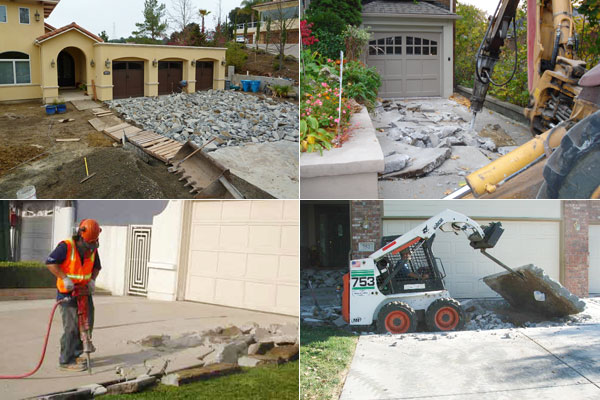 There are many tools that concrete demolition contractors can use to remove concrete. Here are two of the most commonly used tools...
A Bobcat equipped with a hydraulic or pneumatic breaker attachment (as seen in the top right picture)
Another common tool is a jackhammer (as seen in the bottom left picture)
Usually, the contractor will also bring a roll-off dumpster to the site. Once the concrete is broken, the Bobcat loads it into the dumpster and hauls it away to a landfill or concrete recycler.
Learn more about hiring the right contractor:
---
---
What tools would I need to demolish concrete myself?
There's more than one way to break concrete, and if you're a beginner, choosing the right tool for the job might seem a bit overwhelming.
Here's a breakdown of two inexpensive tools that can be used for manually demolishing small sections of concrete: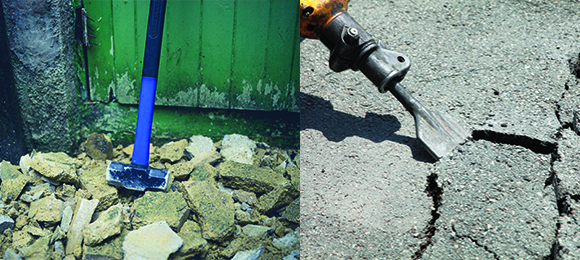 Sledge Hammer
This is the go-to concrete breaking tool for most do-it-yourselfers.
A 12 lb. sledgehammer might not seem like much, but it can go a long way.
If your concrete is 4 inches thick (very common) or less and doesn't cover a large area, try a sledge before renting heavier equipment.
You'll know pretty quickly whether or not you'll need something with more power.
Jack Hammer
Quite a bit of equipment falls under the umbrella term 'jackhammer," which is essentially a pneumatic hammer (i.e. it's operated by air).
These tools—and the air compressors that power them—come in all shapes and sizes.
Even the drill bits on the end are interchangeable (wide chisels, narrow chisels, pointed chisels, etc.).
Note:
You can rent these and all kinds of other tools from stores, like
The Home Depot
or a local equipment rental company. When renting, be sure to inform the person helping you of the project you're doing. They'll be able to help you pick the best tool for the job.
In addition to the tools needed to break the concrete, you'll also need other safety and disposal tools, including but not limited to:
Safety equipment - This includes the basics, like safety goggles, work gloves, and sturdy boots (steel toe is best). You'll also want to use a respirator to prevent unsafe inhalation of cement dust.
Plastic sheeting - A thin sheet of plastic (6 mil polyethylene typically works well) is great for containing dust and keeping pieces of concrete from flying everywhere.
Pry bar or shovel - If you're lucky enough to have another person helping you, a pry bar or other prying tool, like a shovel, can be used to pry up the concrete slabs while the other breaks the concrete. This makes demo much easier because the slab absorbs the energy of each blow rather than the sand or gravel base underneath it.
Keep reading about DIY demolition:
---
---
Can demolished concrete be recycled?
Yes. Most metro areas have a recycling facility where you can take your concrete, keeping it out of the landfill.
Find out if there's one near you.
Concrete recyclers crush the concrete and reuse it as an aggregate in new cement.
If you're demolishing the concrete yourself, renting a dumpster will likely be your best bet for recycling/disposing of the concrete.
Check out our complete guide to renting a concrete dumpster to learn how to get the best deal.
Learn more about how to dispose of concrete debris: