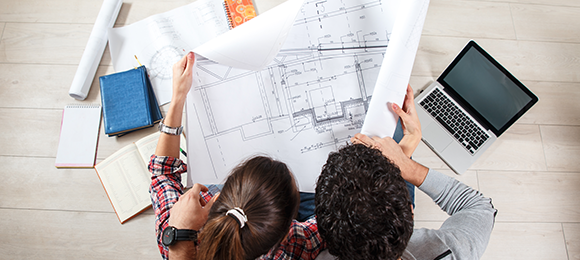 Updated July 10, 2023
Whether you're remodeling your kitchen, your basement, a bathroom, or your whole house—there's more to demolition than meets the eye.
The best way to ensure a smooth DIY demolition project is to know what to expect.
Our tips will help ensure you're prepared.
Jump to:
---
---
1. Be Prepared for the Mess
Demolition is a messy job and will uncover evidence of pet stains, rodents/insects, and of course, dust and debris—all of this adds up to one dirty job, so be prepared with a dumpster.
Dumpsters are a perfect catchall for any trash and debris you come across during the process.
During times of social distancing, dumpsters are a compatible way to manage a high quantity of debris without needing to come in contact with another person.
Learn more:
If you really want to save money—and help out others and the environment while you're at it—then consider re-using, repurposing, or selling whenever possible.
Crown molding, wood flooring, and cabinets are excellent examples of things you may no longer want, but someone else may love to take off your hands.
Before the heavy-duty work begins, make a mental note of any standout items you think you'll want to re-use/re-purpose, donate, or sell.
Similarly, if you have a fire pit, consider having a "burn" pile for the things that are safe to burn.
Once the work gets started, you'll have an easy way to organize the mess, and you'll have an idea of what you'll be able to re-use, donate, or sell.
This will help contribute to a smooth and easy demo project.
2. Plan Your Attack
The order in which you perform demo hugely impacts your productivity, so think through your plan of attack before getting started.
Some aspects of demolition will take longer than others, and should be accommodated accordingly.
For example, it's always best to remove any carpeting first. This makes sweeping up nails and dust easier.
Also, because cabinets take awhile to build, existing cabinets should be removed early on so the new ones can be measured and assembled.
3. Gather Your Tools First
Some tools are just plain invaluable when it comes to demolition, and they should be collected before demolition starts to make things easy.
The fewer trips you have to make to the home improvement store (or the less shipping you have to pay online), the better.
Even more, you'll want to keep all your tools in one easy-to-access location; and always put them back after using them so you're never left searching like a chicken with its head cut off.
Here is a list of some of the most useful tools for a demolition project:
Crowbar
Chisel
Contractor grade trash bags (home depot)
Good work gloves
Lightweight hammer
Utility knife + replacement blades
Electric drill & bits
Spray bottle (for wallpaper removal)
Bucket (plumbing mishaps)
Broom and dustpan
Shop vac (one with a filter that can suck up drywall dust)
Flat head screwdriver
Protective goggles & masks
4. Be Safe
Demolition isn't as straightforward as swinging a sledgehammer. There are electrical lines, water lines, load bearing walls, and other things you will need to be careful to avoid.
Not only can haphazard demo lead to serious injury, but it can also add up to you paying much more than you bargained for.
The best way to be safe is to have your home's blueprint on hand. That way you'll be able to know where all the important stuff is located and where you need to be extra careful.
Keep reading:
---
---
5. Don't Be Afraid to Get Your Hands Dirty
Now, with safety in mind (and an idea of what's behind your walls), don't hesitate to use a little elbow grease.
The main things you really don't want to damage are plumbing, load-bearing walls, and anything you plan on keeping (e.g. drywall, bath tub, etc.).
The best way to be sure you can safely demolish an interior space or interior wall is by hiring a professional to assist.
Learn more: Wall Demolition Tips for the DIY Homeowner
6. Ask for Help When You Need It
It can be overwhelming to see a mess in several rooms of your house, especially when you're living in-house during the demolition work.
Likewise, it can be a lot of work.
So if you have doubts about your ability to safely do any of the work, hire a professional to help you handle it properly and safely.
They'll be able to handle the work faster than you could, and they'll handle the cleanup for you, too.
Money Saving Tip: Some demolition contractors also do remodeling work, and hiring the same person to do all the work is a great way to save some money.
Ensure safety is a top priority amongst your crew, whoever is working on the project. Discuss safety precautions before anyone gets started, and ensure people follow them throughout the job.
Keep reading:
7. Hire a Pro with Hometown
Hometown makes it so easy to find a qualified local professional to assist with your interior demolition project.
Browse local companies, read verified customer reviews, get answers to common questions, and request a free quote from multiple pros with the click of a button.
---