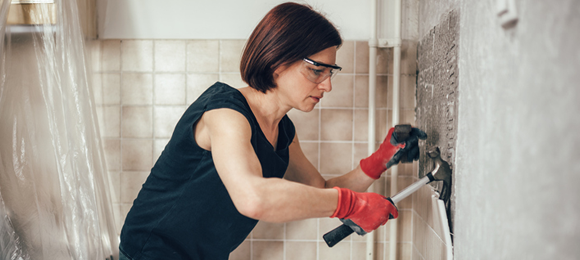 Updated March 15, 2023
Kitchen demolition takes a medium level of skill, as it involves appliance and cabinet removal.
Demolishing your kitchen yourself can save you money, but things can go wrong, too, just as it can in any demolition project.
We'll go over the pros and cons of handling kitchen demolition yourself to help determine if this is the right option for you.
---
Before we can discuss the benefits and drawbacks, you should have a general understanding of what you'd be getting yourself into.
Here's the general kitchen demolition process:
Turn off the electricity in the kitchen.
Remove cabinet doors, drawers, and the rest of the cabinet bodies.
Turn off the water below the kitchen sink, and cut the water line connected to the refrigerator.
Turn off the main gas line, and turn off the valve at the back of the stove.
Put down a drop cloth, and remove all appliances with a dolly.
Remove non-loadbearing walls if desired.
---
Advantages to Doing Kitchen Demolition Yourself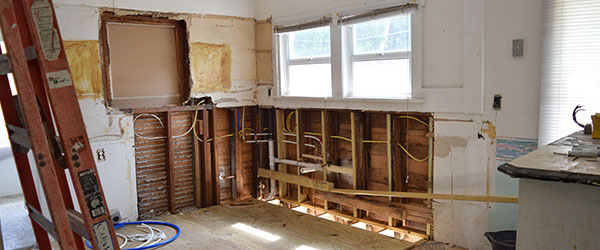 1. You could save quite a bit of money.
The best part about choosing to do kitchen demolition yourself is the money you'll save in the process.
Kitchen demolition typically costs between $1,000 and $3,000.

The cost of your demolition will depend on the size of your kitchen, how much demolition work needs to be done, whether or not asbestos or lead is present, etc.
If you don't have any hazardous materials, you could handle the demo work yourself and save this much money on your kitchen remodel budget.
Learn more: Top 5 Tips for Budgeting Your Kitchen Remodel
2. It will be easier to salvage.
If you decide to take apart your kitchen yourself, it will be much easier for you to set aside anything you want to reuse, recycle, donate, or sell.
This is another way you can save some money.
Not only that, but selling usable materials in a garage sale or donating them to your local ReStore rather than sending it off to the landfill is a way of helping your community and the environment, too.
3. You'll get to destroy some stuff.
Who doesn't relish the opportunity to just wreck stuff?
Ripping up floors, pulling out cabinets, maybe even hammering through a wall or two…these are just a few of the joys of DIY demolition.
Keep reading about kitchen remodeling:
---
---
Disadvantages to Doing Kitchen Demolition Yourself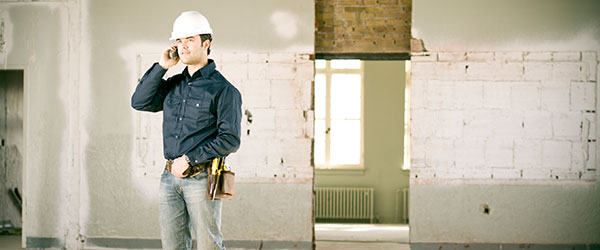 1. It isn't as safe as hiring a professional.
As with any DIY project involving tools and destruction, things can go wrong—some of which can seriously injure you.
In general, kitchen demolition is safe when following the necessary safety precautions, but that doesn't mean it's entirely void of danger.
If you take out a load-bearing wall, the structure could become unstable and collapse.
If old paint was used in the area, there could be lead present, and drywall can also produce a very fine dust that irritates the eyes and lungs.
Keep reading about finding the right contractor:
2. You will be very tired and very sore.
Regardless of how strong or proficient in demo work you are, DIY demolition is seriously draining work.
Tearing, lifting, ripping, pulling—all of this puts a strain on your body.
If you decide to DIY your kitchen demolition, you can expect to be exhausted during the process and sore for the week that follows.
3. Say, "goodbye," to your free time.
Kitchen demolition requires an understanding of what you're demolishing and where you're headed with the new space.
If you aren't planning a major remodel, you may be able to get away with demolishing your kitchen within a weekend.
But if you have a big kitchen, an old house, or you're going to make lots of changes, kitchen demolition can be an extensive task.
You'll have to learn the basics of demolition work, then take the time to carefully implement them.
Demo work is much easier for an experienced contractor.
They'll be able to complete the job in a timely, efficient manner without causing any damage.
4. Debris disposal is left in your hands.
Demolition is quite the mess. Dust, nails, debris, grime—all of this will need to be disposed of properly if you decide to handle the demolition yourself.
The most convenient disposal method is to rent a dumpster. Simply fill it up as the demolition work is done.
However, the price of disposal can add up quickly when you're throwing away lots of wood, plumbing, and other heavy items.
Dumpster pricing goes up once you exceed the weight limit for your container.
So, if you rent a 10 yard container with a 3,000 lb. weight limit and the dumpster ends up weighing 4,000 lbs, you will have to pay a hefty fee for those extra 1,000 lbs.
Learn more about renting a dumpster for debris disposal:
5. The results may not be as good.
Demolitions done incorrectly will inevitably affect the turnout of the kitchen remodel itself.
Irreversible damage can be done, affecting the overall look of your new kitchen and property in general.
Although you may initially save money doing the kitchen demolition yourself, doing it incorrectly could very well cost you more to repair than if you were to simply hire a pro in the first place.

---
Learn more about deciding when to DIY and how to hire a professional:
---