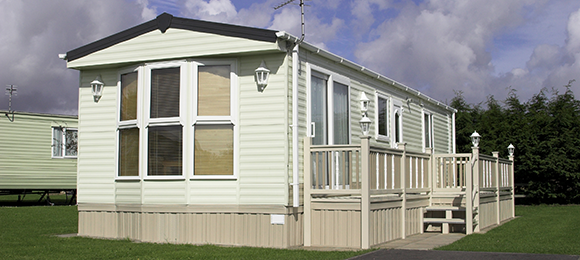 Updated February 17, 2023
Whether considering a mobile home purchase or you already own one, there are countless questions that can arise.
We answer 10 of the most-asked mobile home questions so you can make the best decision for you.
We'll answer the following:
---
---
What's the Lifespan of a Mobile Home?
The average lifespan of today's manufactured homes are between 30 and 55 years.
Of course, the weather and environment, along with how well you maintain your home, will have a big effect on this number.
How Are Mobile Homes Built?
Today's mobile homes are built in a controlled environment using a highly-efficient assembly line process.
This allows them to be constructed quickly and for a relatively low price.
The Basic Building Process
First, the builder orders all the materials required to build the home(s).
Then, the steel frame, which will support the flooring, is constructed, the floor joists are installed, and plywood is screwed down.
After the floors are assembled, the walls—which are oftentimes built separately from the floors—are installed.
Next, the plumbing, electrical wiring, and ductwork are taken care of, which is then followed by attaching the roof.
After that, the sheetrock is added, the kitchen cabinets and fixtures are connected, and the windows and siding are installed.
This video does a good job of showing how the mobile home assembly process works...
How Much Do Mobile Homes Cost?
On average, pre-owned mobile homes cost somewhere between $5,000 - $15,000.
Pre-owned double wide and triple wide mobile homes can cost significantly more because they hold their value better.
That said, larger mobile homes are typically tougher to sell due to the higher asking price.
Mobile home prices can vary greatly and are affected by...
the size of the mobile home
the condition of the mobile home
the lot size and location
the park and community
A new manufactured home can range from around $36,000 for a single-wide to $84,000 or more for a double-wide.
As you can see, the prices vary quite a bit, and the factors affecting the overall cost of a new mobile home are similar to those that affect the price of a used mobile home.
What's My Mobile Home Worth?
Due to the subjectivity of this question, there is no easy answer.
The best way to find out what your mobile home is worth is to have it appraised by a qualified appraiser.
Keep in mind that the physical structure of a mobile home actually depreciates over time, but the land underneath the mobile home appreciates in value.
Do Mobile Homes Have Load Bearing Walls?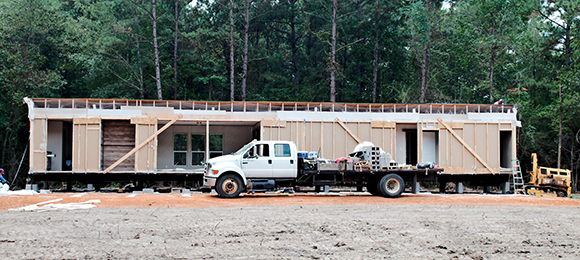 Single wide mobile homes do not have load-bearing interior walls, but double wides do.
Most mobile home roofs and side frames are interwoven systems built using integrated engineering.
This means that the exterior walls and the roof are interlocking pieces that connect and hold the entire structure together.
However, there are a number of ways to design that system.
For example, some companies screw the wall studs to the roof studs.
A double-wide mobile home is basically two single wides connected to one another by what is called the 'marriage line.'
The marriage line is considered "load-bearing" and should not be altered in any way.
---
---
Can Mobile Homes Be Moved?
Yes, if the mobile home is in 'movable' condition, it can be relocated to a new location.
A professional, qualified mobile home mover will be able to tell you whether or not your mobile home can be moved.
Can Mobile Homes Be Remodeled?
Certainly, mobile homes can be remodeled and updated, but they are subject to the Manufactured Home Construction and Safety Standards, or 'HUD Code," rather than the local building codes which generally govern how a house demolition project goes down.
The older a mobile home is, the less financial sense it makes to do any remodeling or upgrading.
So, unless you plan on living in the home indefinitely, you'll want to seriously consider whether or not it's worth it to remodel your mobile home.
How Are Mobile Homes Removed, and How Much Does Each Method Cost?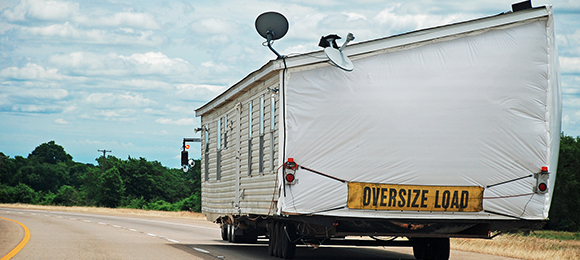 There are multiple ways to remove a mobile home from a property, and the size and condition of your mobile home—along with other factors, like cost and budget—will determine which mobile home removal method is best for you.
Mobile Home Demolition
Demolition is the fastest and most inexpensive way to tear down your mobile home.
Depending on where you are, the size of your home, and the contents/weight of your home, it could cost between $3,000-$7,000 to have your mobile home demolished.
See what others have paid for their mobile home demolition.
Deconstruction
Deconstruction is not suitable for all mobile homes. It is also more expensive and takes longer than traditional demolition, but it is better for the environment and can pay off if there's a decent amount of salvageable materials.
Deconstruction can stretch to almost double the cost of traditional demolition, reaching upwards of $8,000 in some cases.
If your home is in decent shape, there are many companies that may be willing to deconstruct it for charity.
Not only does this help the community, but the mobile home deconstruction is considered a tax write-off in this case.
Relocation
Not all mobile homes are fit to be relocated, and the time it takes to move it depends on its current state.
It's more expensive to relocate a mobile home than it is to demolish it, reaching upwards of $7,000 in some cases.
If you're thinking about moving your mobile home, expect to pay anywhere from $1,200 - $3,500 per half in order to have it broken down, moved, and set up in its new location—depending on how far you intend to transport it.
Take It to the Dump
Similar to relocation, driving your mobile home to the dump will only be possible if it's in movable condition.
The professional mobile home mover will be able to determine whether or not your mobile home is movable.
Moving a mobile home to the dump costs roughly $1,000 - $2,000.
---
---
How Does Mobile Home Demolition Work?
Mobile home demolition isn't complicated. It simply involves tearing down the mobile home with heavy machinery, such as an excavator, and hauling away the remaining debris.
The demolition process first requires obtaining permits to complete the work.
Your contractor can help you complete this step and may actually handle this step for you.
In nearly every zoned township in the country, you need a permit for demolishing a mobile home.
These permits typically require a fee, which can range between $100 - $350 or more.
Like everything else, it all depends on where your mobile home is located.
Make sure you discuss with your contractor who will be responsible for getting the necessary permits and whether or not they are included in the price.
How Long Does Mobile Home Removal/Demolition Take?
Traditional demolition is relatively quick and painless.
With the help of heavy-duty equipment, like an excavator or bulldozer, it shouldn't take more than a few hours to completely demolish a mobile home.
Mobile home deconstruction takes much longer than traditional demolition, typically lasting between a full workday and a few days.
Learn more:
---