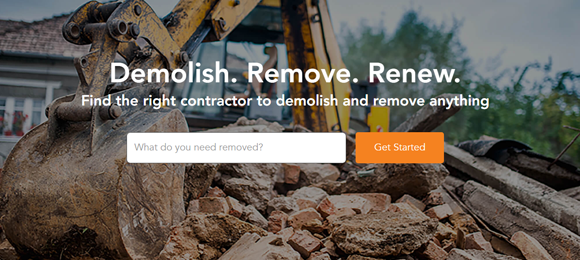 Updated September 21, 2022
Hometown Demolition is the #1 way for homeowners, business owners, and property owners to find qualified demolition contractors in their area.
We make it beyond easy to scroll through company profiles, read verified customer reviews, and find the ideal contractor to perform your next demolition project.
House demolition, commercial demolition, mobile home removal, interior demolition, pool removal, and more—you'll find contractors who do it all.
Here's how it works…
1. Tell Us About Your Demolition Project
We'll ask you some follow-up questions to ensure you get matched with the most qualified demolition experts near you.
Simply type in your project information once, and we'll instantly submit your request to up to 3 professionals that provide that service in your area.
Or, you can manually submit your request to the contractors of your choosing.
If a contractor you've selected is unable to do the job, we'll automatically submit your request to another professional on your behalf.
2. Get Free Quotes Easily
We check demolition contractors' availability automatically on your behalf so you don't have to go through the hassle of playing phone tag.
Instead of wasting your valuable time calling around to multiple demolition contractors, Hometown submits quote requests to the top pros in your area on your behalf.
From there, you can then check out their company profiles, read reviews from other customers, and more.
3. Hire the Right Contractor for the Job
Hometown will work to provide you with the number of quotes you've requested.
You can easily compare quotes, reputation, and customer service, and then hire the right pro for the job.
---
---
Learn more: What to Expect from Hometown Demolition Quote Requests [VIDEO]