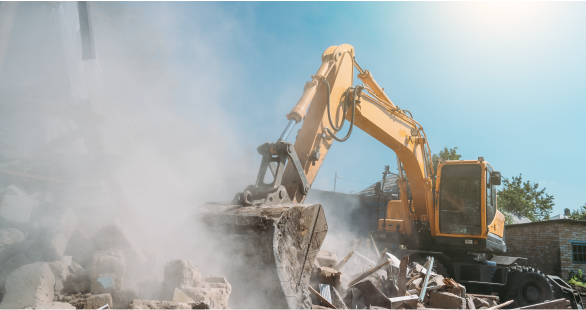 Updated September 29, 2021
If you're considering hiring a demolition contractor in Florida to help tackle a demolition project, this guide is the place to start.
Demolition can seem like an overwhelming, complicated process, but we're here to simplify things and answer the most commonly asked Florida demolition questions.
Jump to:
---
---
Does my Florida demolition project need a permit?
Section 105, Chapter 1 of the 2014 Florida Building Code (FBC) 5th Edition states that any owner or authorized representative who intends to demolish or alter the occupancy of a building or structure must first apply for a permit from the building official.
During construction and until the completion of the project, the permit or copy shall be kept on the job site.
You or your contractor can apply for a demolition permit through your city's Building Department website, but here's a quick reference list of demolition permit applications for popular Florida cities:
Does my demolition project require an inspection?
Yes, after all utility connections have been disconnected and safely secured, but before your demolition can begin, you'll need to have a "First Inspection."
Once the demolition work is completed, you'll also need to have a "Final Inspection."
How should I handle demolition debris disposal in Florida?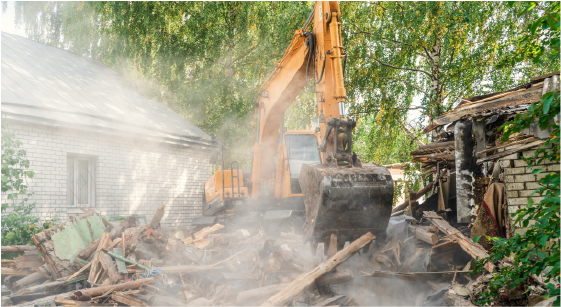 Arguably one of the most efficient ways of managing debris during a demolition or renovation project in Florida is with the help of a temporary dumpster rental.
You can choose from a variety of roll-off container sizes and a pick-up frequency that accommodates your project's schedule and budget.
Oftentimes, your demolition contractor will handle the disposal of debris, but be sure to clarify this with them before signing a contract.
If you're responsible for your demolition or renovation debris disposal, Hometown makes it easy to get dumpster rental quotes from Florida providers in order to get the best services for a fair price.
Several options exist for recycling construction and demolition (C&D) debris in Florida.
While you can separate debris on-site, this is more time-consuming than the alternative, which is recycling C&D debris at a local materials recovery facility.
This is where waste stream materials can be processed and separated using a combination of mechanical and manual separation.
Wood, concrete, and metal are commonly accepted materials.
Keep reading:
---
---
Who should I hire to handle my Florida demo?
In Florida, in order to perform demolition work, a contractor must possess a building demolition specialty contractor license.
When looking for a qualified professional in your area to complete your demolition project, you want to look for a contractor with experience and good customer service, not just the lowest price.
Hometown makes it easy to find local demolition professionals throughout Florida, learn more about each company, read customer reviews, and request free quotes from as many contractors as you'd like.
Read more:
---
---
Find out more: