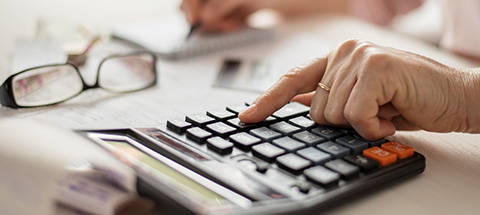 Updated July 20, 2021
If you're looking for a handy dandy demolition cost calculator, look no further.
While calculating the exact cost of your specific demolition project is more complex than a simple calculator can tell you, understanding how the most common demolition projects are priced will help you know what to expect.
This guide will outline the most common demolition projects, the average prices for those projects, and the factors that come into play.
To get the most accurate estimate for your demolition project, reach out to three or more contractors for free quotes. They're experts at estimating project costs based on a number of specific factors.
Jump to Your Project Type:
---
---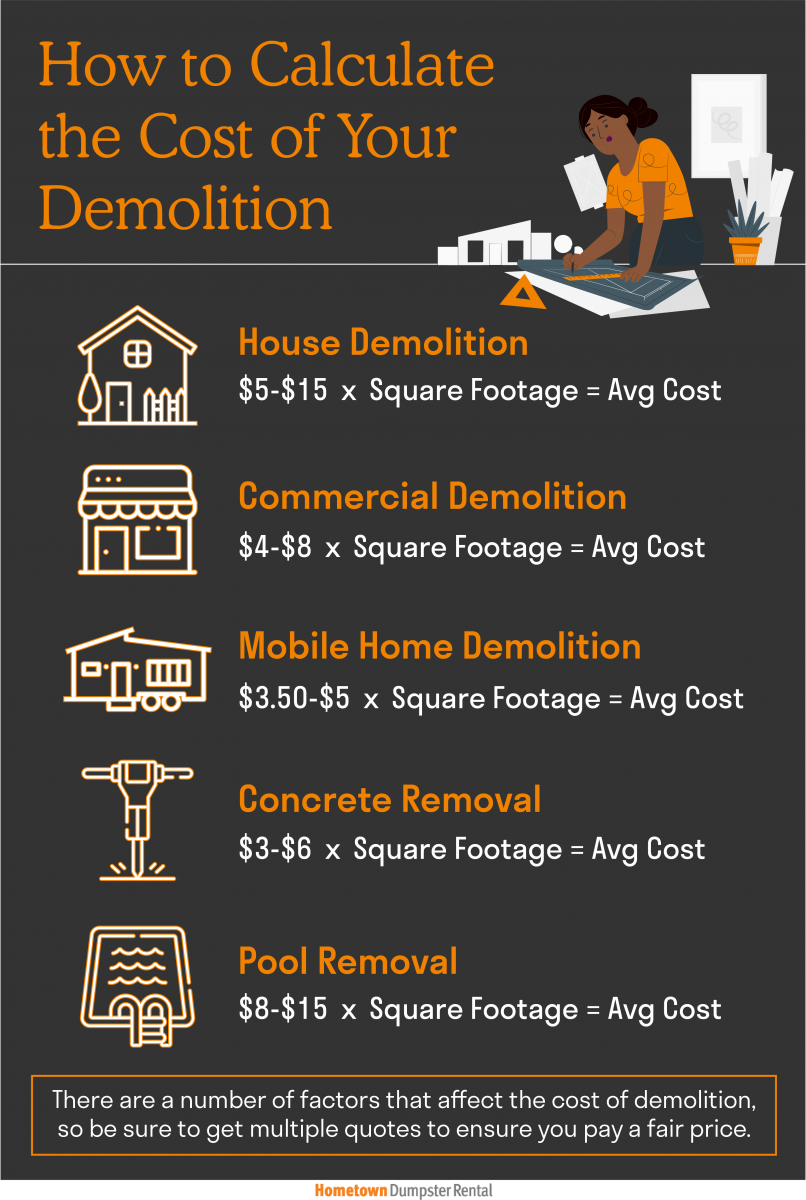 House Demolition
$5-$15 per sq ft x Home's Square Footage

= Average Cost to Demolish
Factors That Affect House Demolition Costs
Size of the house
Materials used to build the house
Accessibility of the house
Whether or not hazardous materials are present
Whether or not the foundation is being removed
Disposal fees in your area
Who you hire to demolish the house
---
---
Keep reading:
Commercial Demolition
$4-$8 per sq ft x Commercial Building's Square Footage

= Average Cost to Demolish
Factors That Affect Commercial Demolition Costs
Size of the structure
Materials being demolished
Accessibility of the structure
Whether or not hazardous materials are present
Whether or not the foundation is being removed
Disposal fees in your area
Who you hire to demolish the structure
---
---
Learn more:
Mobile Home Demolition
$3.50-$5 per sq ft x Mobile Home's Square Footage

= Average Cost to Demolish
Factors That Affect Mobile Home Demolition Costs
Size of the mobile home
Contents within the mobile home
Accessibility of the mobile home
Whether or not the foundation is being removed
Disposal fees in your area
Who you hire to demolish the mobile home
---
---
Get more info:
Concrete Removal
$3-$6 per sq ft x Concrete's Square Footage

= Average Cost to Remove
Factors That Affect Concrete Removal Costs
Amount of concrete being removed
Whether or not reinforcement materials are present
Accessibility of the area
Disposal fees in your area
Who you hire to demolish the house
Learn more:
---
---
Pool Removal
$8-$15 per sq ft x Pool's Square Footage

= Average Cost to Remove
Factors That Affect Pool Removal Costs
Size of the pool
Materials being removed
Whether or not the pool needs to be emptied
Other materials being removed (pool deck, filters, etc.)
Disposal fees in your area
Who you hire to remove the pool
---
---
Find out more: