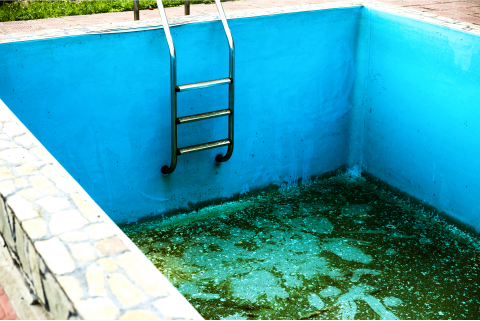 Updated September 2, 2022
If you're thinking about remodeling or removing your old concrete swimming pool, you've come to the right place.
Whether you've just moved into a new house that has an old pool in the backyard or your once-loved pool has since become an out-of-date eyesore, you may be asking yourself if you should upgrade it or remove it altogether.
In this guide, we'll help you make the right choice for you and decide whether or not you should renovate your existing concrete pool, replace it, or remove it altogether.
We'll answer common questions, like:
---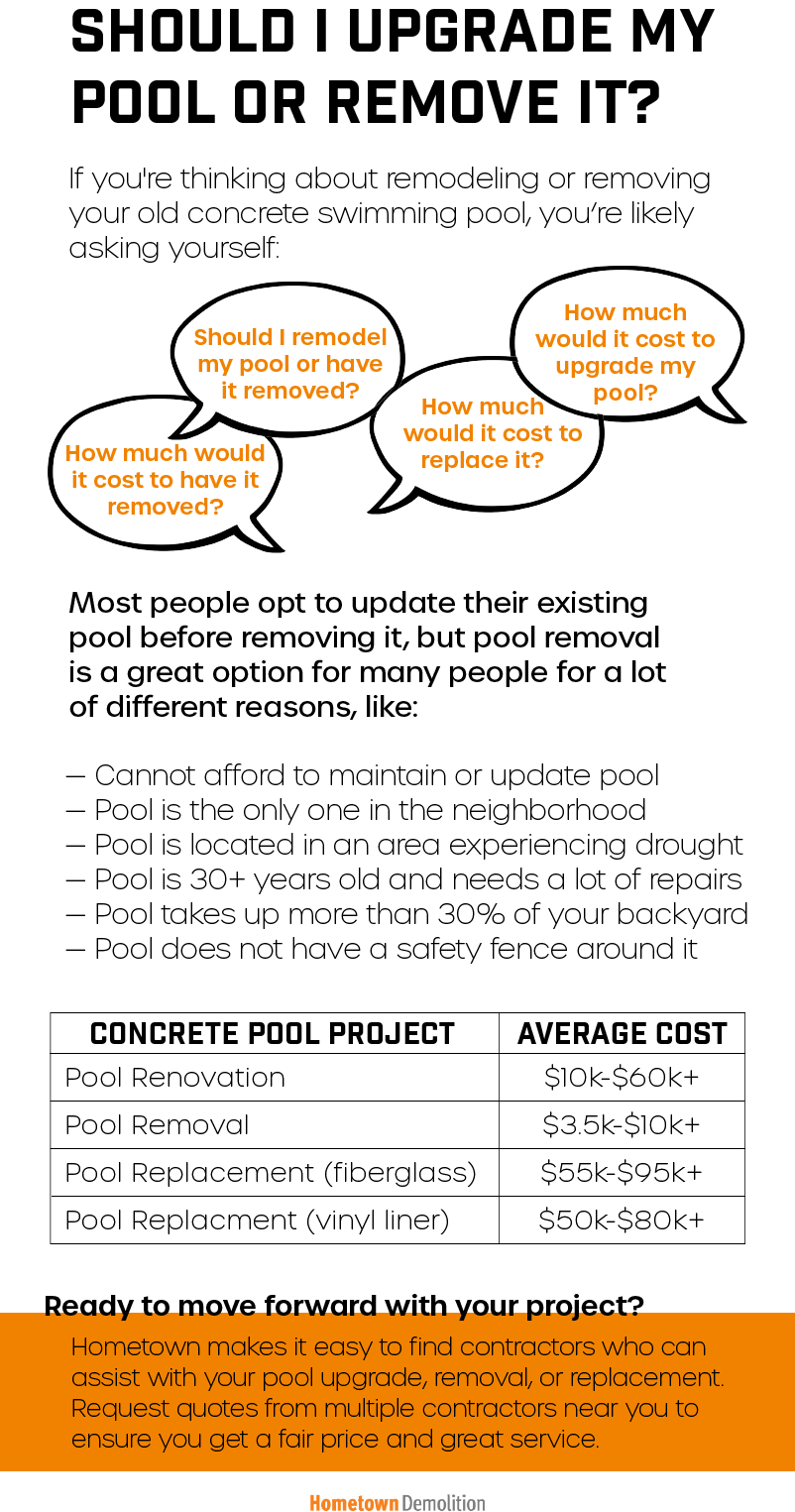 Concrete Pool Remodeling vs. Pool Removal
Generally speaking, most people opt to update their existing pool before deciding to remove it, but pool removal is the right choice for many people in many different situations.
Oftentimes, one of the biggest deciding factors in determining which is the right choice for you is the cost.
In addition to cost, other factors that may make pool removal your best option include:
If your pool is the only one in the neighborhood
If the pool is located in an area experiencing drought
If the pool is more than 30 years old and in need of a lot of repairs
If your pool takes up more than 30% of your backyard
If your pool does not have a safety fence around it
Read on: Benefits of Removing a Swimming Pool: Why It's an Option Worth Considering
How much does it cost to upgrade a pool?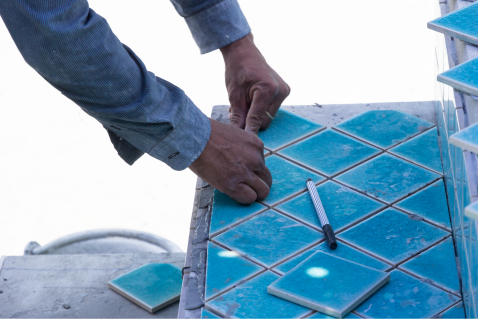 A pool remodel is almost always the more expensive option, ranging from $10,000-$60,000 or more on average.
Just like with pool removals, your pool's exact condition and the the amount of work it needs will affect how much you can expect to pay.
For example, you may need to refinish your pool's surface and replace the tile, or you may want to completely change the shape, size, or location, or add certain features and accessories you didn't previously have.
Below is a list of the most common pool remodeling projects and their average prices so you can get a better idea of what your desired pool remodel will cost.
| Pool Remodeling Project | Average Cost |
| --- | --- |
| Repair plumbing | $800-$1,000+ |
| Resurface pool | $10,000+ |
| Install new waterline tile | $3,000-$4,000 |
| Replace pool heater | $1,500-$9,000 |
| Install new pool light | $650-$900 each |
| Switch to salt system | $1,700-$2,500 |
| Install automatic pool cover | $12,000-$22,000 |
| Change pool's size and shape | $60,000 |
| Upgrade pool deck/patio | $3,000-$5,000 |
| Add waterfall | $900-$2,000 |
| Install bubblers | $450-$700 each |
| Add landscaping | $1,000-$10,000 |
| Install slide | $1,000-$5,000+ |
How much does it cost to remove a pool?
On average, pool removals cost $3,500-$7,500 but can be more or less in some cases.
There are multiple factors that will affect the cost of your pool removal, including:
Pool's location
Accessibility of pool with machinery
Size of pool
Local disposal fees
Type of pool removal
Filling in a concrete swimming pool is typically less expensive than fully removing it, but it's important to remember that you will not be able to build where the old pool used to be unless you have it completely removed.
Learn more:
How much does it cost to replace a pool?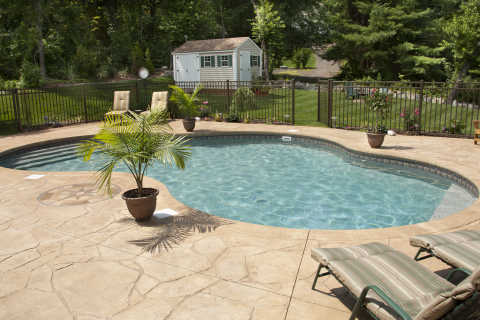 If you have an inground concrete pool that has become a pain to care for but you love having a pool, consider replacing it with a fiberglass pool.
Removing your concrete pool and replacing it with a fiberglass pool costs $55,000-$95,000+ on average.
If you're considering replacing your concrete pool with a vinyl liner pool, you can expect that project to cost $50,000-$80,000+ on average.
These pool replacement costs include the price to remove your existing pool and the installation of your new pool.
Keep reading: