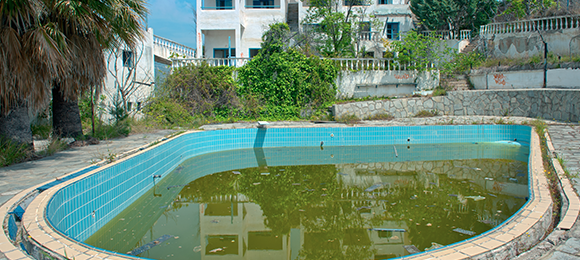 Updated August 22, 2023
A pool fill-in—or partial pool removal—does not involve removing the entire pool, which can save you both time and money.
Filling in an inground pool with dirt involves collapsing the pool, leaving a portion of the pool cavity in the ground, filling in the area with dirt, and leveling the ground out so that you can regrow grass in the area your pool once sat.
The average price to fill an inground swimming pool with dirt is between $3,500 and $5,000, but your particular project could cost more or less depending on several factors, like the cost of living in your area, the size of your inground pool, ease of access, who you hire, and more.
While partial pool removals are around 30% cheaper than full pool removals, they can come with their own drawbacks. We'll go over how pool fill-ins work an the pros and cons of this option so that you can make the best decision for your property.
Jump to:
---
---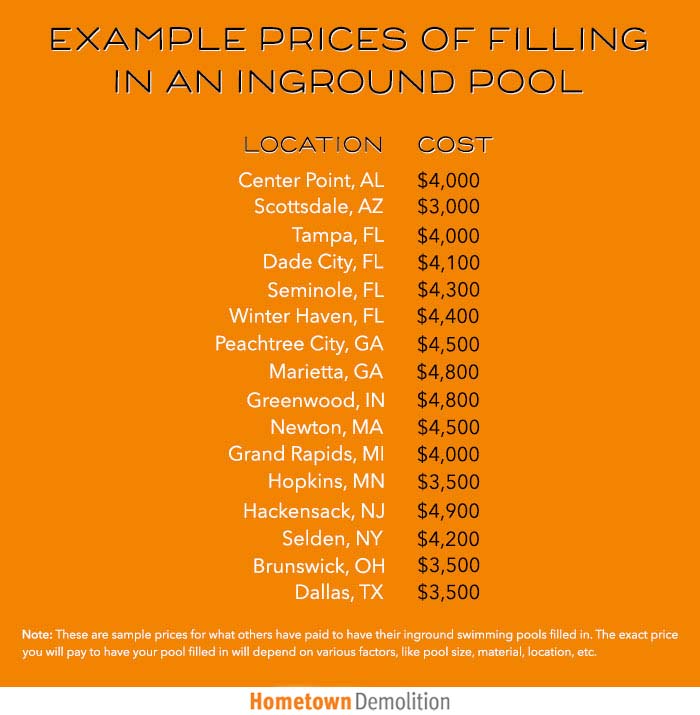 How to Fill in an Inground Pool
1. Safely drain the pool of any remaining water.
2. Punch holes into the bottom of the pool to allow for future drainage.
3. Demolish the top layer of the pool (18'-36').
4. Place the rubble at the bottom of the pool.
5. Fill in the pool with additional dirt and topsoil.
6. Compact the soil.
Some cities require that an engineering technician oversee partial pool removal, so be sure to confirm this with your contractor and/or local code enforcement.
Learn more:
Pros and Cons of Filling in a Pool
Advantages to Partial Pool Removals
The least expensive pool removal method
Takes less time (typically 1-3 days)
Disadvantages to Partial Pool Removals
Must be disclosed to future buyers of the property
Could affect the value of your home
If not performed properly, there is an increased risk of sinkage, swelling, etc.
Area of a filled-in pool is commonly considered non-buildable—no additions or dwellings can exist there
When you need professional inground pool removal services, Hometown can help. We publish locally-owned and operated demolition companies throughout the U.S. and make it easy to
request free quotes from multiple providers
in your area to compare pricing, customer service, and availability.
---
---
Continue reading: