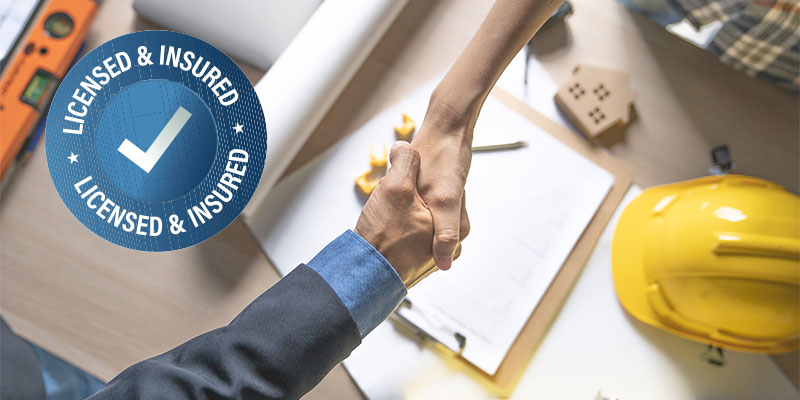 Updated June 22, 2023
Hiring a contractor to perform work on your property without the appropriate insurance creates quite a bit of risk for you, the property owner. One of the main risks associated with hiring a contractor who lacks the proper insurance is the lack of protection should any accidents unfortunately occur.
Demolition projects, just like life, can be a bit unpredictable, and insurance protects you from those surprises.
Regardless of how big or small your project is, there is always a potential for unforeseen accidents to happen. In the event of an accident, whether it be damage to the property or injury to a hired professional working on-site, an insured demolition contractor will have the coverage needed to pay for the cost of those damages.
Hiring an uninsured company leaves you open to financial risk, as you would be responsible for paying damages, and if a person is injured on your property, they could have legal grounds to sue you for damages.
We always recommend hiring a qualified and insured demolition contractor. Don't fall for the lure of cheaper prices that often come with hiring an uninsured company if it comes with the cost of putting you or your property at risk.
Table of Contents:
---
---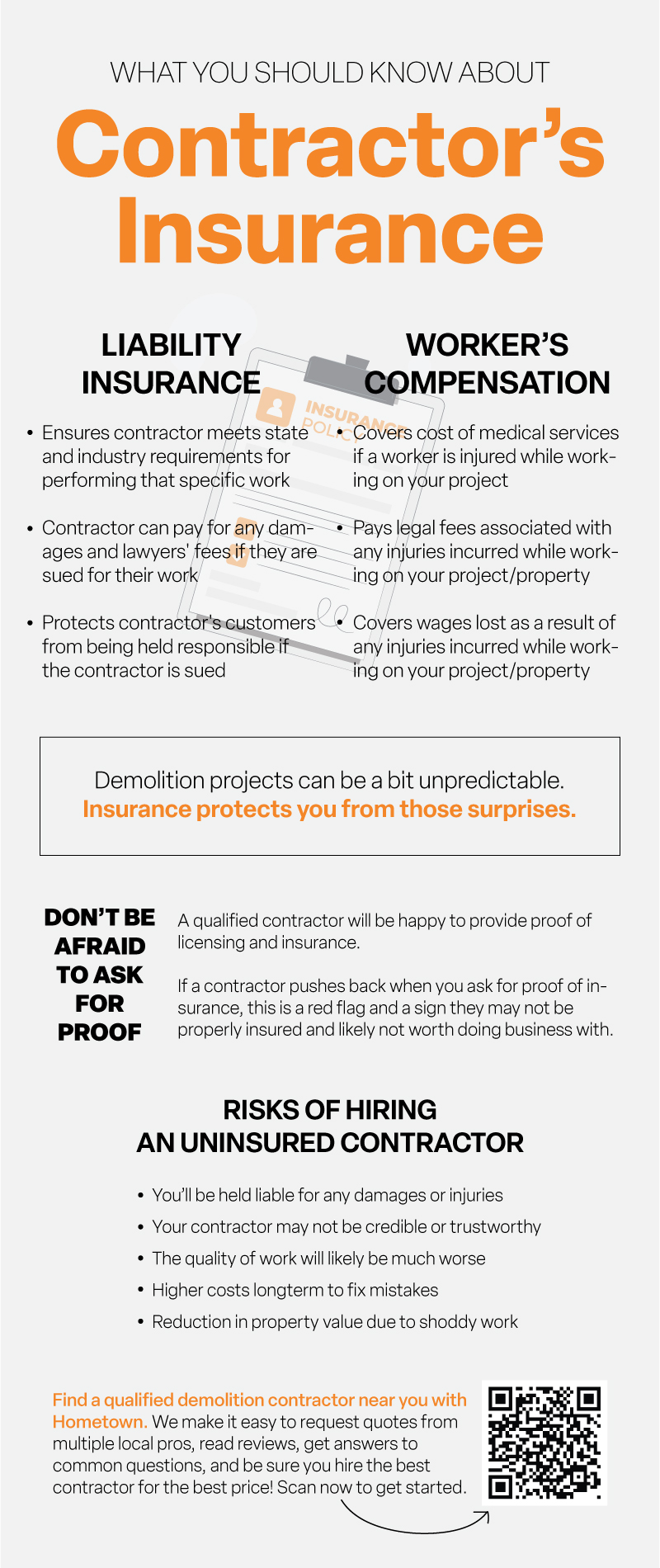 Types of Insurance Companies Should Have
Generally speaking, your contractor should have the following insurance coverage:
Commercial general liability insurance
Workers compensation
Each city has its own insurance and licensing requirements, so be sure to double check with state and local departments' websites to confirm which credentials your contractor should have to perform the demolition work you need.
General Liability Insurance
Licensed contractors should have liability insurance, typically $1 million per occurrence and $2 million aggregate.
Liability insurance protects you, the contractor's customer, from being held liable for any property damage that could occur during your demolition project.
If a contractor damages your property, liability insurance will cover that. (If the work wasn't done well and needs to be fixed, a contractor's bond would cover that.)
Liability insurance ensures three very important things:
Contractor meets minimum state and industry requirements for doing that type of work
Contractor can pay for any damages or lawyers' fees if the contractor is sued for their work
Protects customer from being held responsible should the contractor end up getting sued
Worker's Compensation
The contractor you hire should also have worker's compensation, typically the minimum required statutory coverage and employer's liability limits of at least $500,000.
Worker's compensation protects you from being held liable for any work-related injuries that happen on your property and any costs that result from that.
Worker's compensation covers the following in the event someone is injured:
Medical services
Legal fees
Lost wages
Read more:
---
---
Getting Contractor Proof of Insurance
A qualified and insured contractor will be more than happy to provide you with proof of insurance and licensing.
If a contractor gives you any pushback when requesting proof of insurance, this is a red flag and a sign that the contractor is likely not insured, credible, or worth doing business with.
Here are a few other things you'll also want to confirm when researching contractors:
Vendor's license isn't suspended
They have no infractions from performing work without a permit or work not done to code
No active lawsuits against the contractor
Learn more:
---
---
Why You Shouldn't Hire an Uninsured Contractor
There are a number of reasons why we recommend hiring a fully insured and licensed contractor.
You're Liable for Damages
Hiring an uninsured contractor puts you at risk of being held responsible for paying for any damages or injuries.
If any damage is done to your home or property, your homeowners policy may cover it, but there could be exclusions where it won't.
Hiring only insured contractors with general liability and worker's compensation policies will protect you from these risks.
Lack of Credibility
Getting the necessary licensing and insurance is a sign that your contractor is legitimate and in business with the right intentions.
Failing to get licensing and insurance is often a sign that the business doesn't plan on operating longterm and rather for short-term monetary gain.
Licensing and insurance indicate that your contractor cares about quality and doing things the right way.
Lower Quality Work
If a contractor is not willing to pay for insurance or licensing, this is a sign that they aren't willing to be held accountable for the quality of their work and that you're more at risk of receiving shoddy work at best.
Proper licensing and insurance serve as basic proof of competency for the contractor and a willingness to be held accountable for the quality of their work.
Higher Longterm Costs
As previously mentioned, a contractor without insurance or the proper licensing is more likely to provide lower quality services that are not done properly or safely. This may be cheaper upfront but will cost you more in the long run.
An uninsured, unqualified contractor is more likely to make mistakes that have to be corrected later. You also would be left responsible for covering the cost of injuries or property damage if the contractor doesn't have the proper insurance.
Insured contractors typically cost more at the time of services, but they are usually cheaper longterm because they do the job properly and safely.
Puts Property Value at Risk
If work is done without the proper permit or if it's not done up to code—which is not uncommon with unlicensed and uninsured contractors—that work will need to be disclosed to future homebuyers, and it will inevitably impact your property value in a negative way.
Quality work done properly and legally by a contractor who is properly licensed, insured, and obtains the proper permits will produce a better return on investment rather than put it at risk.
Keep reading:
---