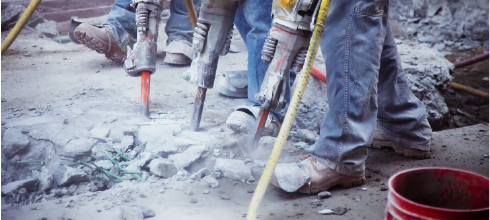 Updated May 12, 2022
Ready to start a remodeling or demolition project and want to be sure you're hiring the right person for the job?
Hometown is here to help.
We'll break down the basic process of finding a qualified demolition or remodeling contractor near you.
Jump to:
---
---

Research Local Contractors in Your Area
The first step to finding the right contractor is researching local companies near you.
At Hometown, we specialize in helping customers find local demolition contractors quickly and easily.
You can browse qualified contractors that serve your zip code, learn more about their company, read customer reviews, and easily request multiple quotes to compare them.
When using Hometown to request a quote, we make it easy to send a single quote to multiple contractors with the click of a button.
Just answer a few quick questions, and we'll send your request to up to three local contractors on your behalf.
Reaching out to multiple contractors will make it easier to be sure you hire the right person for the job.
Learn more:
Verify the Contractor's License and Qualifications
Two of the most important qualifications of any contractor, but especially a contractor performing remodeling or demolition work, is being licensed and insured.
In most states, contractors need a license to perform demolition or remodeling projects.
Determine your state's contractor licensing requirements to be sure you're hiring someone with the most basic qualifications.
If your state does require a license, always be sure you hire a contractor with the proper licensing.
A contractor should always list their license number on their quote sheets or contracts, and if they aren't willing to provide you with their's this is a red flag and a sign you should hire someone else.
Never be afraid to ask a contractor for their license number, and be sure the contractor you hire is insured and bonded, too.
Require a Written Contract from Your Contractor
Another important way to help protect yourself from surprises is to require a written contract from any contractor(s) you hire.
Getting all project details in writing ensures there will be no surprises.
The contract should outline…
The work that will be done
The material and equipment that will be used to do it
A payment schedule for the work
Estimated schedule or work timetable
Before signing any contract, be sure you understand everything it's saying. Don't be afraid to ask for clarification from your contractor.
---
---
Keep reading: