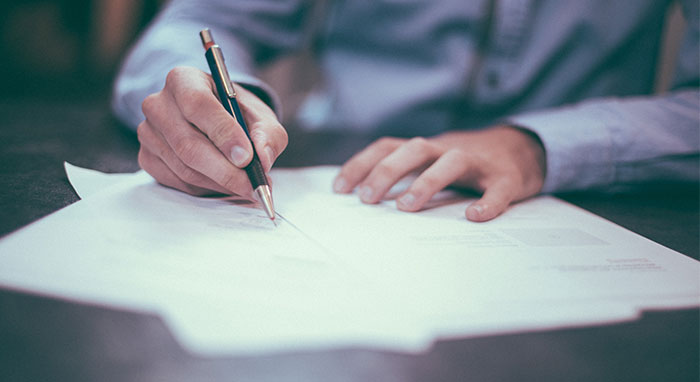 Updated July 20, 2021
One of the biggest and worst mistakes a property owner can make when hiring a contractor is failing to get everything—and we mean everything—in writing.
On a very basic level, the contract should outline…
What work will be done
The material & equipment that will be used
Who will be doing the work
A payment schedule
A timetable for completion
On a more in-depth level, there is a multitude of questions you will want to ask your contractor (before signing a contract) to ensure you're protected and truly hiring the right person for the job.
The following are questions you should ask your contractor. Not only should you ask them these questions, but the answers should be included in the written contract.


Contractor's Experience
Licensing
A contractor must have a license to perform whatever work they do in that state.
Licensing laws are designed to protect property owners from dishonest and negligent contractors, though each state's laws are different.
Find out what license a contractor is required to have to perform work in your state.
We always recommend doing plenty of research on each of the contractors you're considering and checking with the Better Business Bureau, as well as your local building or public safety department, to ensure the contractor hasn't had any complaints filed against them.


Insurance
Your contractor should have liability insurance and workers' compensation, and they should be willing to show you their certificate of insurance.
Both types of insurance should apply to the specific type of work they're doing for you, so make sure you look at their policy carefully to ensure your work is protected.
Simply asking a contractor if they're insured doesn't give you all the answers. You'll also want to determine how they are insured and what that insurance covers.
This is why it's always recommended that homeowners obtain a copy of the contractor's insurance policy. You want to be sure the insurance covers your property as well as any accidents or injuries that may occur on the job site.
Learn more about the difference between a contractor's bond, license, and insurance.
On-Site Crew
You don't want a different crew coming in and out of your site each day, especially if it's your home. Instead, you want a consistent team who works on your project day after day.
Make sure you determine who will be physically working on your project each day and who the job foreman is.
If your project is extensive (or you like being extra thorough), ask the contractor if you can meet the foreman and visit a project they're currently managing. If their current project is running smoothly, that's a great sign.
Contact Info
Get a business address along with the business and cell phone numbers of the contractor.
Pay close attention to your first interaction with the company. Are they easy to get a hold of? Are they happy to answer any questions you have?
If the contracting company is not willing to give you adequate contact information, or they're hard to get a hold of, it's a warning sign that this contractor could be hard to reach. You may want to consider finding another contractor.
In addition to having a designated point of contact, ask for the best way to get in touch with them (e.g. what time of day, by phone, text, or email).
As you reach out to contractors, ask them for an estimated timeline of when they'll get back with you (if they can't discuss the project in detail at that time).


---
---
Project Details
Start and Completion Date(s)
You'll want to have a clear understanding of when the contractor will be able to start your project, as well as an estimated date of completion.
Of course, depending on the complexity of your project, there could be unforeseen circumstances that affect this timeline.
If you need a fast turnaround on your project (or you simply want it completed in a timely fashion), be sure to hire a company that has ample time for your project.
When will the workers show up each day, and when will they clock out? Be sure the contractor you hire can meet your timeline.
Permits
Not all projects require permits or inspections, but a majority do since it ensures the work is up to code.
Your contractor should know what kind of permits and/or inspections your project will need (if any), and should be willing to handle them for you.
And while permits take a little time and money to get, an honest professional shouldn't have an issue handling this for you. It's an assurance that the work they're doing will be performed up to code.
If a contractor isn't willing to obtain the permits for you, this could be a sign that they aren't properly licensed or qualified to do the work.
If an inspection needs to be done, we strongly recommended being present for it to ensure that a) it happens, b) you hear the findings of the inspection, and c) you understand the specific work that needs to be done.
Find out if your project needs a permit.
Lien Waiver
A lien waiver is essentially a receipt.
A lien waiver states that:
You have paid the contractor/sub-contractor(s) what is owed.
The contractor has accepted that payment in full,
The contractor has waived the right to put a lien on your property.
Your contractor should have no problem providing you with a written lien waiver upon final payment.
Site Cleanliness
If your project is expected to last more than a day, you'll want to discuss the end-of-the-day cleanup protocol.
Determine where the trash will be thrown and what will be done with any debris, dust, or litter on-site at the end of each workday.
---
---
Cost Information
Project Cost
Always get costs in writing, and ask your contractor to itemize your quote/bill. While some contractors may try to give you a bottom-line estimate, you should avoid this whenever possible. This type of estimate greatly reduces your ability to assess whether each aspect of the job is priced fairly (and from accurately comparing it to other contractors' prices).
Itemized bids make the entire process more transparent, so if a contractor has a problem being transparent, you should consider hiring someone else.
You should also confirm whether the quote is an estimate or a fixed price. For some projects, providing a fixed price isn't possible due to too many unpredictable factors.
In situations where a fixed price isn't possible, have the quote written up for the work the contractor knows will be done. If additional, unforeseen elements pop up, have a change order written up.
Remember: A good price shouldn't be the end-all-be-all when it comes to hiring a contractor, though it is an important consideration. The best contractor will provide a balance of experience and positive customer relations with fair pricing.


Keep reading:
Payment Schedule
It's common for contractors to request—or require—a down payment at the start of a project. However, you should avoid paying more than 50% upfront.
Do not pay for the work in full until the project is completed. A professional, reputable contractor would not ask you to do this, so if a contractor does, find a different contractor.
If you have a big or complex project that is likely to take more than a week or two, you will want to have a clear-cut payment schedule outlined in the written contract before signing off on any work.
To protect yourself, we recommend "leaving a paper trail" by paying contractors by check or card, and to avoid paying with cash if possible.
If paying with cash is unavoidable, make sure you get receipts for each of your payments.
Additional Charges
Home improvement projects can be hard to predict at times, and prices can be hard to nail down when there are various unknown factors that could affect it.
Talk with your contractor before work begins to confirm that they will not spend a single dime over your written estimate without getting the go-ahead from you first. (This stipulation should be included in your written contract.)
Be an advocate for yourself. If you feel like something is off about a contractor or that they're not being completely honest with you, do your research to protect yourself and ask as many questions as you need to get the answers and peace of mind you're looking for.
Or you could look into hiring another contractor entirely. A trustworthy, dependable contractor will have absolutely no problem answering any of these questions.
---
---
Learn more about hiring the right contractor: