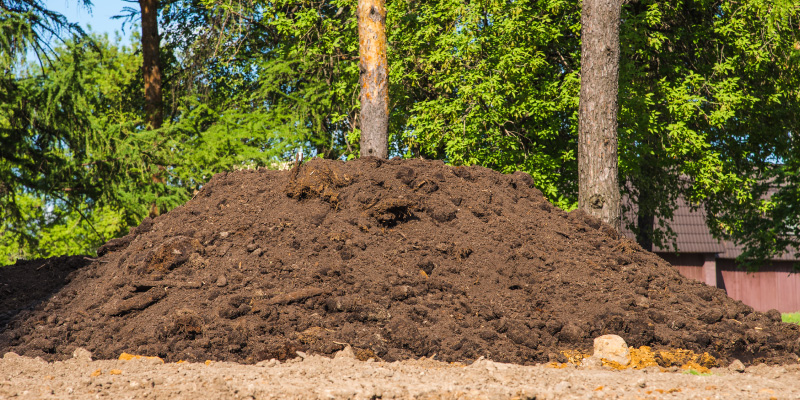 Updated January 24, 2023
Excess dirt from a landscaping or excavating project can be quite the eyesore.
Not only is a pile of dirt in your yard unsightly to look at it, but it can also be a mess, spreading to areas of your yard where you don't want it and killing the grass underneath.
Removing dirt yourself can be a dirty, back-breaking job, and it's not always easy to convince multiple people to come help you shovel a bunch of dirt out of your yard. Not to mention find (or rent) a vehicle or dumpster capable of safely hauling the dirt to the nearest facility and the machinery necessary to level the ground when the dirt is gone.
This is why we recommend hiring a professional to remove dirt from your property.
Hiring a dirt removal pro who has the appropriate machinery is straightforward, safe, and easy.
---
---
How Dirt Removal Works
Get free quotes from local dirt removal pros with Hometown. At Hometown, we make it simple to browse local companies, read verified customer reviews, and request free estimates for services to ensure you hire the right company for the right price.

Hire the best company for the job and schedule services. After requesting multiple quotes, decide on the company that is the best fit for you and your project, then schedule a time for them to come out to your property and get to work.

The company arrives with equipment to remove your dirt. When it comes to dirt removal, the most common machinery used is a skid steer loader, frequently referred to as a "Bobcat."

Your dirt is scooped up and loaded into a nearby truck or dumpster. The compact machinery used to remove dirt can easily scoop up unwanted dirt, dump it into a hauling vehicle or roll-off dumpster, and get it done quickly and safely, often in a matter of hours.

The area is leveled. If needed, the area where the dirt was is then leveled to ensure the area is flat, safe, and properly graded.

They haul your dirt to the nearest facility. Typically, dirt is taken to a nearby landscaper or landscaping supply store, clean fill dump sites, or C&D recycling centers. If the dirt is not accepted at one of these sites, it's typically taken to a nearby landfill or transfer station.

Pay your invoice. After the dirt is removed and the job is completed, the company will provide you with an invoice and you'll pay your bill. Then, all that's left to do is enjoy your newly cleared yard.
Average Cost of Dirt Removal
The cost of dirt removal can vary quite a bit depending on how extensive the work is.
On average, dirt removal costs $50-$200 per cubic yard of dirt, with most companies charging around $120-$150 per hour.
As you can see, hiring a professional to help with your dirt removal is fast, easy, and relatively inexpensive, especially compared to handling the removal yourself.

When you're ready to move forward with the dirt removal process, trust Hometown to help you find the best pro for the job. Get free quotes for your dirt removal project today!
---