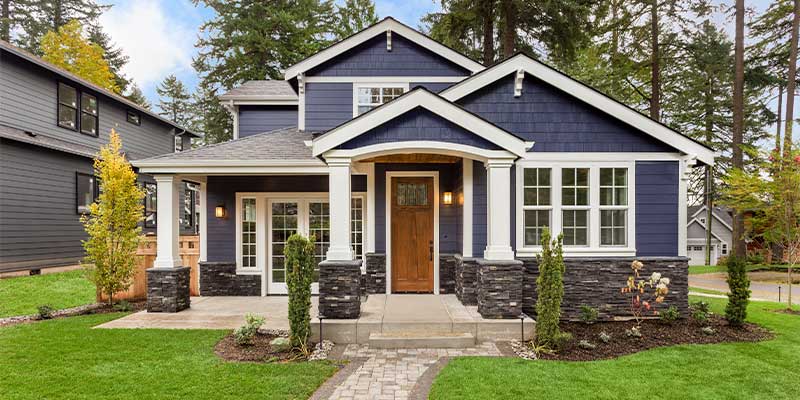 Updated May 9, 2023
If you're looking to add curb appeal to your house, whether your home is a flat front house in need of dimension and depth or your property has become worse for wear or overgrown, this guide is your secret weapon.
There are a number of projects that can increase curb appeal without overspending or losing all your free time, and we're here to break them down for you.
Curb Appeal Ideas:
---
---
Curb Appeal Before and Afters
Need some inspiration? We've got you covered! These before and afters are some of our favorite examples of how a little intention and moderate changes have completely transformed a home's look and feel while drastically increasing its value.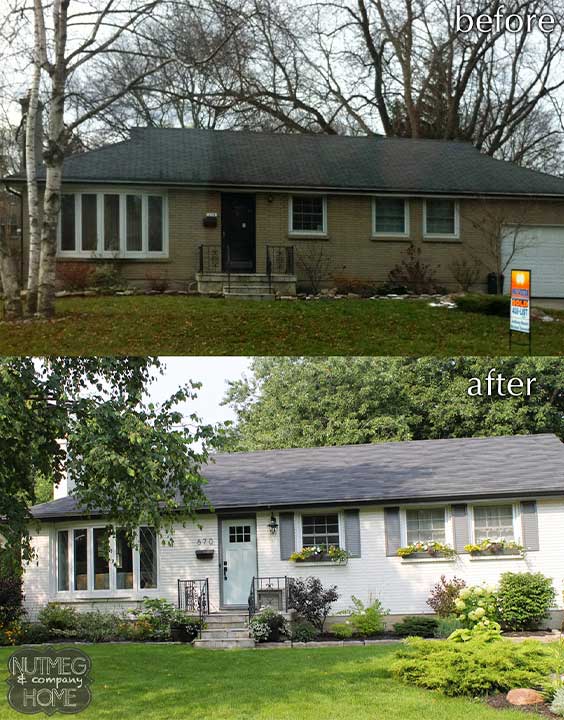 Image via Nutmeg and Company Home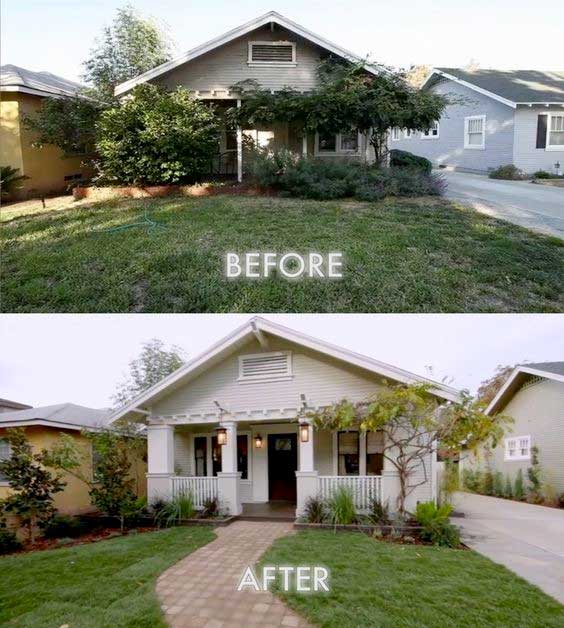 Image via Tyler's Landscaping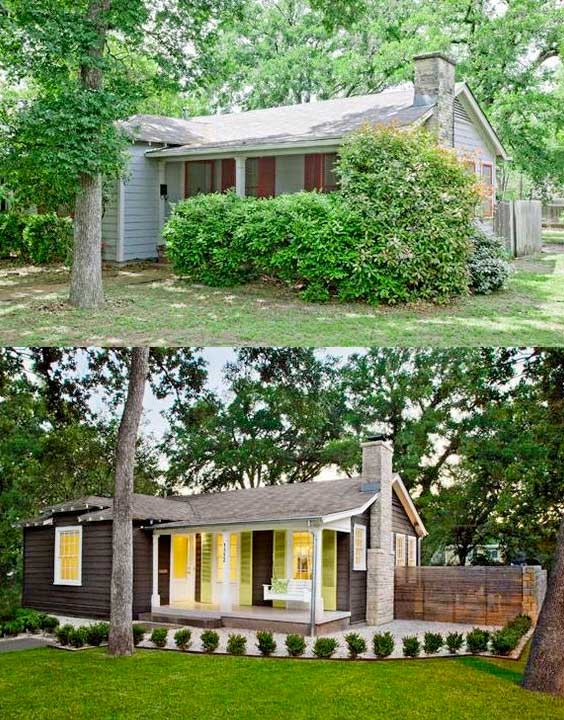 Image via This Old House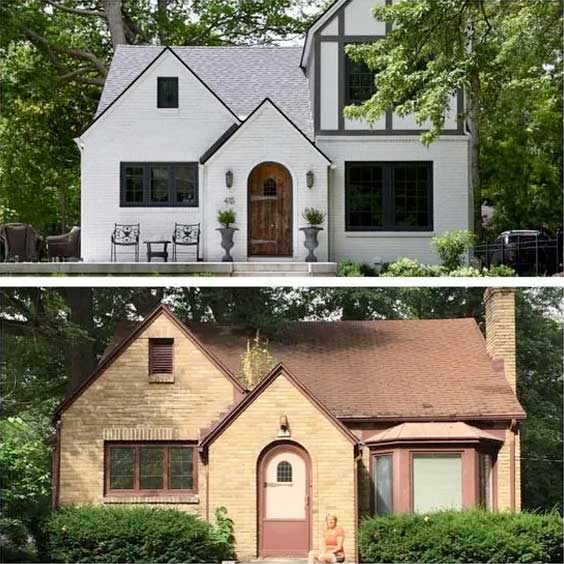 Image via Decor Lovin
Yard Waste Removal
The simplest way to make your home look more beautiful and more expensive is by cleaning up any yard waste around your property. Built-up leaves and dead plant matter can prevent grass from growing and just looks messier than a freshly raked and manicured yard.
Clean up any leaves, twigs, branches, dead grass, or other bits and pieces of yard waste. Rake mulch or gravel back into place and fill in any spots that need to be refreshed. Cut back dead shrubs and branches, prune plants and bushes, and edge your lawn and beds.
If you have a large amount of yard waste that you need hauled away and disposed of, professional yard waste removal services and yard waste dumpster rentals are two great options that can save you the time of hauling it to your nearest yard waste facility yourself, which usually requires multiple trips.
---
---
Upgrade Landscaping
Once you're done removing loose debris, the next best step is improving your landscaping, which can add instant curb appeal to your home.
Add new plants and flowers native to your area that complement your newly pruned space, and plant grass seed wherever needed. Choose landscaping options that complement your home. Adding dynamic landscaping with big, healthy plants can increase a home's value by 10-12%.
Read on:
Concrete Patio Removal or Replacement
Concrete patios, whether in the front or back yard, are extremely common in American homes, especially those built prior to the 1980s.
If you have a concrete patio or steps by your front door or in your backyard that show your home's age, it could be negatively impacting your home's curb appeal more than you realize.
Certainly, concrete patios are easy to power wash and freshen up when their issues are cosmetic only, but after a certain point, removal or replacement is the best option.
Deep-set cracks, unevenness, and crumbling concrete are some of the main reasons people opt to remove or replace their concrete patio.
Concrete patio removal costs $300-$1,800 on average. The average cost is $3-$6 per square foot with the average concrete patio size ranging from 100-300 sq ft. However, there are a number of factors that will affect the cost of your project, like the size of the concrete patio, the complexity of the patio, location and accessibility of the patio, whether or not you're replacing the patio, and who you hire to do the work.
Installing a new concrete patio can increase your property value and has an average return on investment (ROI) of 55% or more. While installing a new patio may not offer as big of a ROI as installing a new deck (80% average ROI), they are more easy to maintain, require minimal if not zero yearly expenses, and last significantly longer than most decks.
Read more:
---
---
Deck Removal or Replacement
Just like concrete patios and other exterior aspects of your home, decks can take a serious beating in the winter. Over time, especially when exposed to sunlight and moisture, wood splinters and rots, paint peels and chips, and your once beautiful and enjoyable deck becomes an eyesore or even a safety hazard.
If your deck is in good physical shape, it's possible to restore your deck and protect it from further wear and tear. If your deck is splintered or damaged beyond repair, it's time to remove or replace it.
The cost of deck removal is $600-$1000 on average, including debris disposal. You can expect to pay $2-$6 per square foot on average to have your deck professionally removed. However, your exact deck removal cost may vary depending on a number of factors, like the size of the deck, the location and accessibility of the deck, materials used to build it, how complex the deck's design and construction are, the amount of salvageable material, whether or not you plan to rebuild the deck, and who you hire.
The cost of your specific deck removal project will vary based on these factors. To get the most accurate estimate, we recommend reaching out to multiple deck removal pros in your area for a quote. This will help to guarantee you don't overpay and that you get the best customer service, too.
On average, deck installation recoups 80% of costs and positively impacts your home's value, making it a very worthwhile project.
Learn more:
---
---
Fence Removal or Replacement
An old rickety, chipping, or splintering fence can negatively impact your home's curb appeal, its overall value, as well as your enjoyment of your home and surrounding property.
A well-built, attractive fence not only improves your home's safety—which is invaluable if you have children, pets, or a pool—but also increases your home's value by as much as 10% in some cases and recouping anywhere from 50-70% on average.
If your fence is beyond repair, or you're ready to make a change to your existing fence design, have the old one removed and replaced with a more suitable option. If you live in a city and could use a little privacy, a privacy fence is a great way to protect yourself from intruders as well as the prying eyes of nosy neighbors.
Replacing a fence helps to keep your yard looking defined, spacious, safe, and welcoming. If you have a fence that looks worse for wear, it's worth considering having it removed or replaced using modern materials that fit your budget and needs.
The average cost to remove a fence is $600-$800, including debris disposal, but can cost as little as a couple hundred bucks or as much as a couple thousand in some cases. Generally speaking, you can expect to pay $5-$20 per linear foot to remove your fence. However, your exact fence removal cost can vary depending on the length and height of the fence, the location and accessibility of the fence, material used to build the fence, whether or not the fence has cement footings, whether or not you're also replacing the fence, as well as the contractor you hire.
Fence installation costs $1,500-$5,000 on average, making the total average cost of fence removal and replacement $2,500-$6,000.
Read on:
---
---
Driveway Replacement
Do you have an old, narrow driveway that's seen better days? Do you have cracking, crumbling, or uneven spots in your driveway?
Sometimes power washing a driveway is all it takes to get it looking new and boosting your curb appeal, but in some cases, driveway replacement is the best and arguably the only option.
If tree roots or cold weather have caused damage to your driveway, it's time to have the concrete removed and replaced.
The average cost to remove a concrete or asphalt driveway in the U.S. is between $1,000-$3,000, including debris disposal. On average, a new driveway can increase your home's value by as much as 10% while also improving your home's accessibility and safety.
There are a number of factors that will affect the cost of your specific driveway removal, like the square footage of the driveway, where it's located and how accessible it is, who you hire to do the work, and whether or not you're replacing the driveway.
Keep reading:
---
---
Walkway Removal or Replacement
Similar to an old, uneven driveway, cracking and buckling walkways on your property should also be replaced; not only for safety's sake but for the boost in curb appeal and the average 30-60% ROI walkway replacement boasts.
The average cost to remove a concrete sidewalk is between $1,000-$2,000, but can range anywhere from $500-$5,000 or more depending on the size and depth of the sidewalk, local cost of living and debris disposal fees, location and accessibility of the walkway, and who you hire to do the work. Concrete sidewalk installation costs $5-$12 per square foot on average, with various factors coming into play as well.
---
---
Exterior Painting
Painting is a relatively inexpensive and simple way to give your home a brand new look. Giving your home a fresh coat of paint can breathe new life into it and increase its value without breaking the bank.
The benefits of painting a home's exterior has multiple benefits, including increasing the overall value of your home, changing the entire look and feel of the home, adjusting the tone for your entire property which carries into your day-to-day life, making a statement with bold colors or contribute to the calming feel of your home with lighter colors, and protecting your home from the effects of the environment.
You can paint as much or as little as you see fit, from the front door to a portion of the exterior, to all of it. The colors you choose can have a dramatic effect on how your home will look, the curb appeal it has, and its value.
Learn more:
Replace Exterior Features
Mailbox
Your mailbox can become old and faded over the years. If it's in good shape still, you can often save money by giving it a thorough cleaning, then painting it and staining it to freshen the appearance and make it last for years to come. If it's in less-than-great shape, replacing it is still an inexpensive project you could tackle over the weekend.
If you're removing your old mailbox, including the post, a one-time pick-up by a junk removal company or temporary dumpster rental could be a convenient way to dispose of the debris (and any other junk you have lying around the house).
House Numbers
Your house numbers, which are typically displayed on your home or mailbox, are another exterior feature that can quickly age the look of your home. An outdated font or faded metal numbers may seem small, but it has a bigger impact than you think.
External Lighting
Your porch light(s), garage light, or any other external lights you have on your home can also be affecting your curb appeal, perhaps positively or negatively. If you have old-fashioned lighting fixtures, replacing them is an inexpensive, quick way to boost curb appeal and your home's value.