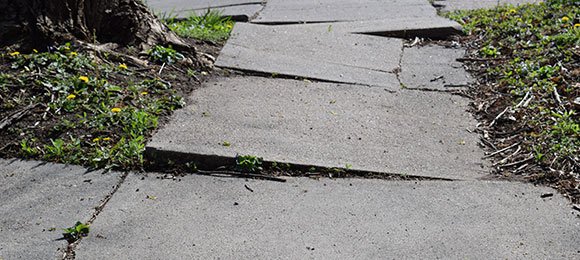 Updated January 23, 2023
Removing an old, cracked, or unsightly concrete sidewalk can quickly improve your property's value (and safety), but you're likely wondering how much it will cost.
At Hometown, we understand that getting a great price for your concrete sidewalk removal is important to you, and we're here to help ensure you get that.
This cost guide will go over:
---
---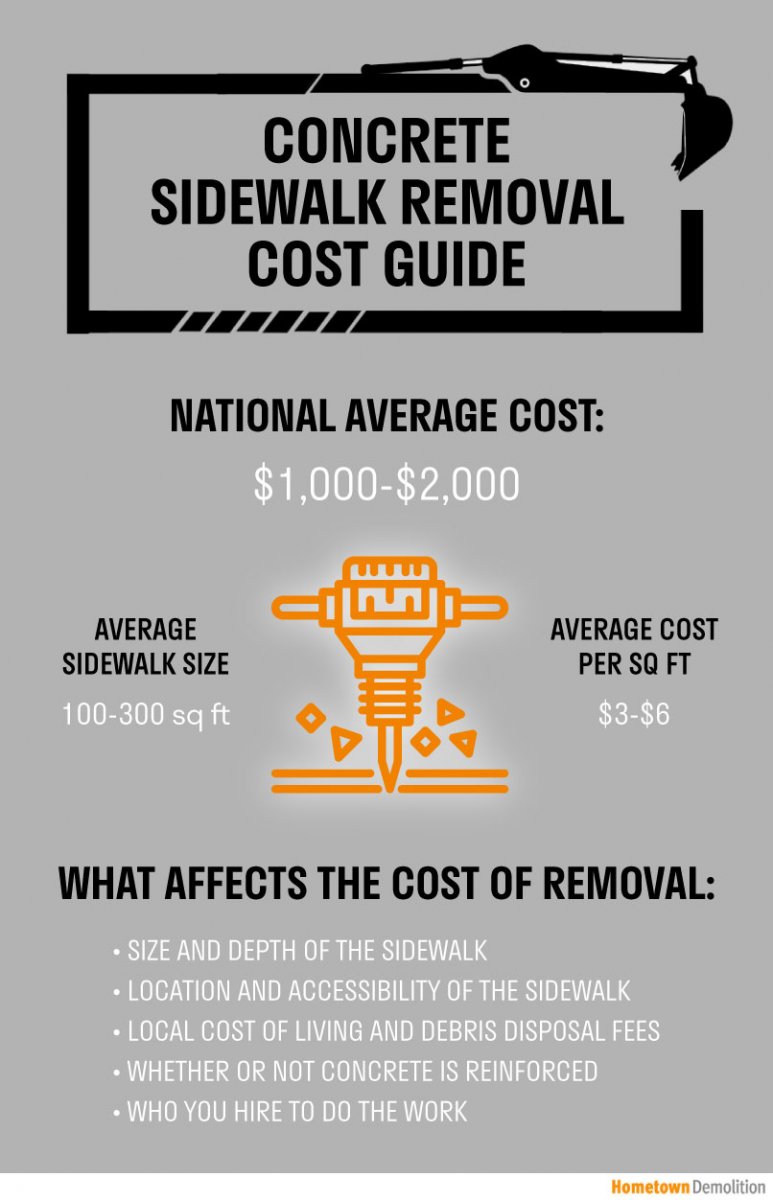 Concrete Sidewalk Removal Average Cost
The average cost to remove a concrete sidewalk is between $1,000-$2,000, but can range anywhere from $500-$5,000 or more in some cases.
Concrete sidewalk removal costs $3-$6 per square foot on average, but your exact project cost could be more or less than this.
In the table below, you can see what others have paid for their sidewalk removal projects.
Concrete Sidewalk Removal Pricing Examples

| State | City | Project Description | Project Cost |
| --- | --- | --- | --- |
| California | Massack | Demolition of 200 sq ft concrete sidewalk | $1,100 |
| Illinois | Oak Lawn | Demolition of 162 sq ft concrete sidewalk | $650 |
| Texas | Dallas | Demolition of 195 sq ft concrete sidewalk, including replacement | $5,000 |
| Texas | Fort Worth | Demolition of 377 sq ft concrete sidewalk | $1,200 |
| Texas | Richardson | Demolition of 64 sq ft concrete sidewalk | $300 |
As you can see from the examples above, the cost to remove a sidewalk can vary from a few hundred bucks to several thousand dollars.
Your particular concrete sidewalk demo could cost more or less than the examples shown above.
Read more:
Factors That Affect Concrete Sidewalk Removal Pricing
When a demolition contractor writes up an estimate, they consider more than just the square footage of the sidewalk.
Several factors play a role in how much you'll ultimately pay to have your concrete sidewalk demolished.
The most common factors that affect the total cost of concrete sidewalk removal include:
Size and depth of the sidewalk.
Location and accessibility of the sidewalk.
Local cost of living and debris disposal fees.
Whether or not the concrete is reinforced.
Who you hire to do the work.
Naturally, the larger the sidewalk and the deeper the concrete, the more expensive it will be to break it up and remove it.
Likewise, if your sidewalk is located in an area that has a high cost of living and high waste disposal or permit fees, then you can expect to pay more for your sidewalk removal.
And if your sidewalk is complex or surrounded by buildings or landscaping, it will take more time and effort to safely remove it, which will cost more as well.
Another commonly overlooked factor that affects sidewalk removal costs is the contractor you hire to do it.
Each contractor offers different levels of customer service and different prices, and not all contractors are created equal.
Because of this, we recommend reaching out to multiple contractors for quotes to compare them.
This will help you get a great price for your sidewalk removal project and great customer service, too.
---
---
How to Find the Right Concrete Sidewalk Removal Contractor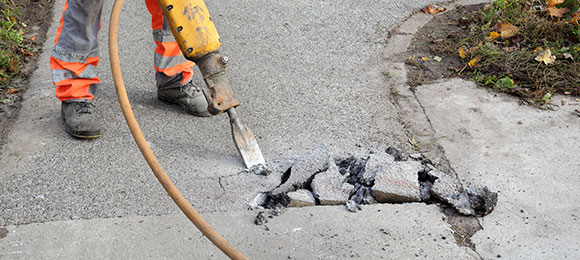 Hiring an experienced concrete removal contractor to handle your sidewalk removal project is important for a number of reasons, but more than anything, it's for your protection.
If the sidewalk removal is not handled properly, damage can be done to surrounding property or underground lines.
A qualified concrete removal contractor will carefully consider the best way to remove the sidewalk without damaging any surrounding property, and what size/type of equipment is best for your particular project.
Likewise, when it comes to concrete sidewalk removal, grading the area improperly can lead to costly drainage issues down the road.
This is why we recommend hiring someone you know is licensed and insured to handle the concrete sidewalk removal.
We recommend reaching out to three or more local contractors to obtain quotes for your sidewalk removal project.
This will help to ensure you hire the right person for your concrete removal without overpaying.
Hometown helps make it easy to find contractors in your area, read customer reviews, and request quotes from as many contractors as you'd like.
---
---
Learn more: