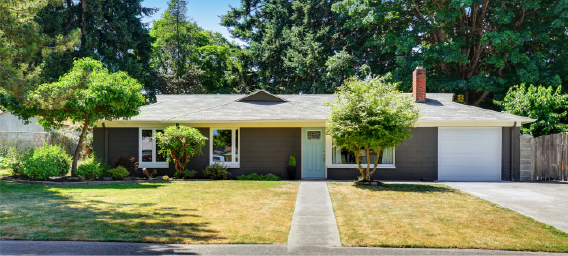 Updated April 17, 2023
With spring arriving, most homeowners are starting to think about exterior house projects that need to get done.
The exterior of your home is what makes a first impression to visitors or potential buyers. Improving the outside of your home can improve curb appeal and increase the overall value of your property.
A well-maintained lawn, landscaping that suits the home and your neighborhood as well as your own personal style, a nicely painted exterior, and fences, decks, or pools in good shape...all of this boosts your home's overall value. If you want better curb appeal, this guide can help you get inspired and show you how to improve your home's exterior without breaking the bank or losing your weekends to get it done.
Jump to:
---
---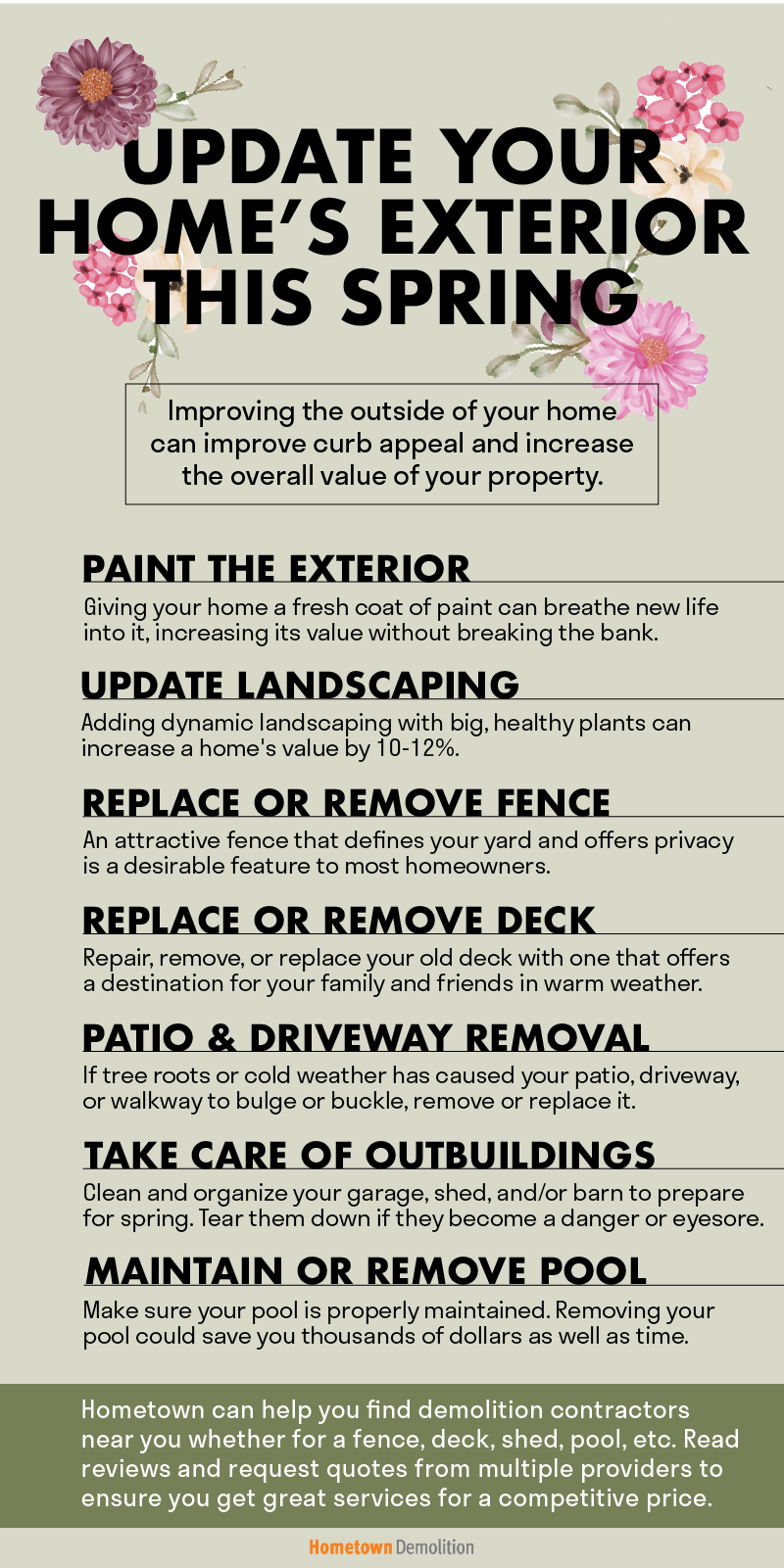 Paint Your Home's Exterior
Painting is a relatively inexpensive and simple way to give your home a completely new look.
Giving your home a fresh coat of paint can breathe new life into it, increasing its value without breaking the bank.
There are many benefits to painting the outside of your home:
Increase the overall value of your home
Change the entire look and feel of the home
Adjust the tone for your entire property which carries into your day-to-day life
Make a statement with bold colors or contribute to the calming feel of your home with lighter colors
Protect your home from the effects of the environment
You can paint as much or as little as you see fit! Don't feel like you have to paint your entire home to reap the benefits. Painting your front door can have a huge effect on your home's aesthetic, and in turn, its overall value for less than $50 in most cases. Sun, rain, wind, snow, and ice can leave your siding, brick, or trim looking dingy and worse for wear. It's amazing what fresh paint can do to the overall look and feel of a home, especially when the color is right. While neutral color schemes are always a safe bet, sometimes it's fun (and fitting) to use bold color when it suits your style and neighborhood.
Learn more:
Replace or Remove Your Old Fence
If you have a fence that looks worse for wear, you should consider having the fence removed or replaced using modern materials that fit your budget and needs. Replacing a fence is a relatively quick way to define your yard and can even make your yard appear bigger yet cozy and welcoming at the same time. During a cold, wet winter, wood fence posts and boards become grimy, rot, and are more at risk of falling or blowing over. In the spring, give your fencing a good wash, remove any evidence of rot, replace pieces of the fence, and add a new layer of stain or paint as needed.
If your fence is beyond repair, or you are ready to make a change, have the old one torn down and replace it with a newer, more suitable option. If you live in a city and could use a little privacy, a privacy fence is a great way to protect yourself from intruders as well as the eyes of nosy neighbors.
---
---
Keep reading:
Replace or Remove Your Old Deck
Just like fences and the exterior of your home, decks can take a beating in the winter, too. Wood can splinter, paint can chip, and your once inviting deck can become an eyesore and a safety hazard. Take the necessary steps to redeem your deck to its former glory, and protect it from further wear and tear.
If your deck is beyond repair, it may be time to remove or replace it. A deck has the potential to be a destination for your family and friends in warm weather and can increase your home's value if you decide to sell.
Upgrade Your Outdoor Furniture
If you have outdoor furniture that was left out to endure winter's elements, consider giving it a solid cleaning and revamping—or even replacing—them if need be. Paint chips and wrought iron and aluminum can rust, which can lead to some gnarly looking furniture. What good is a beautiful deck and yard if your seating is old and unsightly? If the items are beyond repair, consider donating or selling them.
Find out more:
---
---
Invest in Your Landscaping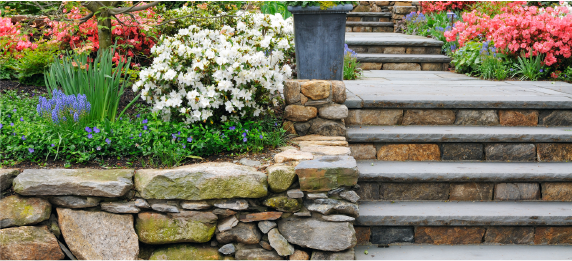 One of the easiest ways to add instant curb appeal to your home is by upping your landscaping game. The hazards of winter weather—snow, ice, and salt—can wreak havoc on your yard. Twigs, leaves, and other debris can accumulate under a winter's worth of snow and ice, leaving you to clean up the mess when it's melted and gone. Prompt action is necessary to keep your lawn in tip-top shape. Start by raking up all the bits of debris in your yard, or use a leaf blower to blow the debris into a pile, and bag it all up into yard waste bags.
To make yard cleanup a snap, hire a junk removal company to pick up the yard debris for you! Once all leaves, twigs, branches, dead grass, and any other bits and pieces have been removed, you can begin assessing your landscape and overall goals. Rake mulch or gravel back into place and fill in any spots that need to be refreshed. Trim back dead shrubs and branches, prune plants and bushes, and edge your lawn and beds.
Add new plants and flowers native to your area that complement your newly pruned space, and plant grass seed to get rid of any bald spots. Your landscaping choices should pair well with the aesthetic of your home. Adding dynamic landscaping with big, healthy plants can increase a home's value by 10-12%. In other words, a $250,000 home with a plain lawn could be worth $25,000-$30,000 more by simply adding the appropriate landscaping. Save even more money and time by choosing plants that require minimal water and maintenance.
Whether you are planning to sell your house in the near future or not, you should not only plan your landscaping around what looks good and works well now, but also what will look good and work well in the future.
Trees can offer beneficial shade to your home or garden when placed appropriately. Choosing grass and perennial plants that are well-suited for your local environment can save you money and benefit native wildlife. Likewise, suitable walkway and garden lighting, stone accents and paths, etc. can accentuate your home's exterior by adding dimension and intrigue, which in turn increases your home's value. Take your area's climate and environmental features, as well as your gardening style, into consideration. For example, we recommend you don't plant high maintenance plants if you're a low maintenance gardener. Likewise, if you live in a dry climate, avoid planting things that require a lot of water.
Read on:
Patio and Driveway Repair or Replacement
Fall leaves left on concrete during the winter can stain paved surfaces as well as the dirt and grime from melting snow. A power washer is a great way to get it clean. (Fences, brick, stone, and vinyl siding could all benefit from light power washing so long as it's not chipping.) If tree roots or cold weather has caused your patio, driveway, or walkway to bulge or buckle, it's likely time to have the concrete removed and replaced.
---
---
Remove or Upgrade Your Shed, Barn, or Garage
Throughout the year, a garage, shed, and barn can get unorganized and messy, so get things tidied up before the spring season is in full bloom. Start by vacuuming or sweeping up all cobwebs and dust, then clean up any spills, sweep the floor, and clean the windows. Get rid of items and materials that are old, expired, or useless, donate usable goods, and organize the rest. If the structure itself has become compromised, consider having it demolished. It might even increase your property's overall value.
---
---
Read on:
Repair, Replace, or Remove Your Swimming Pool
Pools take a lot of work to keep clean and functional, and the fall and winter creates quite a bit of work for the average pool owner. Getting a pool in good shape will involve various steps depending on the pool, but if you want to have it removed, we recommend hiring an experienced pool removal professional to get it done safely and properly.
In the long run, removing your pool could save you thousands of dollars and countless hours of your time each year in pool maintenance. Plus, if you plan on selling your home in the future, an unattractive swimming pool can be a turn-off for potential buyers.
---
---
Learn more: