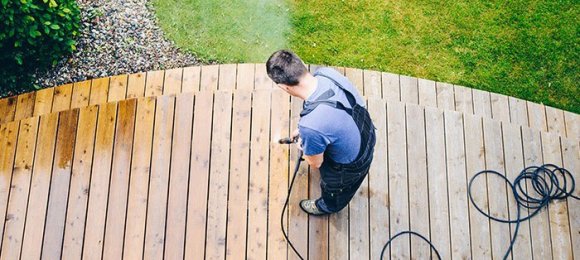 Updated January 24, 2023
If you've got deck questions, we've got answers. Get the basics on how to repair and maintain wood and composite decking.
In this article, we'll answer:
How do I care for a wood deck?
Rot is the number one issue with wood decks.
To prevent rot, it's ideal to start by using pressure-treated lumber.
Staining or painting the deck also helps seal the wood and protect it from the elements.
If your deck is made of pressure-treated lumber, it will be more resistant to rot but not immune to it altogether.
Most rot happens on the underside of boards and treads, so keep this area as clear of debris and moisture as possible.
To minimize rot and staining on the deck, clear it of leaves, berries, animal droppings, etc.
Remove anything that can stain or speed up the decay of wood.
It's also a good idea to pressure wash your deck periodically in order to "deep clean" it and remove as much dirt and grime as possible.
How do I fix warping deck boards?
Another common issue with wood decks is warping of the deck boards. This causes the boards to curve a great deal and nails start to pop.
This typically happens if the deck is not weather treated or undergoes a lot of harsh weather conditions.
If a deck board is warping, simply remove it with a pry bar and nail down a new board using galvanized nails.
How do I remove discoloration from my deck?
Discoloration is a common issue with both wood and composite decks.
Stains are often a result of mold, algae, or mildew, so the best way to remove them is with the proper cleaning agents.
Clean your wood deck with a mild cleanser and then rinse it off with a solution of water and bleach (4:1).
Restore color to your deck by re-staining or painting it.
If using a stain, choose one that contains oil or paraffin to prevent moisture from penetrating the wood.
To prevent fading from the sun, choose a stain that has UV blockers.
To prevent wood-eating bugs from damaging the deck, choose a stain that contains an insect repellent.
If using a paint, use an alkyd primer or stain-blocking oil before painting to keep water out.
How do I replace deck boards?
If you have damaged or rotting deck boards, replacing them is relatively easy and will help keep your deck in good condition.
Remove the board that's causing the issue by using a pry bar to lift the nails up and out so the board comes loose.
If you only want to replace a portion of the board, cut out the damaged or rotten pieces using a jigsaw or similar type of saw.
If unsure of the type of decking board, take one—or a portion of one—to the lumber yard or home improvement store and have an employee help you match it.
Oftentimes, you can get assistance trimming lumber to your desired size at a big box home improvement store or lumber yard.
Once the board is properly sized, simply nail it into place with galvanized nails in all four corners.
How can I make the deck slip-resistant?
Mold not only stains a deck but also produces a slippery surface.
After you remove any mold or mildew on your deck with a mild cleanser and a solution of water and bleach (4:1), roll or spray on a water-repellent stain.
For more thorough protection in humid or rainy climates, use a stain with mildewcide.
You can even go a step further and apply an anti-slip decking product that contains sand in the paint to provide superior traction.
Coarsely gritted self-adhesive strips are another great way to provide extra grip on stairs.
What should I look for in a good deck contractor?
A good deck contractor should be:
Licensed to perform this type of work
Well-rated by previous customers
Willing to give you references
Able to answer all of your questions
Knowledgeable and professional
Courteous and customer-oriented
Do your due diligence to find the right contractor for the job. It's an essential step in ensuring a quality result when hiring for deck repair, deck removal, or deck replacement.
Steer clear of any outrageously low prices or big promises, or if a contractor asks you to pay for more than 50% of the work upfront—these are red flags.
Keep reading: