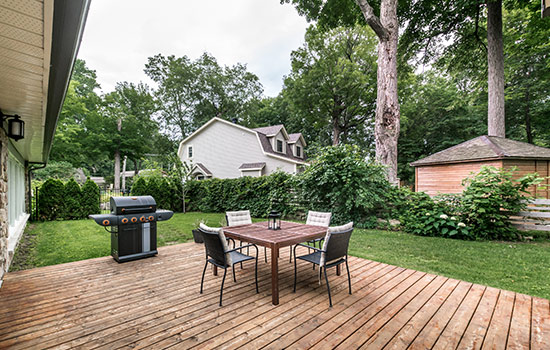 Updated January 23, 2023
If your deck looks rough but is structurally sound, you may be able to repair it.
But if your deck is not structurally sound or you would like a new layout, replacing your deck is the best option.
Deck Replacement Cost
Deck replacement costs an average of $4,600-$11,000.
Your particular deck replacement could cost more or less than this depending on the factors listed above, so get multiple quotes for your deck replacement project.
The more contractors you speak to, the better your chances of having a positive experience.
The last thing you want to do is overpay (or pay at all) for poor service, so do your due diligence when choosing the right contractor for your project.
Learn more: The Importance of Getting Multiple Quotes Before Hiring a Contractor
Benefits of Deck Replacement
Improve the deck's overall appearance
Increase your home's value
Add new design features
Increase safety, functionality, and/or accessibility (gates, ramps, etc.)
When to Replace Your Deck
The good news is: You don't necessarily have to tear your entire deck down and start over.
Most decks that look worse for wear still have a structure that's in good shape.
If that's true in your case, you can simply remodel or reface the deck with new decking, rails, and stairs as needed.
This saves a great deal of money over the cost of a total deck rebuild.
The most important things to check before determining whether or not you can reuse your deck's framework include:
Footings
Start from the ground up by examining the footings.
If you notice that the deck appears warped, especially in the winter time, then your deck footings may have heaved above grade.
If your footings are too shallow, you can likely dig and pour new ones directly next to the old ones rather than digging them out.
Posts
Examine your posts and other framing members to see if they're made of treated lumber or not. This is the most common material used to frame decks as it lasts for decades.
If your deck is framed with redwood or cedar, it may be best to start over and reframe it with treated wood so that it will last (much) longer.
If a screwdriver can penetrate the wood, it's also best to start over with treated wood or composite decking materials.
Pay close attention to the posts, which come in direct contact with the footing or the ground, and thus, more moisture.
Joists
There should be one or more ⅜-in. lag screws or bolts between each pair of joists to maintain a secure connection.
Check for joist hangers on each joist, making sure each of the nail holes is filled with galvanized joist hanger nails. If they're missing anywhere, add them.
There should be flashing over the top of the deck ledger that attaches to the house behind the siding. Add that if it's missing, too.
---
---
Keep reading: