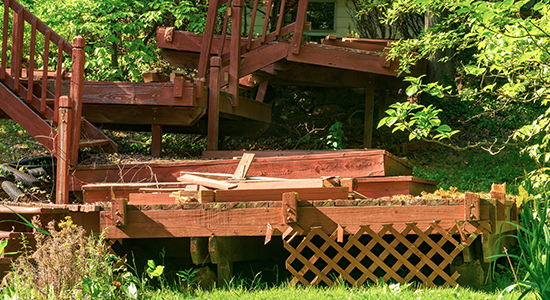 Updated January 23, 2023
Outdoor decks undergo a great deal of exposure to the elements, from solar rays and heat to cold, precipitation, and wind, among others. Over time, the ends of deck boards can become splintered, soft, warped, and frayed.
But there's more than one reason to get rid of a deck apart from age and rot.
Learn more about deck removal:
Common Reasons to Demolish a Deck:
Improve its appearance with fresh lumber and modern materials
Add new design features to increase accessibility or safety (gates, ramps, etc.)
Replace it with something new, such as landscaping, a pool, shed, etc.
Regardless of the reason for saying 'goodbye' to your deck, make sure you are well-prepared to ensure the entire project goes smoothly.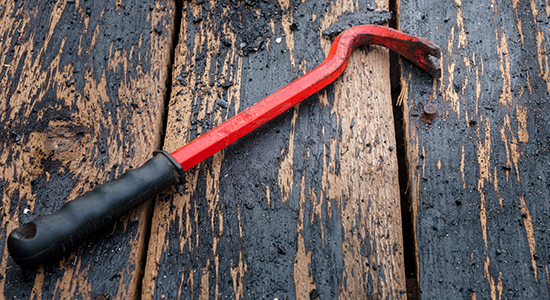 Hire a qualified professional to remove your deck.
A successful deck removal requires planning, which includes choosing the right contractor or tools/equipment for the project.
Because demolition can be seriously tough work, we recommend leaving the work to professionals with the experience and the equipment.
Accurate and meticulous planning is required in order to avoid potentially dangerous scenarios and from damaging the surrounding home, landscaping, etc.
With that said, there are instances where a little DIY can go a long way.
For example, if you have a wood deck that still has some good pieces of wood left, use a prybar and hammer to pull out the nails and carefully pry up the plank—that wood could be used for a number of things!
Think: Antique frame or coffee table, or sell the planks on Craigslist or Facebook.
Not only will you have reusable lumber to use or sell, but you could potentially save money on the remaining deck removal project if you reduce the square footage of the deck.
You'd also be reducing the amount of waste going to the landfills by reusing or recycling the materials.
This process is called 'deconstruction' and is essentially deck construction in reverse order:
Pull off the top railings, removing the balusters and bottom rails first. To remove deck boards without damaging them, use a crowbar to pry them up if they are nailed together. If they are screwed together, use a drill to reverse the screws.
Remove the deck boards.
Take apart the steps.
Disassemble the joists, beams, and then the support posts.
As you go, place the screws/nails in a jar for recycling and stack like-sized planks and pieces of wood together for easy recycling or re-selling later.
Note:
If serious about
demolishing your deck yourself
, make sure to use the proper tools and to wear the proper safety equipment, including eye protection, gloves, work boots, and other protection.
Keep reading about finding the right contractor:
Get a permit if your area requires one.
Typically, local municipalities do not have regulations regarding the removal of decks.
However, if the deck is part of a property that has historical significance, then you may be required to secure a removal permit.
Oftentimes, the contractor you hire to remove the deck will pull the permits for you, but you should always discuss this with them to confirm who is responsible for this aspect of the project.
Learn more about permitting:
Know what deck removal projects cost in your area.
According to national averages, the typical deck removal costs between $600 and $1,000.
The exact cost of your deck removal project will depend on:
the size and complexity of the deck
the accessibility of the deck
where you live
the contractor you hire
the amount of salvageable materials you have
See what others have paid for their deck removal project.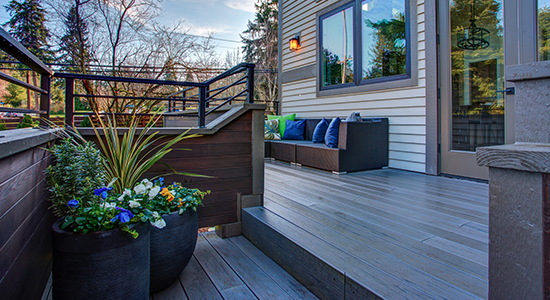 Be ready with post-demolition plans.
Regardless of what you plan on putting in your old deck's location, you should have this plan in place before hiring your deck removal contractor.
If you plan to build a new deck or some other type of structure, you may be able to save some money by hiring one contractor to handle both jobs.
If the plan is to build a new structure, like a home addition or a shed, where your old deck once stood, the land may need to be filled and graded in the proper manner.
Whether you're putting in a new deck or a new pool, make sure to discuss your future plans with the deck removal contractors early on in the process to ensure all your bases are covered. Doing so can save on project costs in the end.


---
Get inspiration for your outdoor space: