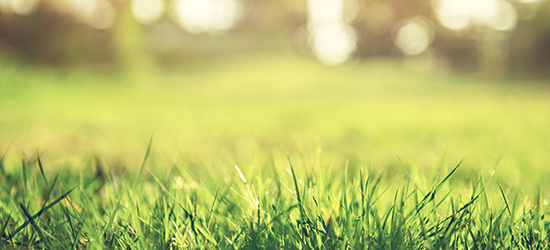 Updated September 11, 2023
Once the air begins to warm, or snow thaws and the ice melts, your lawn and garden may look a little different than it did last fall.
Make sure it's looking beautiful and is in peak operating condition for the warmer months by checking off these 7 things on your spring to-do list.
We'll go over:
---
---

Landscaping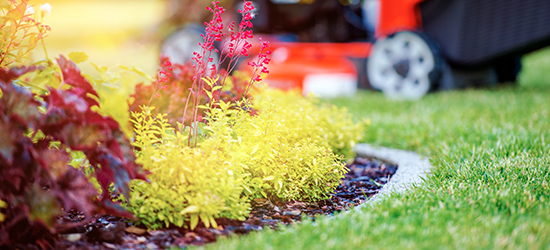 Winter weather, snow and ice can wreak havoc on your yard, especially if you live in the great white north.
Twigs, leaves, and other debris can accumulate under a winter's worth of snow and ice, leaving you to clean up the mess when it's melted and gone. Prompt action is necessary to keep your lawn in tip-top shape.
The first step to getting your lawn ready for spring is to rake up all the bits of debris.
To make things easier, use a leaf blower to blow the debris into a pile, and bag it all up into yard waste bags.
Or, make things simple and hire a junk removal company to pick up the yard debris for you!
Once the yard is clean of all those bits and pieces, you can start assessing your landscape "big picture" and overall goals for the space.
Does mulch or gravel need to be raked back into place?
Does it need to be filled in in certain spots, or completely refreshed and refilled?
Trim back dead shrubs and branches, prune plants and bushes, and edge your lawn and beds. Add new plants and flowers to complement the newly pruned space.
Make sure you're taking your area's climate and environmental issues—as well as your preferred gardening style—into consideration. Don't plant high maintenance plants if you're a low maintenance gardener. Likewise, if you live in dry climate, you'll want to avoid plants that require a lot of water.
Learn more: Getting Rid of Landscaping Debris
Outdoor Furniture
If you have outdoor furniture that was left out to endure winter's elements, consider giving it a solid cleaning and revamping—or even replacing—them if need be.
Paint can chip. Wrought iron and aluminum can rust.
Chip off the loose paint, sand down rough spots, and give outdoor furniture a fresh coat of paint for the new season.
If the items are beyond repair, consider donating or selling them.
Don't have time to donate, sell, or trash your old furniture? Hiring a junk removal company can help take the load off. Our sister site, Hometown Dumpster Rental publishes locally-owned and operated junk removal and dumpster rental companies throughout the U.S.
Fill out our single quote request form to quickly receive multiple estimates and easily compare each company's pricing, customer services, and availability.
Keep reading:
Deck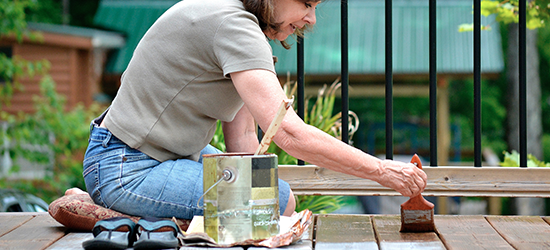 Just like outdoor furniture, decks can take a beating in the winter cold.
Paint can chip, wood can splinter, and your once beautiful deck can turn into quite the eyesore.
Take the necessary steps to redeem it to its former glory, and protect it from further wear and tear.
If your deck is beyond redemption, it may be time to remove or replace it.
In the summertime, your deck could be a destination for your family and friends. Why not make the most of it with a 'decked out' space?
Add dimension with multiple levels, or define separate areas using pergolas or potted plants.
Continue reading:
---
---
Patio and Driveway
Fall leaves left on concrete during the winter can stain paved surfaces, so if you don't already have one, consider renting a power washer to clean away seasonal dirt and grime.
Don't just stop there, put that power washer to use! Fences, brick, stone, and vinyl siding could all benefit from a good power washing.
Use caution on vinyl siding; be sure to point the stream at a downward angle and use a lighter pressure setting.
If tree roots or cold weather has caused your patio, driveway, or walkway to buckle, it's time to have it removed and replaced.
Find out more:
---
---
Shed, Barn, or Garage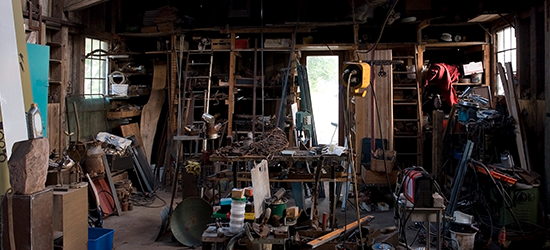 When it comes to taking care of our yard, it oftentimes starts with the tools that it takes to get the job done. And where do these tools get stored? Typically, the garage, shed, or barn.
Throughout the year, things can get unorganized and strewn about, so get things tidied up before the spring season is in full bloom.
Start by getting rid of cobwebs and dust. Finish the surface cleaning by wiping up spills, sweeping the floor, and cleaning the windows.
Toss what is old, expired, or useless. Donate usable goods that aren't used anymore, and organize the rest!
Use mounting hooks to hang bicycles and keep other equipment off the ground.
Use heavy-duty shelving and bins or baskets to keep all your items organized and in an easy-to-find place.
If the structure itself has become compromised, consider having it demolished.
Read on:
---
---
Fence
Wood fence posts and boards can become grimy and rotted over time, especially after a cold, wet winter.
Give fencing a good wash, remove any evidence of rot, and replace pieces of the fence as needed.
If needed, add a new layer of stain or paint, but don't forget to scrape and sand first.
If fencing is beyond repair, or you really want to make a change, have the old one torn down and install a new one.
If you have nosy neighbors or live in the city and could use a little privacy, consider installing a privacy fence—it's a great way to protect yourself from prying eyes. It's also additional home security, which is a win-win!
Learn more:
---
---
Swimming Pool
Pools take a lot of work to keep clean and functional, especially after the fall and winter.
Getting a pool in tip-top shape will entail different steps depending on the pool, but if you want to have it removed, we recommend hiring an experienced professional to get it done safely and accurately according to local code.
Demolition could save thousands of dollars and countless hours of your time each year in pool upkeep.
In addition, if you plan on selling your home in the future, an unkempt swimming pool is a turn-off for potential buyers.
---
---
Continue reading: