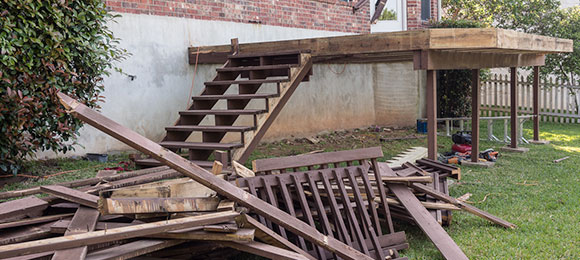 Updated June 2, 2023
If you have a deck you want removed, you're likely asking yourself, "How much is this going to cost?"
At Hometown, we understand that getting the best price for your deck removal is important to you, and our goal is to help ensure you get that.
This cost guide will go over:
---
---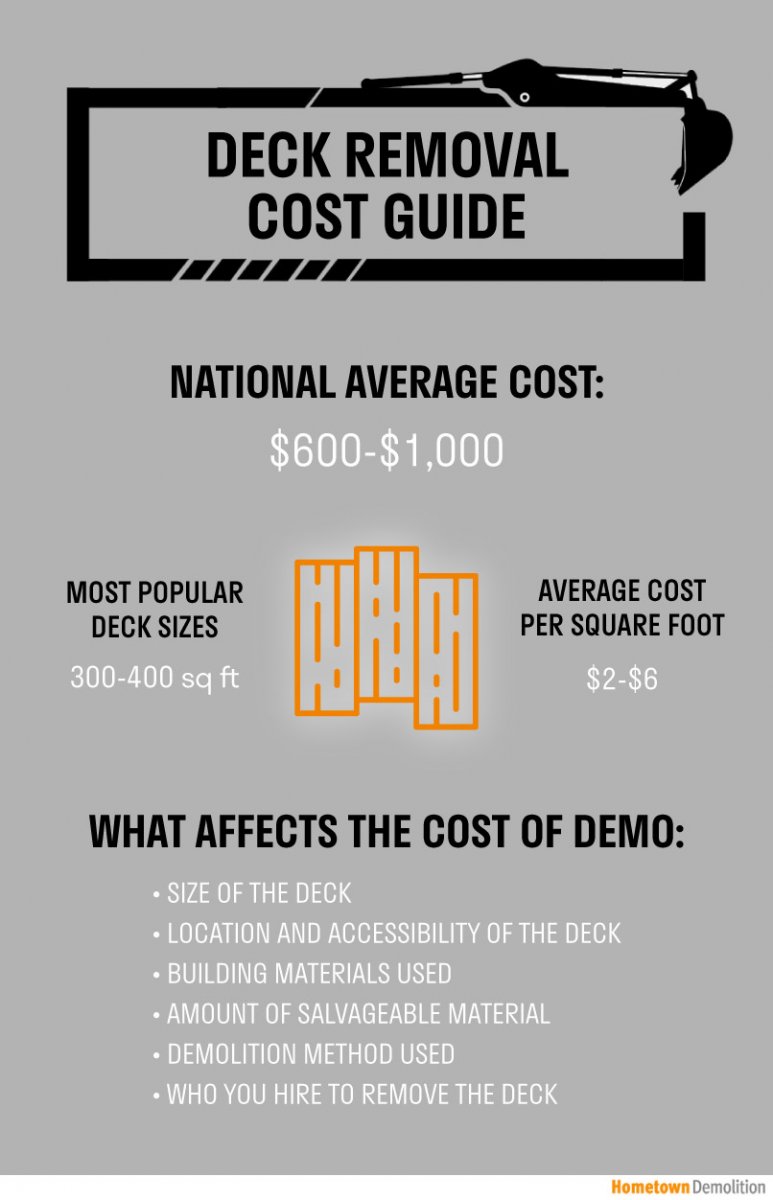 Deck Removal Average Cost
The national average price of deck removal is around $850, including debris disposal.
Generally speaking, you can expect to pay $2-$6 per square foot to remove your deck, or $600-$1,000 on average for the whole project.
However, your exact deck removal cost can vary.
Below are real-life examples of what people across the country have paid for their deck removal project.
Deck Removal Cost Examples

| State | City | Project Description | Project Cost |
| --- | --- | --- | --- |
| California | Anaheim | Removal of 280 sq ft wood deck | $300 |
| California | Long Beach | Removal of 375 sq ft wood deck, including site grading | $550 |
| California | Mission Viejo | Removal of 240 sq ft wood deck | $720 |
| Michigan | Farmington Hills | Removal of 100 sq ft wood deck | $800 |
| Michigan | Hartland | Removal of 168 sq ft wood deck | $800 |
| Michigan | Rochester Hills | Removal of 169 sq ft wood deck | $800 |
| Michigan | Sterling Heights | Removal of 384 sq ft raised wood deck | $900 |
| Michigan | Troy | Removal of 650 sq ft wood deck | $2,600 |
| New Jersey | Teaneck | Removal of 176 sq ft wood deck | $700 |
| Texas | Frisco | Removal of 120 sq ft wood deck | $785 |
Learn more:
---
---
Factors That Affect Deck Removal Pricing
There are several factors that affect the total cost of deck removal, like:
The size of the deck.
The location and accessibility of the deck.
Materials used to build the deck.
Complexity of the deck. (Is it multiple stories?)
The amount of salvageable material.
The demolition method used (with heavy machinery or by hand).
Who you hire.
Your specific deck removal project cost will vary based on these factors.
To get the most accurate estimate, we recommend reaching out to multiple contractors in your area for a quote.
This will help to guarantee you don't overpay and that you get the best customer service, too.
Keep reading:
How to Find the Right Deck Removal Contractor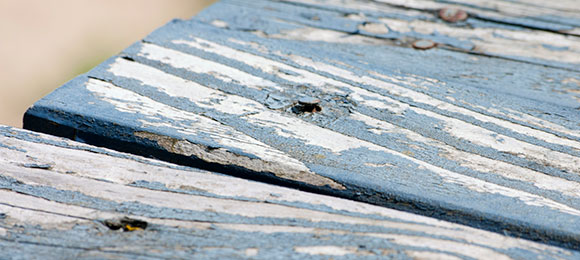 Though ripping out your deck yourself may be tempting, we recommend hiring a professional to handle your deck removal.
This is almost always the safest, fastest, and most convenient option.
A professional can have your deck removed in a matter of hours, haul away the debris when they're done, and leave you with a clean, fresh, graded space.
We recommend getting at least three estimates from different contractors to ensure you hire the right professional for your light demolition project without overpaying.
Hometown helps make it easy to find contractors in your area, see customer reviews, and request quotes from as many contractors as you'd like.
---
---
Find out more: