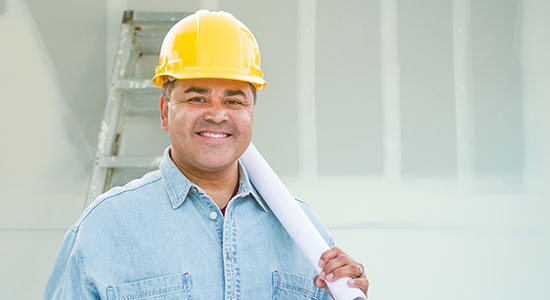 Updated January 4, 2023
A contractor can do what the average homeowner can't, which makes them an invaluable asset to the average homeowner.
The first-hand experience and hands-on knowledge that contractors have allow them to complete projects of all shapes and sizes safely, regardless of what comes up.
This is why we always recommend hiring a professional to assist in home projects.
Here's what a contractor can do that you probably can't:
Predict potential issues and mitigate what comes up
Coordinate materials, equipment, and manpower
Know what designs will look good in the space
Complete the work safely and legally
---
---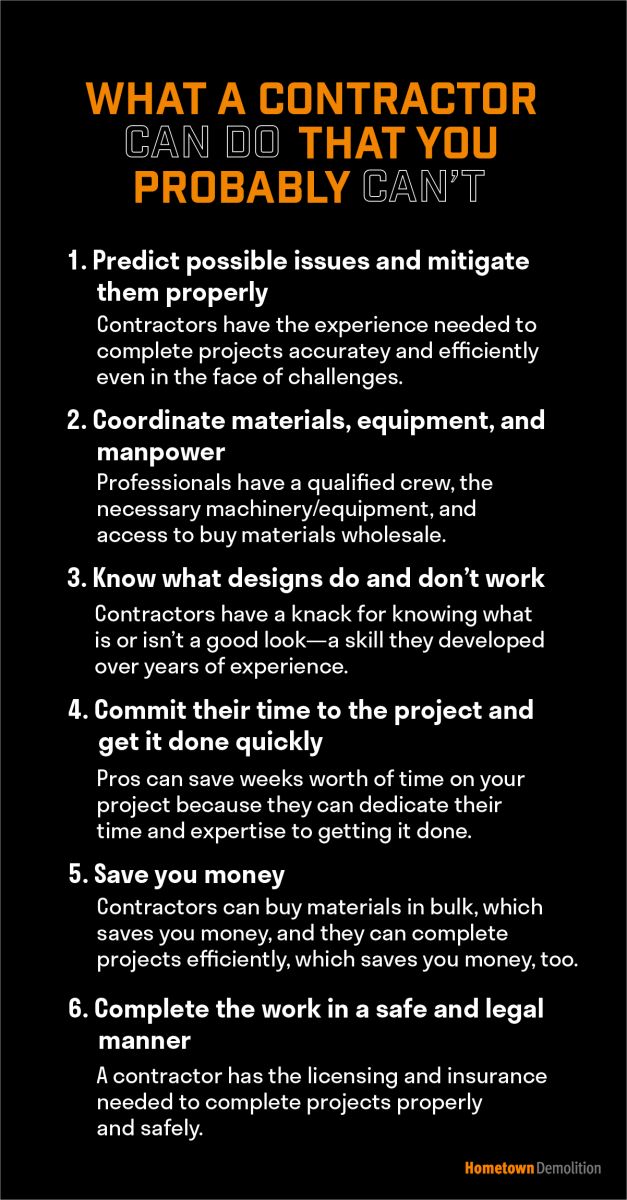 1. Predict possible issues and mitigate them properly
Most contractors have years of experience as well as a fleet of equipment at their disposal to get your project done accurately and efficiently.
They are capable of doing whatever it takes to make sure your project is completed with minimal stress and headaches.
2. Coordinate materials, equipment, and manpower
So often, there is more than meets the eye when it comes to even the smallest projects.
Completing a home improvement project is easier said than done—it requires ample time, generally multiple kinds of equipment, and the necessary strength and manpower to do it.
There are many demolition and home improvement projects where you simply need more than one person to get it done.
You generally need specific tools and construction materials as well, most of which the average homeowner doesn't already have.
A professional contractor not only has a qualified crew of individuals to help them as needed, but the tools and equipment it takes, and the access to purchase materials wholesale, too.
3. Know what designs do and don't work
When you're an expert in your field and work on houses day in and day out, you develop a knack for knowing what looks good and what doesn't.
Having a pro on your team makes it much more likely that your project will turn out great.
4. Commit their time to the project to get it done quickly
Let's face it: Time is money.
There are a million things you need to do in a day, and oftentimes, you don't have the necessary time to devote to completing a project safely and in a timely manner.
Doing a home improvement project yourself may save a little money, but you lose a great deal of free time in return.
Not to mention, the longer your project takes to complete, the longer you'll be living in a mess.
You can save weeks' worth of time by hiring an experienced contractor to handle the work.
Keep reading:
5. Save you money
A professional has the experience and knowledge to complete the project properly and quickly, which saves you money in the end.
You don't have to worry about having to redo things that go wrong or missing a step and having to pay to have it fixed.
As previously mentioned, a contractor also has the ability to buy materials in bulk, meaning you'll get high quality materials at a lower cost.
6. Complete the work in a safe and legal manner
A contractor must be licensed by a state board in order to legally perform most demolition or construction services.
This helps ensure that contractors follow the rules and regulations that apply to your area.
In addition, the hired contractor should also be insured, which means that should an accident happen on the job and someone gets hurt, you and your home are protected.
When you hire a pro in your area, you're hiring a local expert. They will know the exact rules and regulations for your area and make sure everything is completed properly, including obtaining permits.
---
Learn more: