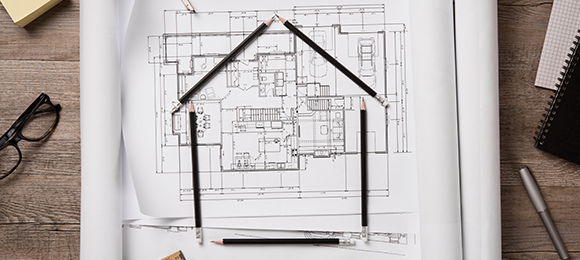 Not all home improvement projects are created equal, and while it's tempting to go for the 'fun' updates, like a kitchen or bath remodel, the most rewarding remodeling projects are oftentimes the less exciting ones, like new attic insulation or an entry door replacement.
Handle the basic (i.e., boring) stuff first.
Your priority should first and foremost be addressing any issues within your home—whether aesthetic or structural—and making sure your house is in good shape.
A bad paint job, leaky roof, cracked siding, or poor insulation should be addressed before remodeling an unfinished basement or outdated bathroom. Updated kitchens and baths lose their appeal if the house's basics are subpar.
As a rule of thumb: Resolve any existing issues with the home first and get the luxuries later.
New insulation or a roof replacement may not seem like bait for potential homebuyers but think about it from their perspective.
Because most buyers have a budget for what they can afford to spend, they will be more likely to buy a house if basic, essential systems are in good shape.
An outdated bathroom that still functions properly is a much easier pill to swallow than shoddy windows or a structural issue that will need to be replaced right away.
If homebuyers know they won't have to spend part of their budget on the upkeep of the home's essential systems, then they're more likely to buy the house and consider upgrading the kitchen or baths down the road.
Give the people what they want.
The best way to increase your return on investment (ROI), is to get a thorough understanding of what today's buyers prioritize and look for in a home.
Although each potential buyer is different and will inevitably be looking for different things when house hunting, there are some things that are particularly irresistible to all of them.
According to Remodeling Magazine's 2018 Cost vs. Value Report, attic insulation—which keeps heating and cooling costs low—is so desirable to potential homeowners that you could actually make money on the investment due to its 108% average ROI.
Similarly, all homeowners love a home with curb appeal.
That's why entry door replacements, manufactured stone veneer, garage door replacements, and siding replacements each have an ROI of 76% or more.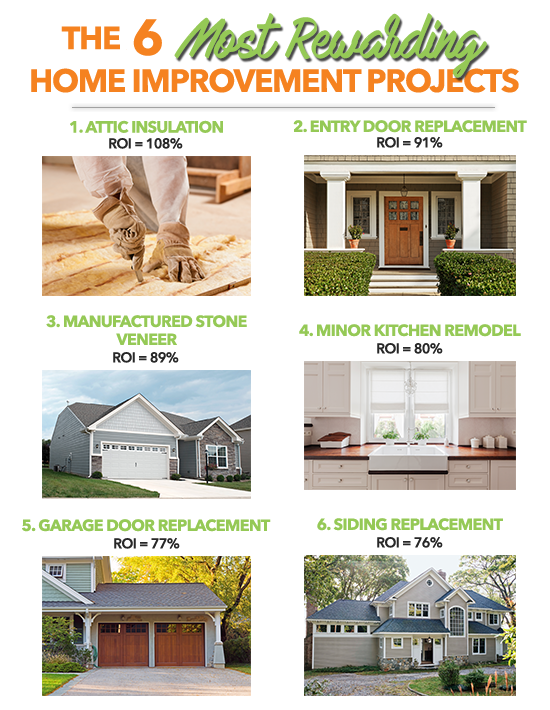 Now, this is not to say that luxury items, like steam showers, home theaters, or wine cellars, can't pay off; these projects can be well worth the investment in the right market.
Take a look at the homes in your neighborhood—or better yet go to a couple of open houses—to see what's selling quickly (and why) and what homebuyers near you are really interested in when it comes to buying a home.
---
Keep reading:
---
Here's a more expansive look at what home improvement projects have the highest average ROI across the United States:
Most Valuable Home Remodeling Projects

| Project | ROI % | Avg. Cost | Resale Value |
| --- | --- | --- | --- |
| Attic insulation | 107.7% | $1,343 | $1,446 |
| Entry door replacement | 90.7% | $1,413 | $1,282 |
| Manufactured stone veneer | 89.4% | $7,851 | $7,019 |
| Garage door replacement | 76.9% | $1,749 | $1,345 |
| Minor kitchen remodel | 80.2% | $20,830 | $16,699 |
| Siding replacement | 76.4% | $14,518 | $11,093 |
| Vinyl window replacement | 73.9% | $15,282 | $11,286 |
| Wood deck addition | 71.5% | $10,707 | $7,652 |
| Two-story addition | 71.1% | $176,108 | $125,222 |
| Basement remodel | 70% | $71,115 | $49,768 |
| Family room addition | 69.3% | $89,566 | $62,055 |
| Roofing replacement | 68.8% | $20,664 | $14,214 |
| Major kitchen remodel | 65.3% | $62,158 | $40,560 |
| Composite deck addition | 65.2% | $17,249 | $11,252 |
| Bathroom remodel | 64.8% | $18,546 | $12,024 |
| Master suite addition | 64.8% | $119,533 | $77,506 |
| Backyard patio | 54.9% | $51,985 | $28,546 |
| Bathroom addition | 53.9% | $43,232 | $23,283 |
Cost information via Remodeling Magazine's 2017 Cost vs. Value Report
Make sure the project is done right (and is right for your home).
Needless to say, regardless of the home improvement project(s) you choose, if the work isn't done right and doesn't look good when it's finished, it won't do you any good.
In fact, it could very well reduce your home's value and therefore your ROI.
Your exact ROI will depend on...
the quality of your project
the value of your house
your area's housing market
the value of nearby houses
how quickly you sell after making improvements
Make sure you increase your chances of recouping your money by hiring a qualified professional to handle the work. If you need any demolition done—whether interior, exterior, structural or otherwise—Hometown Demolition is the best place to find the right pro for the job.
---
Learn more about remodeling projects: