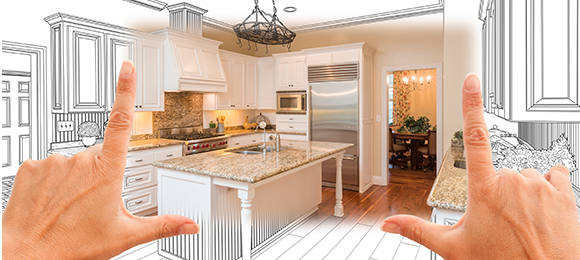 Updated March 31, 2023
Thinking about remodeling your kitchen but don't know where to start?
Our guide to kitchen remodeling outlines everything you need to know, including average costs, design considerations, how the process works, when to DIY, and how to hire the right professional for the job.
This guide will cover...
---
---
Consider Costs
A major kitchen remodel typically costs between $10,000 and $30,000 on average.
However, remodels can cost more or less depending on the extent of the update and the quality of the materials you decide to use.
National Average Cost to Remodel a Kitchen

| | |
| --- | --- |
| Low-End Price | $1,000-$10,000 |
| Average Price | $10,000-$30,000 |
| High-End Price | $30,000-$100,000 |
The thing(s) you decide to spend the most money on during your remodel should echo what's most important to you and your family.
There are countless ways to remodel—or simply update—your kitchen, so don't be discouraged by the thought of having to drop thousands of dollars to get a kitchen better suited for you and your needs. That's not necessarily the case.
Not to mention, a major kitchen remodel can result in a return on investment of 60-70% when you sell your home. So although upfront costs may seem steeper than you'd like, you'll be able to make a majority of your money back if you plan on selling your home in the future.
When to Spend and When to Save
Because it could be argued that your appliances are the most-used aspect of a kitchen, you shouldn't try to cut corners here. However, there are some appliances that last longer than others and should, therefore, receive the most funds.
For example, you may be tempted to spend the most money on your refrigerator, but these often need to be replaced after 10 years or so. A range, on the other hand, will last 15+ years, so you could consider splurging there.
Similarly, if you have dirty dishes piling up on a daily basis, investing in a good dishwasher or dishwasher drawers (very energy efficient and great for small spaces!) is a great use of your money.
Always be on the lookout for energy-efficient appliances that come with warranties.
Ideally, your new kitchen should be built to last at least 20 years, so don't focus solely on price. As you know, you often get what you pay for, so it's imperative that you weigh the pros and cons of going the cheap route, whether it's appliances, cabinets, or the contractor you choose to hire.
Hiring a contractor? Establish a foolproof payment plan:
Do not pay with cash
Avoid paying more than 10% upfront
Pay as the work is completed
Do a thorough walk-through before making the final payment
Get payment plan in writing
---
---
Keep Design in Mind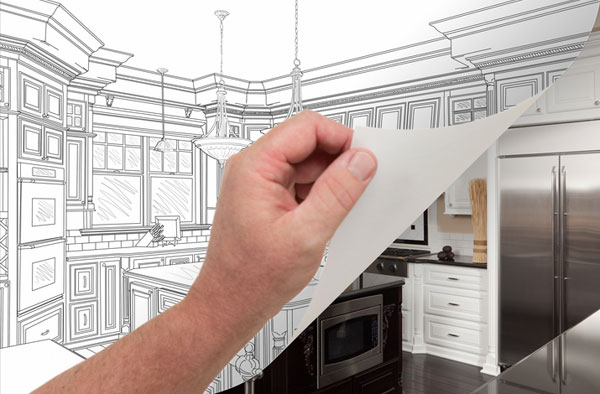 A kitchen should be functional, efficient, durable, and stylish. Everything from the layout to the hardware should fit your family's lifestyle.
Your kitchen should be tailored to how you live. If you're planning on using your new kitchen for years to come, choose updates specific to you and your family's needs.
For example, if you have a large, busy family, one of the number one things you'll want to consider is storage because you're going to need a lot of it.
Likewise, if you experience a lot of foot traffic in your kitchen, design it to accommodate the comings and goings of your family, like an open floor plan with an island.
Keep the following in mind when addressing kitchen design variables:
Size of the space
Homeowner's lifestyle
Budget
Condition of the building/space
Adjacent rooms
Direction of sunlight
Looking for inspiration? Check out:
Understand the Process
The kitchen remodeling process can be stressful and is easily one of the most complicated remodeling projects considering all the decisions you'll need to make along the way.
For example, do you plan on keeping the general layout of your existing kitchen, or are you looking for a fresh slate? Do you want to buy completely new cabinets, or simply update what's already there?
Understanding the kitchen remodeling process is one of the first steps to creating the kitchen of your dreams, and although each remodel project is different than the next, there are general steps that can be followed.
How a major kitchen remodel is performed from start to finish:
Tear out cabinets and walls
Replace old plumbing
Install lighting
Hang drywall, mud, and sand
Paint walls and ceiling
Install flooring and baseboards
Install cabinets
Order and install countertops
Install backsplash
Install appliances, faucet, and hardware
A contractor can assist in any or all of the remodeling process. However, if you have some experience or a willingness to DIY, you could save money by choosing to do the easier things yourself (like tearing out cabinets and drywall or painting).
---
---
Know When to Hire and When to DIY
Doing work yourself is an excellent way to save some money on your kitchen remodel, but that doesn't mean you should take on all of it by yourself.
Instead, leave the tough stuff to the pros, and handle the easier stuff yourself.
Which Project Types Are DIY-Friendly?

| Project Type | DIY-Friendly | Hire a Pro |
| --- | --- | --- |
| Major kitchen re-design | | X |
| Cabinet removal | X | |
| Wall panel removal | X | |
| Plumbing | | X |
| Electrical work | | X |
| HVAC | | X |
| Painting | X | |
| Flooring | X | |
Choosing to DIY? Follow Safety Precautions
Although some aspects of the remodeling project are capable of being done yourself, that doesn't necessarily mean you should do it yourself.
First and foremost, you should have experience in whatever work you're performing.
No matter how straightforward and simple something may seem, if you have absolutely no experience, you could end up injuring yourself or causing damage to your property.
If you do decide to DIY, make sure you wear protective gear, like safety goggles, gloves, and heavy-duty boots.
The best way to be safe is to have your home's blueprint on hand. That way you'll be able to know where all the important stuff is located and where you need to be extra careful (i.e. electrical lines, load-bearing walls, plumbing, etc.).
Learn more about how to be safe during interior demolition:
Hire the Right Contractor(s) for the Job
During a kitchen remodel, you will likely need to hire a contractor for one aspect of the project or another, so you'll want to make sure you hire the right contractor for you and your project.
To get the best value for your money, hire one experienced contractor to handle all the work rather than hiring separate contractors for each individual job.
Chances are, you can find a contractor who is experienced in all the various aspects of a kitchen remodel; and if they can't, they'll know who to sub the work out to.
With that being said, always make sure the contractors are licensed, insured, and have the necessary permits needed to perform the work. Make sure you ask to see these certifications; don't just take their word for it.
Keep reading about hiring the ideal contractor:
---