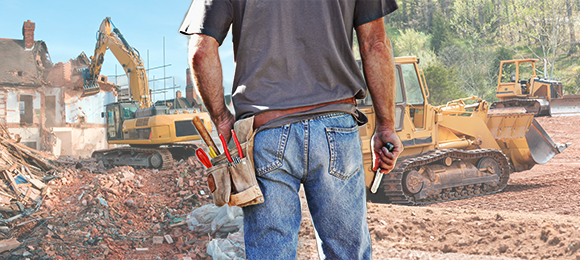 Updated June 13, 2023
If you're planning on doing some demolition work—whether interior or exterior—consider hiring a contractor who can handle the demolition and whatever comes next. This saves you both time and money.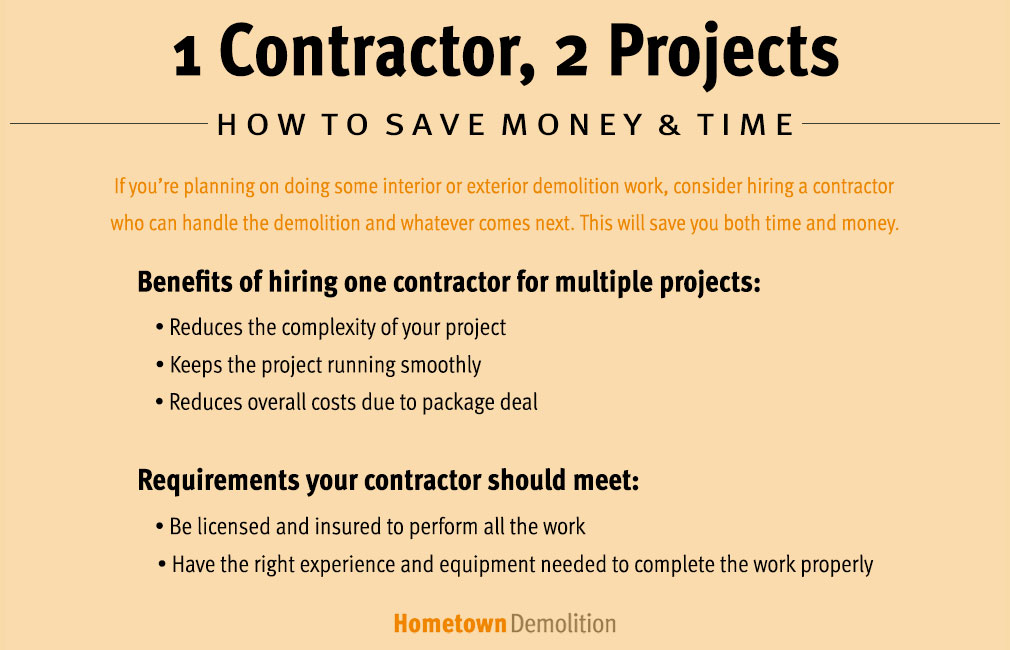 Hire One Contractor to Handle all the Work
For example, house demolition is usually done in order to make way for another building or to clear the land for other possibilities.
Either way, once the demolition work is completed, an excavating contractor will need to grade the site and prepare it for what's next.
Hiring one contractor to handle the demolition and site prep is the best way to go.
Similarly, if you're looking for an interior demolition contractor to make way for your kitchen remodel, find a contractor who specializes in interior remodeling work as well.
Having one contractor handle the demo and excavation can save you time, hassle, and even money in some cases. That said, it's a good idea to request quotes from multiple contractors that specialize in each service to get a feel for your options.
Once demolition is done, if you're in need of some inspiration on what to do with your newly freed space, check out our outdoor living space ideas. (Spoiler Alert: Outdoor living spaces have many benefits!)
Benefits of hiring the same contractor for demolition & excavating projects:
Reduces the complexity of your project
Keeps the project running smoothly
Reduces overall costs due to package deal
In most cases, the equipment needed to perform the demolition, such as a hydraulic excavator or backhoe, are the same equipment needed to handle excavation or site preparation.
Because of this, as soon as demolition work is done, the excavating can begin, with no additional hiring or paperwork slowing down the operation.
Common excavation services that demolition contractors also offer:
Site clearing
Grading
Site preparation
Debris removal
Basement excavation
General excavating
Swimming pool excavation
Foundation excavation
Trench excavation
Retaining walls
Septic systems
---
Learn more about demolition and how to find the best contractor:
---
Requirements Your Contractor Should Meet:
First and foremost, the contractor should be licensed and insured to perform the work.
Make sure you understand the difference between (and importance of) a contractor's bond, license, and insurance.
They should also have the right experience and equipment needed to complete the work properly.
Ruptured water pipes or utility lines can be dangerous and expensive and are best avoided by hiring a well-trained contractor.
Knowledgeable excavation contractors understand the importance of researching what lies beneath the ground before any earth moving begins, and will be able to complete the project without incident.
Hometown Demolition pre-screens contractors to simplify the process of finding a professional demolition and excavation contractor in your hometown. Read the profiles of companies in your area, see what customers have to say about working with them, and get quotes from as many contractors as you'd like.
---
Learn more about demolition costs and how to save money: