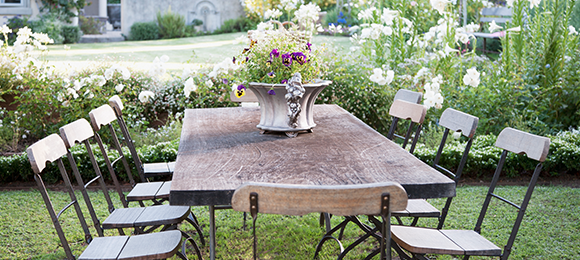 Updated September 14, 2023
So, you finally got around to getting that beat-up garage, rundown shed, or old pool removed; but now you're left with an empty space and aren't quite sure what to do with it.
Lucky for you, that fresh bare spot in your lawn doesn't have to be an eyesore.
Empty yard space is like a blank canvas for you to work with, and there are countless possibilities.
Below, we explain the benefits of having an outdoor living space and outline a quick list of creative, practical, and eye-catching ideas for your new outdoor space.
---
---
Why You Should Create an Outdoor Living Space
One of the best ways to boost your home's value is by adding an outdoor living space.
A National Association of Realtors (NAR) survey revealed that more than half of the 4,000+ buyers surveyed were willing to pay a premium for a home with an outdoor living space.
As a homeowner, outdoor living spaces not only make your home more enjoyable for you, but they also make your home more marketable if you ever plan on selling.
Today's modern outdoor living spaces go beyond the traditional slab patio.
Think: Bringing the indoors outside.
Think: Curb appeal…in the backyard.
Comfortable yet durable furniture, a fireplace, outdoor kitchens—almost anything is possible, so get creative.
What to Take into Consideration
1. Tailor your space around what you enjoy
If you're planning on staying in your home for a while, don't be afraid to think outside the box.
Wood decks are nice and all, but what do you enjoy doing in your free time?
Do you like to kick back and read, or maybe appreciate a glass of wine by the fire?
Do you enjoy bird watching or vegetable gardening?
Or maybe you love sports and excitement.
Whatever it is, you can incorporate it into your own backyard and enjoy it any time, so keep an open mind.
2. Design it to fit your home and the neighborhood
In addition to fitting your personality as homeowner(s), your outdoor space should also coordinate with your home and the overall look and feel of your neighborhood.
This will minimize the chance of receiving blowback from any uptight neighbors or strict homeowners association policies.
Not to mention, there's no point in having an outdoor space if it doesn't look good.
3. Keep things proportional
Your freshly demolished space may look awkward now that it's empty and bare, but it doesn't have to stay that way.
Keep things balanced by ensuring the space is proportionate.
Filling up the space entirely will make things look cramped and hectic, but leaving it empty will leave you feeling exposed in an unwelcoming space.
4. Maintain your privacy to make the most of it
The best part about having your own outdoor space is the ability to enjoy it to yourself, without nosy neighbors or passersby being able to see every detail.
This could be as straightforward as an attractive fence, but there are plenty of beautiful modern options, including privacy walls.
Learn more: 7 Ways to Freshen Up Your Backyard
The Top 12 Most Desirable Outdoor Features for Homebuyers
If your #1 goal is to make your home as marketable and easy-to-sell as possible, then you'll want to consider the results of 2018's Remodeling Impact Report: Outdoor Features.
This annual report surveys more than 4,000 potential homebuyers/homeowners to determine the most beneficial outdoor remodels and upgrades.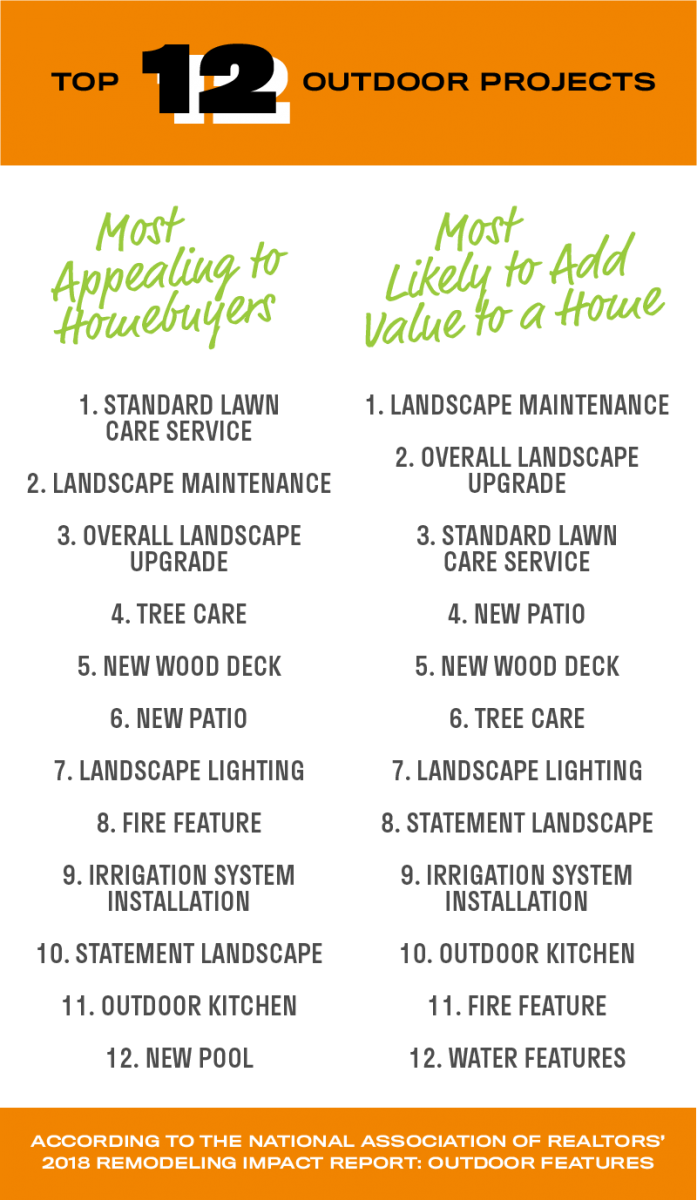 The Average Cost & Recovery Rate of Popular Outdoor Features
Another important factor you'll want to consider—especially if you anticipate selling your home in the future—is the overall cost of outdoor updates, as well as the amount that will be recovered upon selling your home.
Outdoor Feature
Avg. Cost
Avg. Amount Recovered
% Recovered
Standard lawn care program (6 applications of fertilizer & weed control)
$330
$1,000
303%
Landscape upgrade (front walkway, stone planters, flowering shrubs, tree, mulch)
$4,750
$5,000
105%
New patio
$6,400
$6,525
102%
New wood deck
$9,450
$10,000
106%
Softscape (5 trees, 25 shrubs, 60 perennials, natural edging, boulder accents)
$7,000
$7,000
100%
Sod lawn
$700
$1,000
143%
Seed lawn
$120
$500
417%
Firepit

(install dry-stacked natural stone kits, gas burner, 10 ft. diameter patio)
$4,500
$3,500
78%
Fireplace (install veneered masonry stone, gas starter for wood burning, chimney, wood mantle)
$13,300
$8,000
60%
New pool
$50,000
$25,000
50%
10 Ideas for Transforming Your Yard into the Ideal Outdoor Living Space
Creating a relaxing, stylish outdoor living space or outdoor room can greatly increase the appeal and value of your home.
It also provides an oasis for you, your friends, and family to enjoy the great outdoors in supreme comfort.
1. Outdoor Kitchen
Imagine having Sunday dinner or throwing a BBQ with friends and family in your backyard, out in the open air.
But you're not just grilling outside...
There's also a sink, a stove (or maybe a wood-fired pizza oven), a place to pull up and eat, and more.
Anything that you enjoy in your indoor kitchen can also be taken outdoors, so if you enjoy cooking and entertaining, this is something to consider.
2. Outdoor Dining
If you don't feel like going as far as having an entire kitchen outside, consider having a place to dine outdoors.
This could be a dining table with benches, some cushioned chairs comfortably wrapped around a low table, or a breakfast nook tucked away.
3. Outdoor Lounging
If you prefer kicking back whenever possible, then outdoor lounging is a must.
Comfortable yet durable couches and ottomans, hanging chairs, or even a small bench and side table make for a perfect place to get away in your own backyard.
4. Outdoor Bar
Do you love a good cocktail party?
Or maybe you're a sports fan and enjoy nothing more than watching college football every weekend.
An outdoor bar complete with TV, grill, mini-fridge, and plenty of seating is perfect for throwing the best tailgater or season premiere party in the neighborhood.
5. Outdoor Shed Space - 'She' Shed or Man Cave
A simple way to transform any outdoor space is by adding a shed.
An empty shed can easily be transformed into the perfect reading nook, art studio, outdoor office, or yoga den.
The best part?
There's plenty of privacy, and it doesn't take up too much space.
6. Play Area
What better way to enjoy your backyard than with fun lawn games, a playscape, volleyball net, or even a putting green?
If you love being active outdoors, then these backyard activities may be right up your alley.
7. Flowers
There are few ways to make your backyard more beautiful than with the help of flowers and other plants.
Create a fresh, colorful getaway that smells like heaven.
Tailor the flowers and colors to your taste, and see what's possible with a pop of color here and there.
8. Vegetable Garden
If you love to cook, make your own salsa or jam, or just love fresh fruits and vegetables, then a vegetable garden is an excellent way to enjoy your outdoor space.
Add raised planters or stone walkways for a dynamic, elevated look and feel.
9. Outdoor Movie Theater
If you're a movie or TV lover, then a backyard movie theater is a fun, innovative way to enjoy all your favorites.
All you need is a clean, flat surface, plenty of space for seating, and a projector.
10. Pool or Hot Tub
Traditional pools are big, bulky, and expensive.
Luckily, there are other options that are cost-efficient, energy-efficient, and perfect for big entertainment in small spaces.
Small pools, lap pools, and hot tubs are excellent uses of space and come in a variety of price points.
---
---
Keep reading for more inspiration: