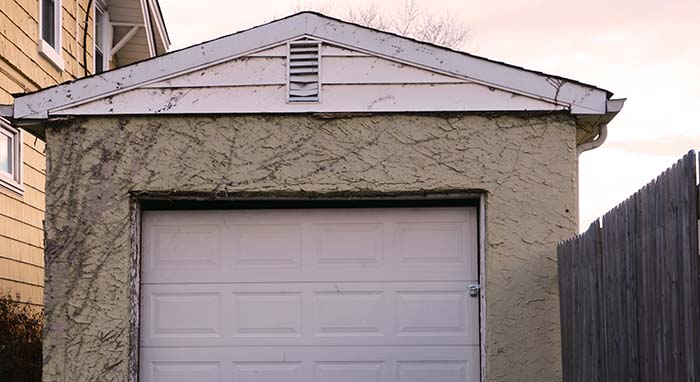 Updated July 26, 2021
Garages wear, like anything else, and sometimes need repair or replacement.
Regardless of the housing market, it's smart to tackle an exterior project like garage repair or replacement to help protect, and potentially increase, your home's value.
If your garage is in any state of disrepair, we strongly recommend repairing or replacing it.
First, thoroughly assess the project.
Find out if there is extensive rot or pest damage, like termites or carpenter ants. If so, garage replacement may be the best option.
Attempting to repair the garage after rot or pest damage has spread too far is like trying to save an already lost cause—you'll only be wasting time and money.
If the garage has only minor flaws or surface damage, one of the least expensive ways to get it looking new is by dividing the project into several sections or stages.
We'll go over the various issues that old garages face and how to resolve them.
---
---
If the garage needs to be reinforced...
If any aspect of your garage's framing system is damaged, whether from insect or water damage, the entire structure can be put at risk.
If you can push a nail into any wood in the garage more than ½ an inch by hand, the wood should be replaced. Use a piece of chalk to mark any wood that needs to be replaced as you do your walk-through.
If your garage door doesn't close anymore or the garage is starting to lean, give it the additional support it needs by installing structural ceiling beams or metal rods.
This will provide additional structural support for years to come.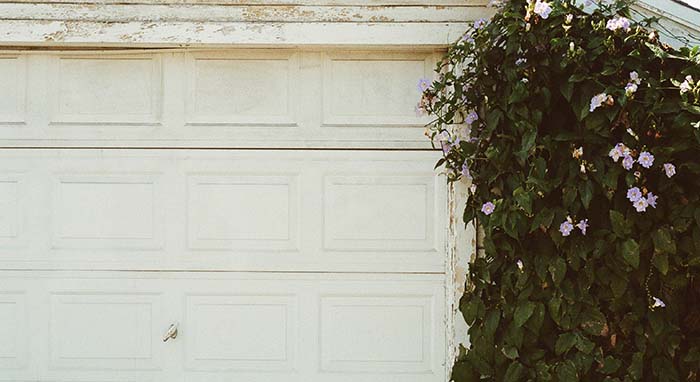 If your garage doors are old and ugly...
Discolored, out-of-date, non-functioning, or just plain boring. Garage doors can become eyesores and greatly reduce the overall value of your property.
Luckily, this is just a cosmetic problem.
If the door is discolored, oftentimes you can powerwash, or scrub away, any grit and grime.
if you want to give your garage door a fresh look without paying for a new one, you can paint it a fresh and flattering color.
Replacing your garage door entirely is more expensive upfront but can pay off in the long run.
TIP: In the U.S., homeowners can receive up to a 98% return on investment (ROI) for replacing their garage doors. In certain markets, like the Pacific region, the ROI can increase to 120% or more in some cases, making this project extremely worthwhile.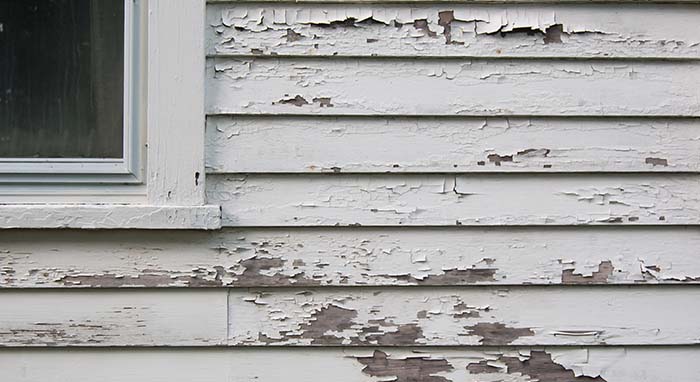 If the garage paint is chipped and peeling...
Like an ugly garage door, a garage with a bad paint job is a drain on your property's value.
If you're ready and willing to handle the dirty work, repainting your garage is a great way to boost property value.
If your garage was built prior to 1978, there is a high chance it contains lead paint, so make sure you follow proper precautions. Have it inspected prior to starting any work if the garage was built or repainted prior to 1980.
If the paint is determined to be lead-free, continue with the paint removal...
To safely scrape and sand away the old, chipping paint, use a sander with a dust-extractor (essentially a sanding tool connected to a vacuum hose).
You can rent one from your home improvement stores rather than buying one.
Always wear protective equipment - such as a respiratory mask, faceshield, and work gloves - and take care to avoid contaminating nearby soil.
Nothing pops like a fresh coat of paint, and curb appeal is huge when it comes to property value.
Keep reading: