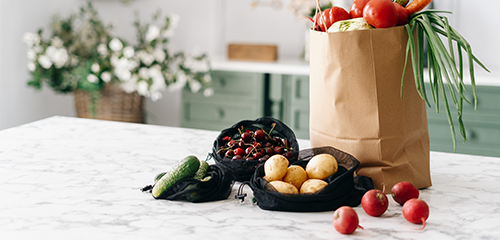 Updated November 1, 2021
There are tons of options to choose from when it comes to choosing the right countertop for your kitchen remodel or bathroom remodel, and each material has its pros and cons.
Some countertop materials are visually stunning but can be easily scratched or stained. Others might be very strong and resistant to scratches but aren't the most beautiful to look at.
This guide will go over the most common countertop materials and discuss the benefits and drawbacks of each to help you decide which is best for your kitchen or bath.
Jump to:
---
---
Granite
For quite some time, granite has been viewed as the superior countertop choice when cost isn't an issue.
For many people, granite has defined luxury in the kitchen.
They are beautiful and come in an endless variety of colors and veining.
Granite is also known for being expensive, but as supplies have increased and engineered stone became more common, costs have come down a bit.
Pros
Extremely resistant to heat
Strong and durable
Adds value to home
Comes in thousands of types and colors
Suitable for kitchens and bathrooms
Cons
Quite expensive
DIY installation is not a possibility
Slabs may come with imperfections
Can crack if stressed or poorly installed
Requires sealing to avoid staining its porous surface
Soapstone
A natural stone that is typically dark gray in color with a smooth, silky feel, soapstone has made a recent resurgence in popularity, especially as an alternative to granite.
Commonly seen in historic homes, soapstone takes on a beautiful patina that adds an antique look and feel to an otherwise modern space.
Contrary to popular belief, soapstone countertops are quite hard and resistant to stains.
And though they will scratch over time, this adds to the antique patina of the stone if that's the look you're going for.
Pros
Rich, deep color
Relatively stain resistant
Resistant to heat
Can sand out damage
Offers antique look to kitchen or bath
Cons
Can change color over time
DIY installation is not a possibility
Requires mineral oil treatments
Surface can scratch and dent, though this lends to its beautiful antique appearance
Marble
Another popular, yet expensive, countertop choice is marble.
No two pieces of marble are alike, providing a unique, one-of-a-kind touch to any kitchen or bathroom.
Marble is extremely durable but can stain and scratch if the proper care isn't taken.
Pros
Heatproof
Waterproof
Increases value of home
Very unique and beautiful appearance
Suitable for kitchens and bathrooms
Cons
Expensive
DIY installation is not a possibility
Stone is porous and easily stained
Easily scratched and repairs are difficult
---
---
Quartz
Quartz is an engineered stone product that contains primarily quartz particles and other minerals, too.
Quartz was created as a higher-performing and more easily-adaptable alternative to granite and marble that's quarried.
Quartz comes in a wider range of colors than granite and has a non-porous surface that is resistant to both staining and scratching.
Though similar in appearance to natural marble, engineered quarts do not call for annual sealing to resist damage.
Looking for the next cutting-edge countertop material? Similar to quartz technology, glass countertops blended with resins and shaped into slabs are becoming desirable in some markets.
Pros
DIY installation is a possibility
Easy to maintain
No sealing required
Slabs are uniform and without imperfections
Can be engineered to any size or shape
Resistant to stains, heat, and acid
Natural appearance
Suitable for kitchens and bathrooms
Cons
Wood or Butcher Block
Wood countertops offer a beautiful, natural look and an overall warmth to your kitchen.
These countertops also come in a wide range of colors and finishes.
Maple and oak—popular hardwood options—are the most common choices for wood countertops.
Pros
Pretty easy to clean
Long-lasting when cared for properly
Easily sanded and resealed to refresh
Offers a charming rustic appearance to kitchens and bathrooms
Cons
Somewhat expensive
Easily scratched/cut by knives
Not completely waterproof or stain-proof
Must be properly maintained to avoid bacteria issues
Requires frequent oiling and sealing
Can crack if not maintained
Stainless Steel
If you're going for an industrial, contemporary look, stainless steel can be a great countertop choice.
Stainless steel is highly durable and heat-resistant, making them a great choice for the kitchen.
They can also be constructed to your exact needs, giving you a seamless, striking look.
Pros
Cannot be damaged by heat
Very modern, industrial look
Extremely easy to clean and maintain
Adds real estate value
Great option for kitchens
Cons
Noisy
Expensive to fabricate
Easily scratched
Solid-Surface Material
A man-made material created using a blend of acrylic particles and resins pressed into sheets, solid-surface material (SSM) countertops have been around for 50+ years.
Once regarded as a modern, futuristic alternative to the then-popular look of natural stone, SSM countertops are now considered somewhat middle of the road.
SSM remains a great countertop option for small to medium mid-range kitchens or large kitchens with a lot of countertop space to cover.
Pros
Stain resistant
Virtually no seams
Can easily sand out damage
Endless colors and pattern options
Integrated sink/countertop units available
Suitable for kitchens and bathrooms
Cons
Somewhat expensive
Easily damaged by hot pans
DIY installation is not a possibility
---
---
Concrete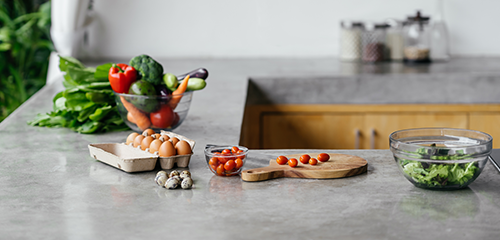 If you're looking for another industrial countertop look that is unique and modern, concrete may be a good choice for you.
Because concrete countertops are so heavy, they're typically cast in forms directly in your kitchen.
Concrete countertops are highly polished slabs that can even be textured or acid-stained to create different colors and looks.
Concrete can be prone to cracking, but there are treatments that can reduce this risk, and concrete's porousness can be reduced with additives.
Pros
Heat resistant
Scratch resistant
Can be tinted
Adds unique look and feel
Can achieve decorative textures and colors
Suitable for kitchens and bathrooms
Cons
Cracking is possible over time
High costs due to custom work
Requires regularly sealing
Can appear too cold or industrial for some home buyers
DIY installation is not a possibility
Laminates
Laminate countertops are made of plastic-coated synthetics, have a smooth surface, and are easy to clean.
Countertops are made of a particle board core with laminate sheets bonded to it and can be purchased as pre-formed segments or custom-fabricated to fit your needs.
Laminate comes in thousands of colors, patterns, and styles now available. Laminates are especially popular in retro designs, particularly mid-century modern kitchens.
Pros
Easy to maintain
Thousands of options available
DIY installation is a possibility
Inexpensive
Suitable for kitchens and bathrooms
Cons
Seams are always visible
Can be scratched and chipped
Difficult to repair
Ceramic Tile
Ceramic tile is durable and easy to clean.
It is also considerably less expensive than it's counterparts, like quartz, marble, granite, or SSM countertops.
In recent years, porcelain tiles have come a long way and now come in a wide range of design options that look like wood, marble, cork, etc.
Offering more design options than nearly any other countertop material, ceramic is a great option for those looking to get creative.
Pros
Easy to clean
Typically affordable
DIY installation is a possibility
Very heat resistant
Endless looks and styles
Suitable for kitchens and bathrooms
Cons
Custom tiles can be expensive
Can crack under impact
Grout lines can stain if not cleaned regularly
Doesn't increase home value as much as granite or quartz
---
---
Learn more: