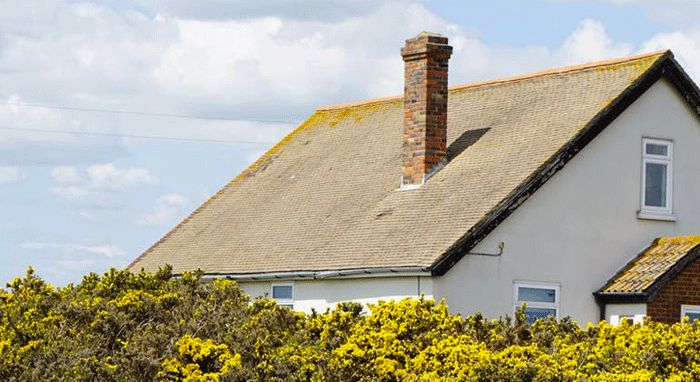 Updated July 19, 2021
While you may be looking at your old, unuseable chimney and thinking about removing it, it's not always as simple as you think. There are several factors to take into consideration before you begin your project.
If removing your chimney is strictly for aesthetic purposes, the amount of time, effort, and money that it takes to remove it properly may not be worth the trouble.
We'll break down the important factors to consider before starting a chimney removal project...
Understanding How a Chimney Is Built
There are two major parts to a chimney—terms that will continuously come up when discussing a chimney project. Getting a grip on what these two terms mean is a key part to calculating costs and determining how to proceed with the work.
Chimney Breast
The breast is arguably the most important part of the chimney, as it provides your home with additional insulation and a great deal of structural support.
Typically, removing any part of a chimney breast will require the use of structural reinforcements.
Chimney Stack
The stack is the most visible part of the chimney—the part that extends out of the roof. Leaks and structural damage are common issues among aging chimneys, and common reasons for wanting to remove.
In some cases, you may have the option to simply patch the ceiling and extend the roof over the stack's remaining gap.
What to Consider Before You Begin
There are a number of short-term and long-term effects to take into consideration before the chimney demo:
Reasons for Chimney Removal
There are a number of reasons why you may consider removing your chimney:
Stack is badly damaged
Local pollution ordinances/LEED Certification
No longer plan to use it
Reclaiming unused space
Leaks in chimney/roof area
Home insulation
Financial Investment
While initial costs of chimney removal are at the forefront of most people's minds, the long-term effect on your home's value should be a major consideration, too.
For example, if your home is old, the chimney provides a nice aesthetic feature that many homebuyers look for. If a majority of other homes in the area have chimneys, it could negatively impact your home's value not to have one.
Learn more: How Much Does Chimney Repair and Removal Cost?
Time Requirements
Removing a chimney is a time-consuming project, as it must be carefully disassembled one brick at a time to avoid causing any structural damage.
This not only affects your calendar, but it can affect your wallet, too. The more time it takes to complete the project, the higher the labor costs.
Plan out each step of the project before you start in order to avoid any setbacks or fines.
Speak to Multiple Contractors
Reach out to multiple professionals before hiring somebody. This ensures the best company is hired for the job.
Speaking to multiple contractors will allow you to get multiple opinions on your chimney, taking its condition and other factors into consideration.
If you plan to remove any aspect of the chimney, you may need to get the opinion of structural experts so that you can address any potential issues.
The contractor hired for the work should be willing to handle the permitting process for you. If they aren't willing to do so, be aware that this could be a sign they are not properly licensed.
When researching contractors, look into what their customers think of their work. Be sure you're hiring someone who is reliable and experienced in chimney removal.
Keep reading:
---
---
Debris Disposal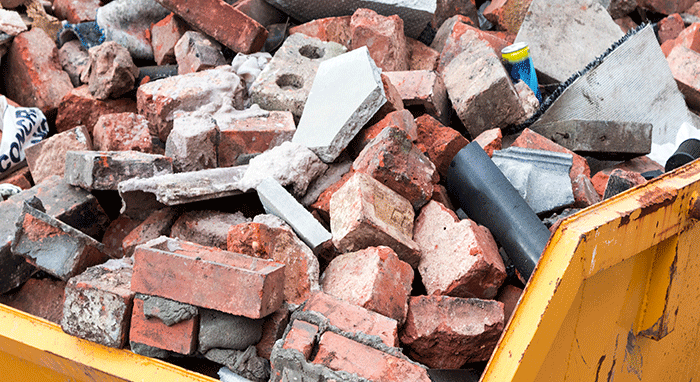 Removing any part of your chimney can create quite a bit of debris, especially if your plans involve removing the chimney breast. You will likely have to deal with a large amount of brick and/or tile. This can be expensive to dispose of and may also require special permits.
Be sure you have a good understanding of local disposal regulations. Speak with your contractor about salvaging or recycling as much as possible to keep costs low and reusable materials out of the landfill.
Learn more: How to Properly Dispose of Demolition Debris
Complete vs Partial Chimney Removal
A complete chimney removal involves getting rid of the entire structure—stack and breast. They require ample structural reinforcement, because they leave a large gap in your house.
A partial chimney removal typically involves removing just the stack. While these also require some reinforcement, it is typically only needed along the roof to help strengthen it and prevent leaks.
Partial removals are quicker and less expensive, but if you want to get rid of your chimney stack and replace the space the chimney breast takes up in your home, then a full removal is the best option.
Find out more: Removing a Residential Chimney: How It's Done and How Much It Costs
---