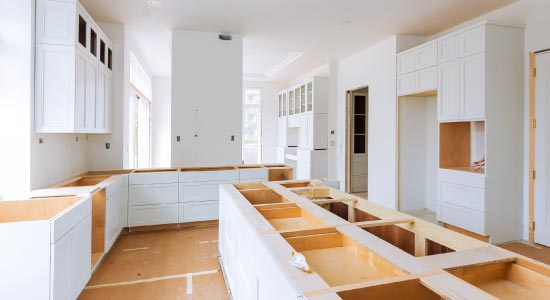 Updated July 20, 2021
It may seem like warmer months are the obvious choice for having work done on your home, but there are several benefits to remodeling in the winter.
Updated kitchens and baths are some of the most popular items on homebuyers' checklists, providing great return on investment.
Save Money
From a strictly price-based perspective, winter is the best time to remodel because it's the time of year when labor prices and lumber and cabinet prices tend to be the lowest.
Contractors aren't as in-demand during winter months, which equates to lower labor costs for homeowners looking to remodel.
The spring shows a large price increase in materials costs due to market demand, too, so any project that requires lumber, tile, or another typically in-demand material would benefit from a winter schedule.
Learn more:
Save Time
Not only do you tend to pay less for remodeling materials and labor in the winter, but your project tends to be completed faster as well.
Winter months are simply less busy for contractors and the local departments that issue permits, which can save you time.
It's typically a slower time for contractors, which equates to a more attentive and motivated team on your job site.
You won't have to struggle to get on a contractor's schedule or wait days on end for workers to handle other jobs.
Additionally, materials and appliances are more likely to be in stock because there's less demand.
---
---
It's hard to ignore the benefits of remodeling your kitchen or bath in the winter, but it's easy to find the right remodeling contractor when you use Hometown Demolition.
Compare quotes to ensure you choose the right contractor for the right price, and always ask as many questions as you need before signing a contract.
Keep reading: