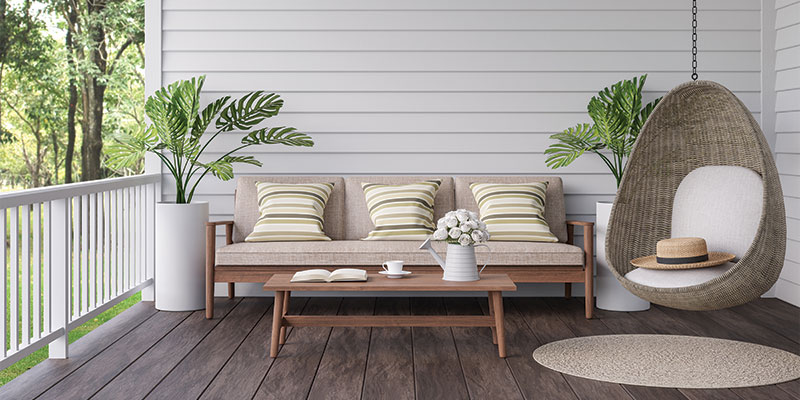 Updated August 3, 2023
Homeowners across the country are agreeing that now is not a good time to sell your home and instead are opting to stay in a home that they perhaps didn't plan on staying in for long and turning it into something new and more enjoyable until the market settles.
Let's face it: The fear of having to sell your home and buy another property at a higher mortgage rate is daunting, but that doesn't mean you should be stuck in a house you don't enjoy.
If you can't or simply don't want to move, you have options. Modest updates, whole-home makeovers, small additions, and full second-story add-ons are all becoming increasingly popular in today's housing market.
People aren't moving, they're improving!
This guide will break down some of the most effective ways to improve your home, oftentimes increasing its square footage, improving its functionality, and boosting its value should you decide to sell in the future.
Jump to:

Upgrade Your Basement
A finished basement not only provides you with additional living space to enjoy and utilize, but it also increases your home's value and offers a great return on investment (ROI).
When it comes to remodeling a basement, you can do as much or as little as you wish, adding just the basics, like drywall and flooring, or adding luxury features, like a home theater, bar and kitchenette, or other high-end finishes.
If you have existing walls in your basement that get in the way of your vision for the space, hiring a pro to handle wall demolition is a fast, safe, and relatively inexpensive way to get a blank slate in your basement.
Costing $5,000-$10,000 on average, or $25-$50 per square foot, remodeling your basement is a relatively cost-effective way to increase your home's square footage as well as its usability and your appreciation of it.
Update Your Attic
If your attic ceiling is 7 feet tall and has a stairway leading to it, it has seemingly endless potential and can be converted into a living space that best suits your needs, regardless of the current state it's in.
That valuable extra square footage could be put to use as a home office, a guest bedroom, a gym or yoga studio, kids' bedroom, game room, home theater—it's entirely up to you.
If your attic is unfinished, it will require a little extra effort to get it looking great, but having a fresh slate has its advantages. If your current attic has turned into an overflow storage area for stuff you've been meaning to donate or get rid of, consider hiring a junk removal company or renting a dumpster to clear out the space and get it ready for what's next.
If your attic is finished but still needs an upgrade, you may want to consider starting from scratch, hiring an interior demolition professional to assist with removing unnecessary walls or obstructions limiting your vision for the space.
Costing an average of $4,500-$16,000, or $30-$60 per square foot, converting an attic into a livable space and upgrading it to be functional for a wide range of needs can recover as much as 55-60%.
Improve Outdoor Living Spaces
If you have a front deck, back patio, covered porch, or something in between, consider ways that those areas can be improved to be more attractive and inviting, and enjoyable to spend time in.
For example, if you have simple, old concrete steps leading up to your front porch, consider removing the old concrete and replacing it with a more modern wood or composite version that will be beautiful for years to come.
Similarly, if you have an old, fading wood deck in your backyard that's become an eyesore and a splinter hazard, an affordable solution would be to remove the old deck and install a new option, whether it's a new wood deck or something different, like pea gravel and flagstone.
Sometimes improving outdoor living spaces is as simple as trimming and caring for any existing landscaping and expanding it to add some dimension and interest.
Outdoor lighting, potted plants, bird feeders, and other lawn decor can also have a huge impact on a home's curb appeal as well as the joy you feel pulling into your driveway and seeing your home and surrounding property.
The more aspects of your property you enjoy, including your yard, the better.
Because each project can be so different, the cost you pay to get it done can vary a great deal. Improving outdoor living spaces can cost as little as a few hundred dollars to as much as $3,000-$15,000+, depending on the work being done.
Add Dormers
Dormers are the vertical windows that project from a sloped roof and add light to upstairs rooms. They can expand your attic or upstairs bedrooms and add much-appreciated curb appeal while also making your home look and feel bigger.
Costing an average of $3,000-$20,000, or $90-$150 per square foot, this project is a great way to improve your home's appearance from both inside and outside the home, which can increase your overall enjoyment of it.
Add a Second Story
Adding a second story to your home, or expanding the existing second story, is a popular way of significantly increasing a home's square footage as well as its overall value.
Costing an average of $80,000-$500,000+, or $100-$300 per square foot, it is easily one of the most expensive ways to improve your home, but it also offers a big return on investment of 65% on average for a full two-story addition.
Reach out to a local contractor or architect to determine if your home's structure and foundation can handle a second story addition.
Add a Room Over the Garage
If adding a full second story addition isn't in the cards, a less extreme approach of adding a second story only above a certain portion of the home, like the garage, may be worth considering.
As long as the garage's foundation is in good condition, it's a much simpler process of removing the roof, adding walls, and installing a new roof over top.
This room could be used as a primary bedroom, children's bedroom or playroom, office, in-law suite, or even a game room.
Costing $64,000-$375,000 on average, or $80-$200 per square foot, this project is a slightly more approachable way to increase your home's square footage and functionality.
---
---
Keep reading: