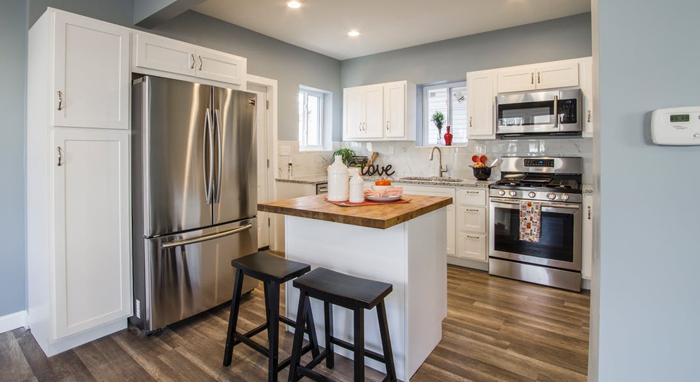 Updated February 22, 2023
Is your current kitchen out-of-date, cramped, or just in need of an update?
Maybe you've been wanting to update the cabinets, redo the countertops, or put in an island.
Once you've decided what you want to do (or that you want to do something!), how do you go about getting started?
We're here to help.
Step 1: Research
Congratulations, you've taken the first step in the kitchen remodeling process by starting the research process.
This is arguably the most fun part about the whole process because it gives your imagination the room to run wild.
What would you like to change about your kitchen? Now is the time to look into all the options.
Some homeowners begin by collecting inspiration photos and color swatches that they like.
Others start by looking for the appliances that they want to use.
Whatever your method of choice, the "exploration stage" of the remodeling process can last a year or more alone.
We understand that remodeling a kitchen can feel overwhelming.
There are choices galore, and maybe you don't have a keen eye for kitchen design.
Managing all the details and variances involved in a remodeling project can be exhausting.
It can be hard to picture the end result and how everything will come together; and because the kitchen is a major part of our home, making decisions that affect it can be intimidating.
Speaking to designers and contractors early on in the process is an effective approach.
Professionals can utilize their experience to help you make well-informed decisions and increase the chances you'll love the results for years to come.
Keep reading: Create a Home Remodeling Plan in 10 Simple Steps
Step 2: Shop
Unless you have an interior designer or a very hands-on contractor, you will need to make several major purchasing and design decisions yourself.
Make a list of all the products you need to buy.
The common kitchen products that make up a total kitchen remodel:
Appliances
Backsplash
Cabinets
Countertops
Faucets & sinks
Flooring
Lighting
There are endless options in today's market—both online and offline.
To increase the chances of finding the right product for the right price, shop online, visit showrooms, check both local salvage yards and specialty stores, and browse catalogs.
Keep track of the options you like, where to buy them, and how much they cost in a spreadsheet.
Having the products and materials already picked out will make the actual remodeling process go much smoother.
Step 3: Hire
Once you know what you want to be done and the products/materials you want to use, it's time to hire an experienced contractor to execute it all.
Interior demolition contractors that specialize in kitchen remodels are experts at what they do and will be able to get the project done safely and efficiently.
They'll also be a great second opinion for all the design choices you made on your own.
Do your due diligence when choosing the right remodeling contractor to be sure you're hiring someone who is experienced, licensed and insured, and competitively priced.
---
---
Learn more: