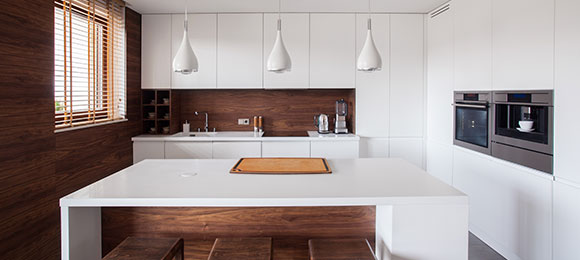 Updated October 21, 2021
If you're thinking of remodeling your kitchen or are in the process of getting started, keep reading!
We've compiled 15 of our favorite kitchen design ideas and trends for 2021, and beyond.
Find kitchen design inspiration and learn about the newest kitchen features that homeowners (and buyers!) love.
We'll discuss:
1. Leveling Your Storage
Everyone understands the kitchen storage struggle.
Today, there are countless excellent remedies for disorganization and clutter.
Some of today's most popular storage trends include multi-tiered drawers, pull-out cabinet shelves, and exposed shelving for easy access.
Take it up a notch by adding a sliding ladder, making it easy for you to reach those ceiling-tall cabinets.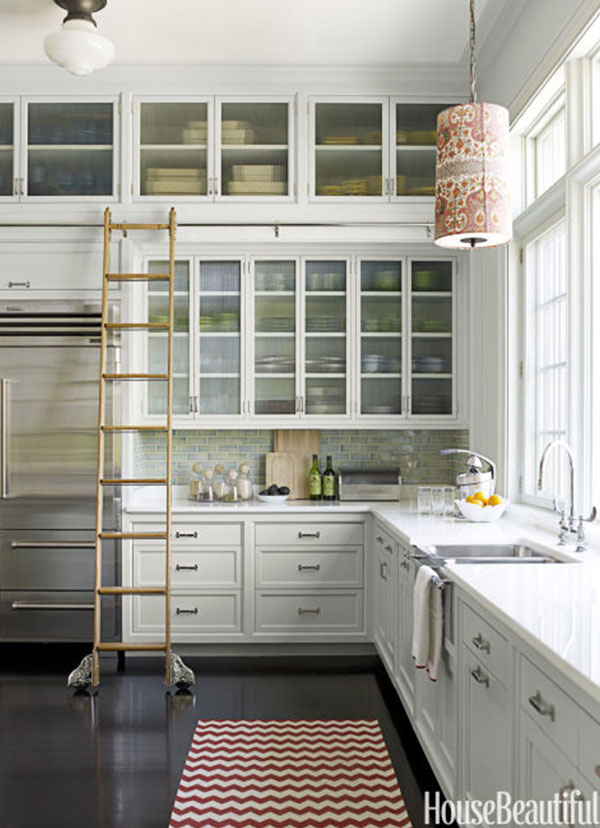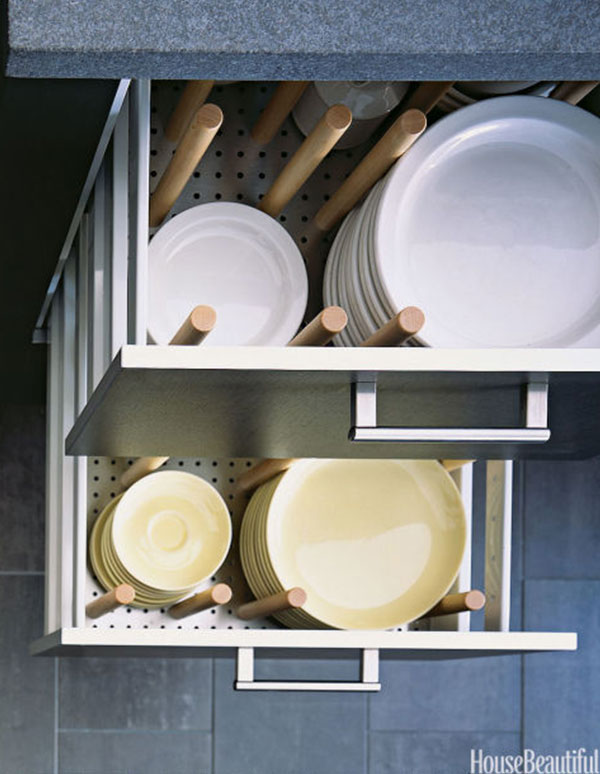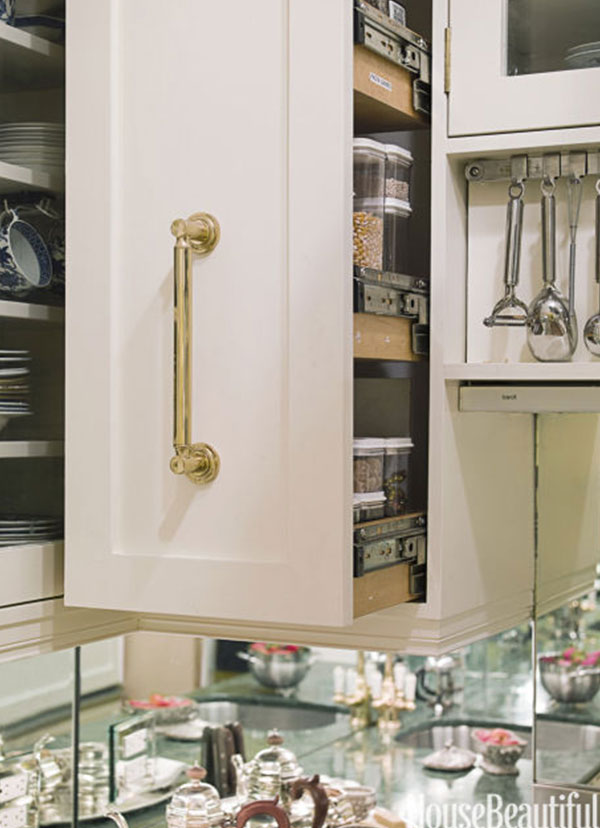 images via HouseBeautiful
Learn more about kitchen remodeling and DIY projects:
2. Cool, Contemporary Grays
White cabinets continue to be the most-used shade in kitchens, but grays are giving whites a run for their money.
Subdued, neutral colors lend to a sleek, contemporary look. The highly popular "greige" is now being overshadowed by its cousins green-gray, blue-gray, and purple-gray.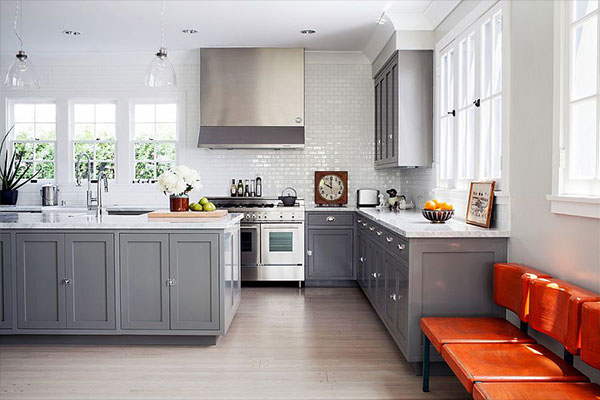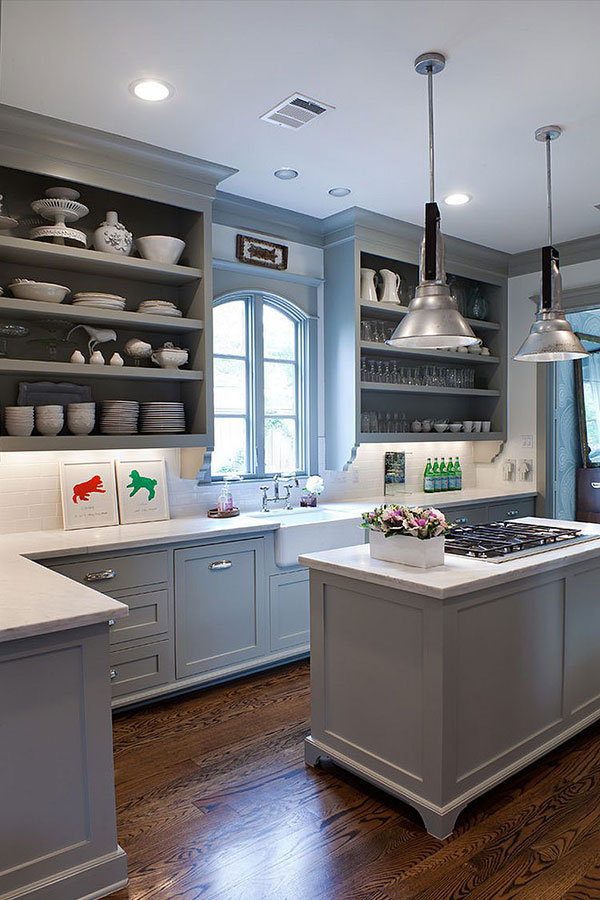 images via Decoist
3. New Forms of Functionality
Hardware manufacturers are constantly updating and innovating the fine art of opening a cabinet or drawer.
Hydraulic doors now make it easy to fold cabinet doors up and out of the way.
The carousel cabinet—or lazy susan—will forever be an industry standard. This is an excellent way to keep things tucked away but easy-to-grab, making it ideal for everyday items, like toasters and blenders, or less-used items, like breadmakers and slow cookers.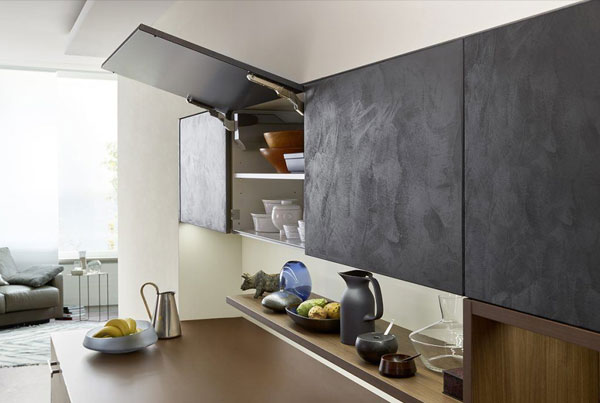 image via k!tchn mag
4. Keeping It Timeless
More and more people are opting for a timeless kitchen design that they can enjoy forever, and a classic black and white palette is always in style.
Think matte white cabinets with glossy black countertops and appliances.
Or mix it up with black and white tiles to add an old-school aesthetic to an otherwise modern kitchen.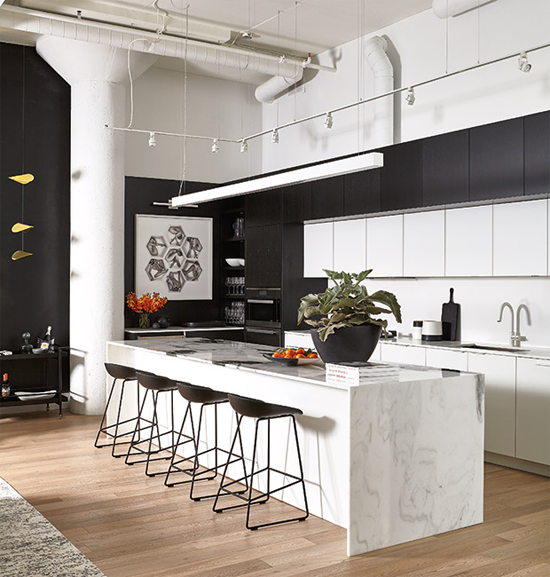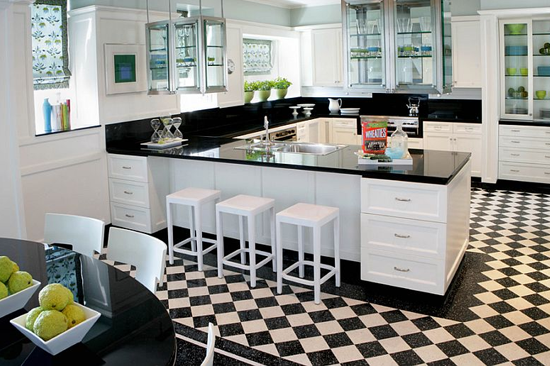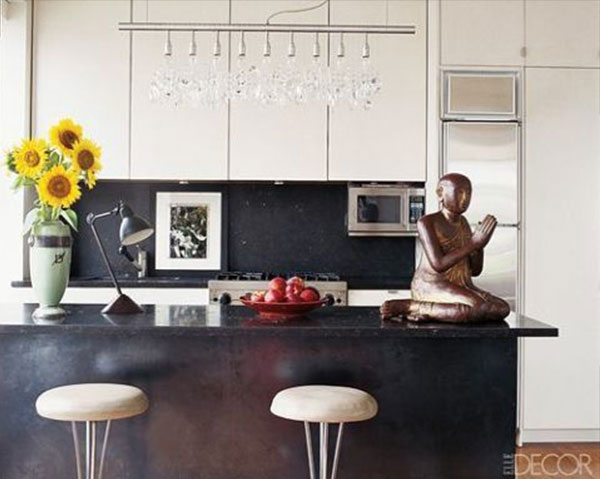 image via Elle Décor
5. Accent Pieces
An unexpected and fun way to add a pop of color to your kitchen is with a brightly colored appliance.
Vivid reds, yellows, and blues are on trend, and even colors from the seventies are making a comeback in unexpected ways.
If you're hesitant to splurge on a red refrigerator, opt instead for cheerful-looking stools, eye-catching paint, wallpaper behind your shelves, or add a bold piece of art that really makes the space pop.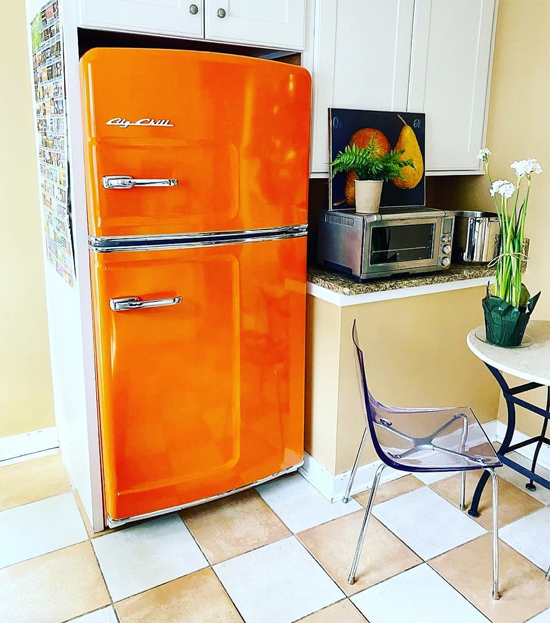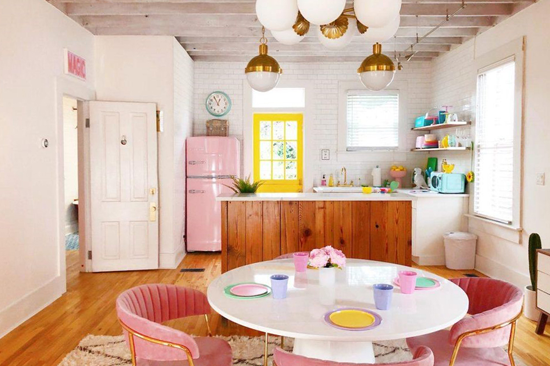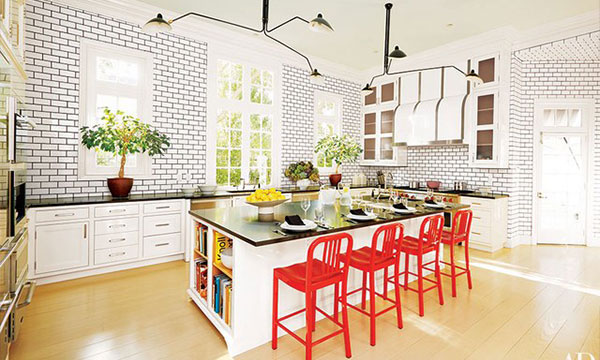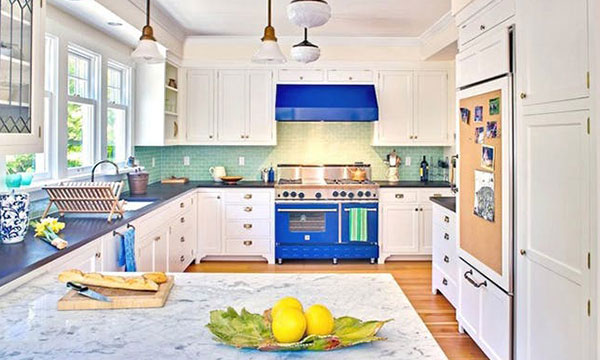 images via Architectural Digest & Brit + Co
---
---
Learn more about hiring a qualified contractor to get the job done:
6. Big, Bold Lighting
Oversized light fixtures are an excellent way to add functional drama to your kitchen.
Make a statement with massive fabric shades or striking, geometric fixtures.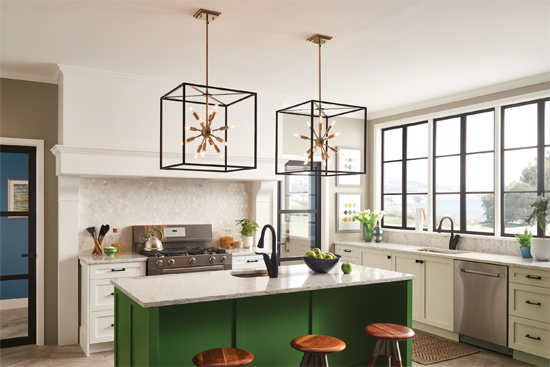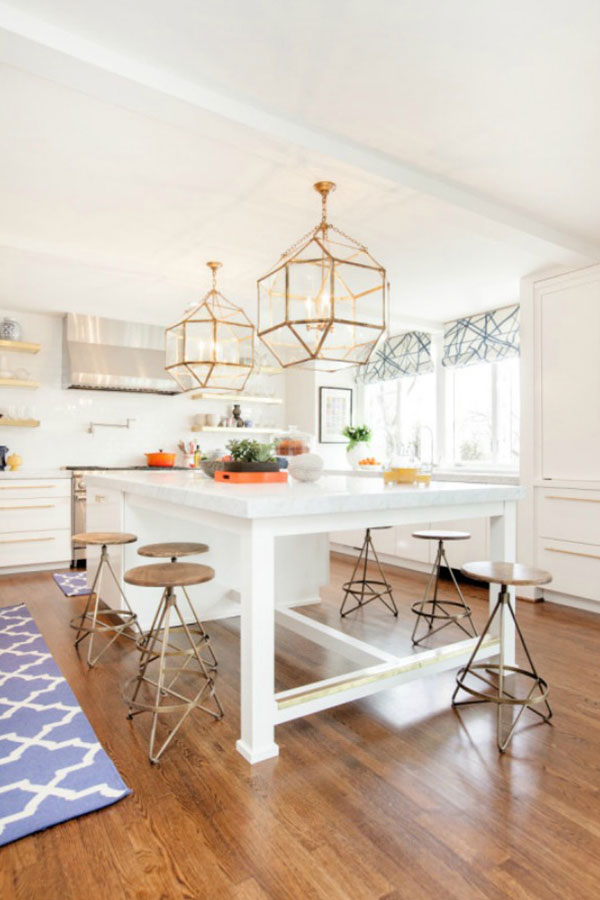 image via Chic + Glamorous
7. Moody Palettes
Light, bright, and white kitchens have been the trend for generations, but dark, moodier color pallets are making their way into the heart of the home.
Moody color palettes offer a warmth and depth that isn't the norm for kitchen interiors, and buyers are going crazy for this modern new feel.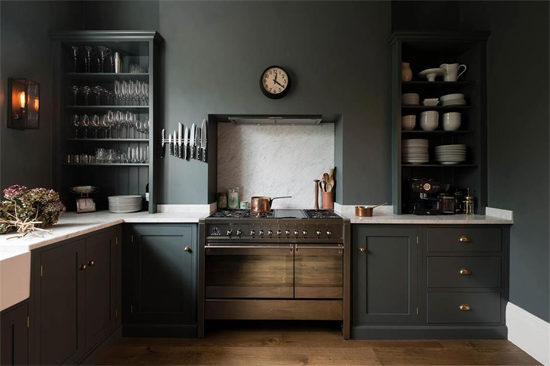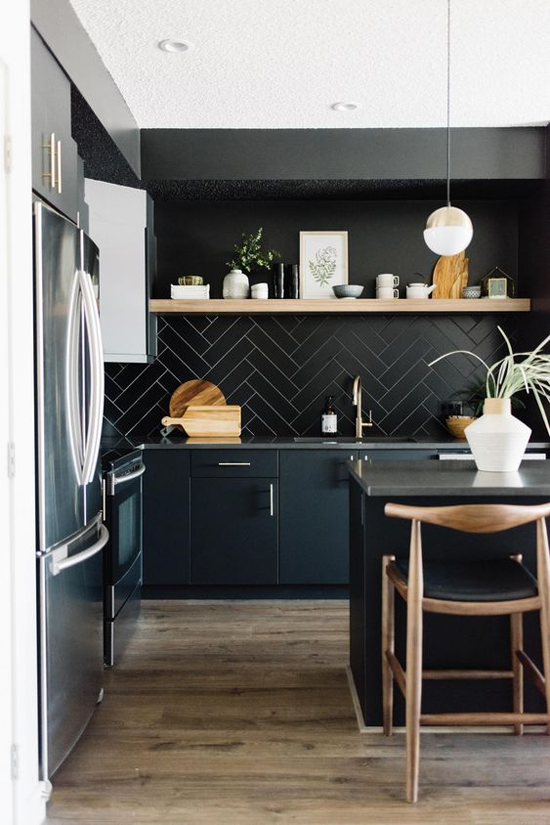 ---
---
8. Automatic Appliances
The future is here, people! There are countless ways to make cleanup easier and save on energy costs.
Sensor-activated faucets make for less mess (aka germs), and automated lights save energy by turning on only when the kitchen is in use.
There are also central vacuum systems that make sweeping up crumbs and dust bunnies a breeze.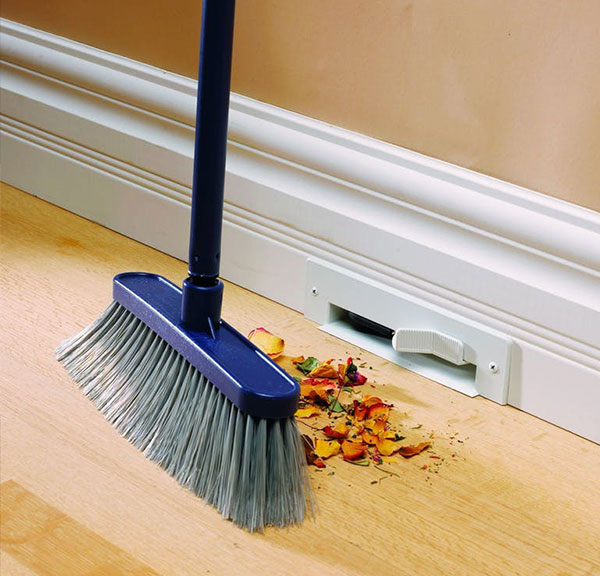 image via Kitchn
9. Working Like a Pro
Commercial-grade appliances make entertaining guests a cinch.
Moreover, exaggerated open floor space makes it a breeze to navigate a kitchen that tends to get crowded.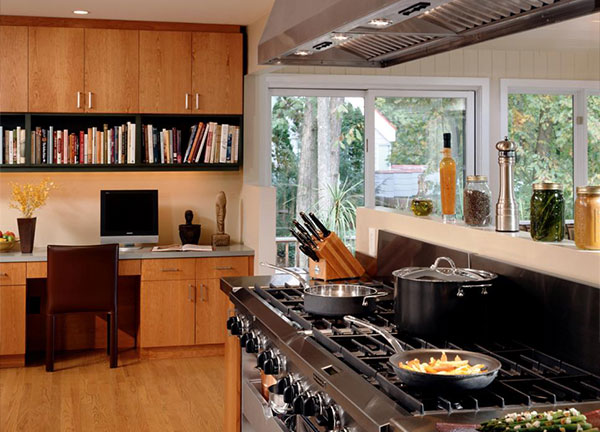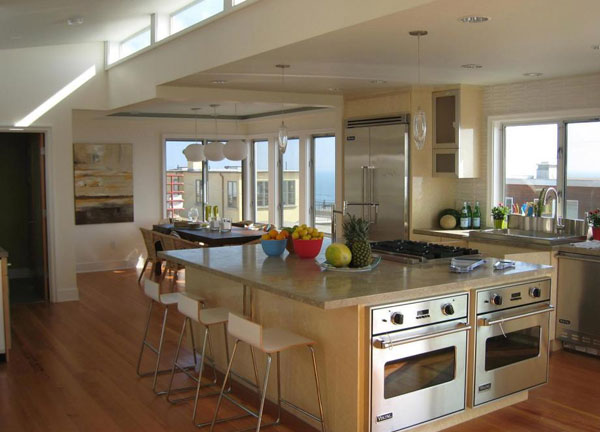 images via HGTV
10. Quartz Countertops
Do you long for a nonporous countertop that is easy to care for, highly resistant to heat, and naturally beautiful with an endless number of color options?
Then let us introduce you to quartz.
More expensive than granite, quartz has multiple advantages, in addition to being the most sought after by potential home buyers.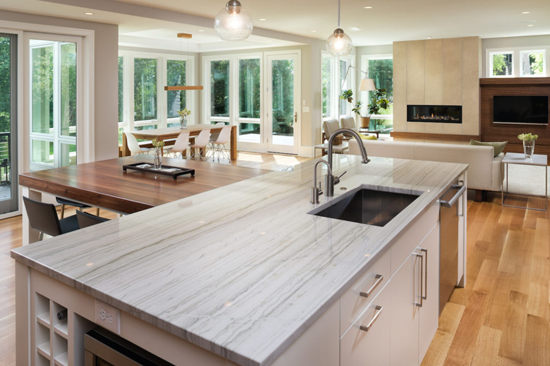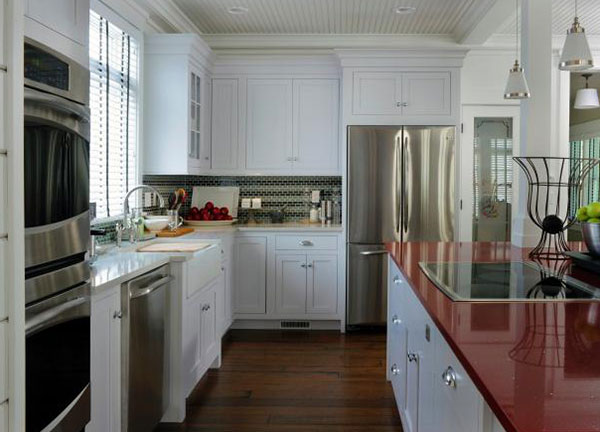 image via HGTV
---
---
Find out more about demolition costs and how to save:
11. Seating For Comfort
People found themselves in their kitchen more than ever in 2020 and that is impacting the way that homeowners are designing their kitchens.
Cold, hard barstools are out and soft, plush furniture is in.
Replace your traditional kitchen seating with seating built for comfort to accommodate long visits with friends and family around your kitchen table.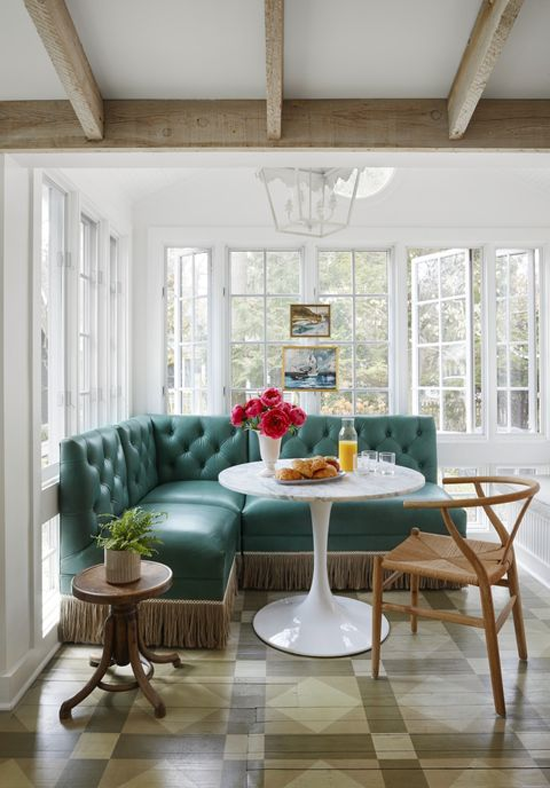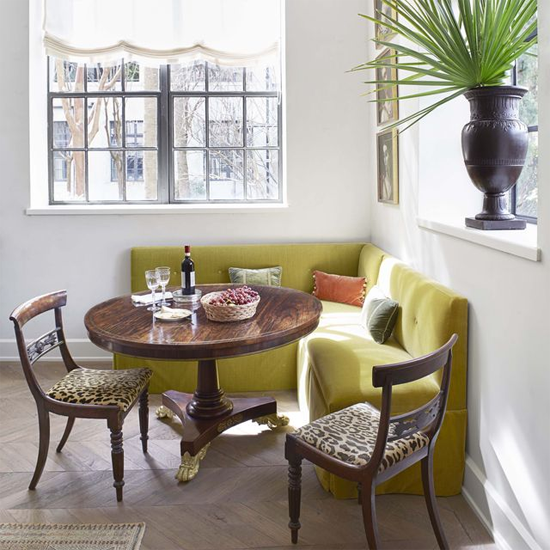 image via HGTV
12. Thinking Like an Architect
Architectural lines add a modern touch.
Tall, squared faucets not only look minimal and timeless, but they make it easy to wash pots and pans, too.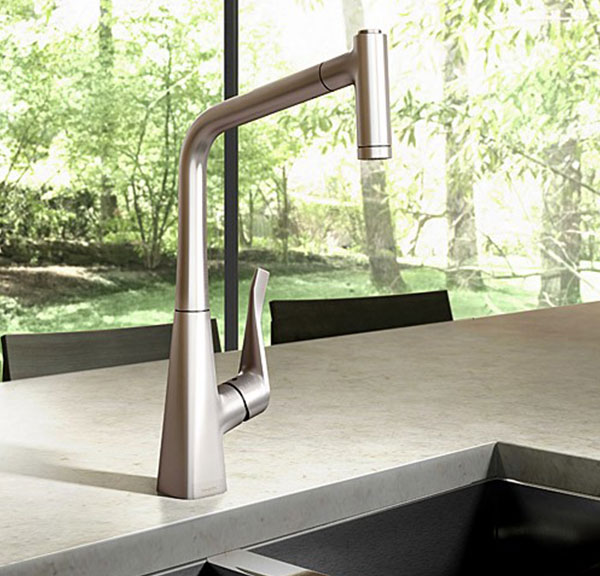 image via YLiving
13. Fancier Flooring
Statement floor tiles are bold and fun while remaining a little more subtle than a backsplash.
Brick and marble tiles (or marble lookalikes) are very popular among home buyers.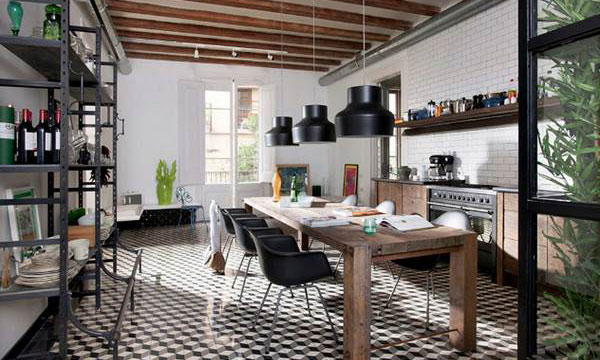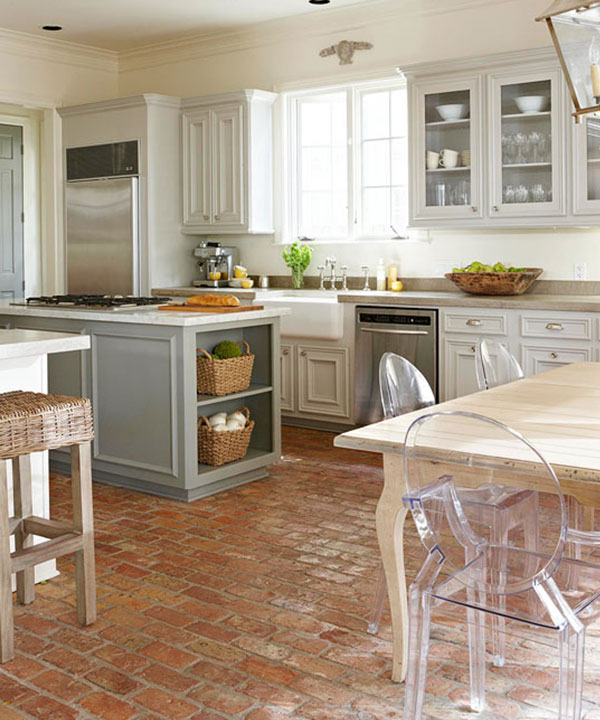 images via Home Flooring Pros & Better Homes & Gardens
Keep reading about interior demolition:
14. Reclaimed Industrial Wood
The industrial, reclaimed-wood look is still hugely popular, especially in kitchens.
There are always fun new ways to incorporate this look into your space.
Pecky cypress is on the rise, adding a textured look to everything from islands to hood vents.
Or, go for the lookalike with gray textured laminate.
Add industrial metal stools and lighting fixtures for a casual, modern vibe in your kitchen space.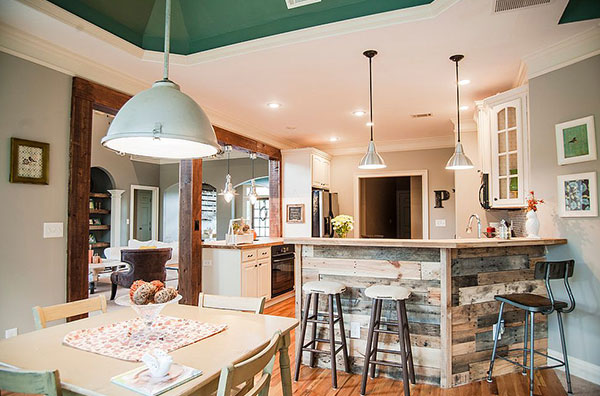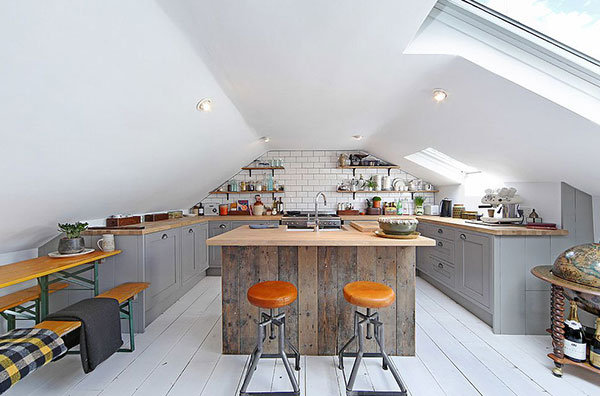 images via Decoist
15. Hiding Appliances
If you hate clutter and just seeing your microwave or Keurig on the counter irks you, then take a cue from English kitchens.
Hide appliances in cabinetry to keep your kitchen free of all clutter.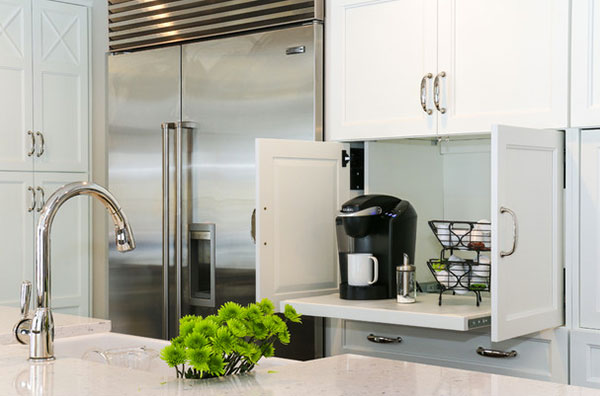 image via Houzz
---
---
Keep reading: