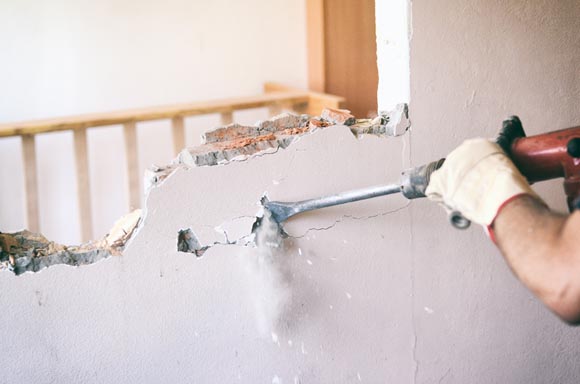 Updated February 22, 2023
Interior demolition is typically a necessary first step when undertaking a home improvement or remodeling project, and researching on the internet to get an idea of how much your interior demolition project will cost can be a tricky task.
Getting an accurate idea of how much your interior demolition project will cost depends on many factors.
Where your property is located, the size of the area that needs to be demolished, the type of removal, and the materials used for original construction are all important factors that can change the cost estimate dramatically.
In this article, we will provide a detailed breakdown of:
---
---
What Qualifies as Interior Demolition?
Interior demolition is the removal of construction components from the inside of a dwelling or structure.
A qualified interior demolition contractor will have the ability to remove construction components, like flooring, ceilings, utility piping, fixtures, appliances, cabinets, tile, walls, and more.
The complexity and cost of an interior demolition project can vary a great deal depending on the nature of your removal.
For example, removing an appliance is typically accomplished in less than an hour and isn't too much of a financial burden, averaging around $100.
Removing the popcorn ceiling of a 500 square foot living room, however, can take around 20 hours over the course of several days and cost upwards of $3,000.
And a whole-home remodel can cost as much as $75,000 or more in some cases, taking several months to complete.
What Affects the Price of Interior Demolition?
There are three universal factors that affect the cost of an interior demolition job:
Size of the project
Location of the job site
Presence of hazardous building materials
Project Size
As you might guess, the size and complexity of your project has the greatest effect on cost.
Most prices are based on the square footage of building material being removed and the labor required to get it done.
Big projects have more materials to remove and require more manpower to get it done, equating to a bigger price tag.
Project Location
The geographic location of the job site affects the price of demolition services as well. This is due to general supply and demand, local material and labor costs, etc.
Hazardous Materials
The presence of hazardous building materials, such as mold, asbestos, or lead, will have a significant impact on the price you'll pay to complete your project.
For example, the average cost of asbestos abatement is $1,000-$3,000.
The removal of such toxins should only be handled by a qualified abatement contractor.
Keep reading about interior demolition:
Average Costs for Each Type of Interior Demolition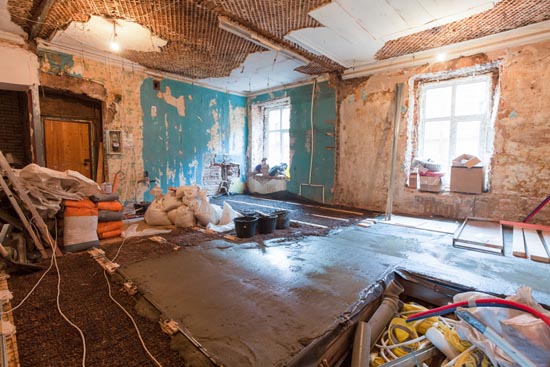 Floor Removal
The national average for a professional to remove your flooring is around $1.95 per square foot.
The actual price charged, however, is largely dependent on the flooring material used.
| Type of Flooring | Average Cost of Removal Per Square Foot |
| --- | --- |
| Carpet | $1 |
| Concrete | $4 |
| Hardwood | $6 |
| Linoleum/ Vinyl | $0.34 |
| Tile | $3.50 |
Ceiling Demolition
Demolishing a ceiling, on average, costs around $2.38 per square foot.
This chart breaks down how the different ceiling styles can affect the average price for removal.
| Ceiling Type | Average Price of Removal Per Square Foot |
| --- | --- |
| Acoustic | $0.13 |
| Beadboard | $5.50 |
| Coffered | $25 |
| Drop | $1.50 |
| Drywall | $2.38 |
| Popcorn | $1.50 |
| Tongue & Groove | $3.50 |
| Tray | $3 |
Utility Pipe Removal
When someone is looking into the removal of utility piping within a wall, it's usually safe to assume that they are also interested in replacing these pipes.
The cost to remove old piping to make way for newer ones is usually built into the cost to install the new piping.
In the event that you need to remove pipes within a wall without needing to replace them, refer to the section regarding non-structural wall demolition.
In this chart, we'll examine the average cost to remove old piping (within healthy walls) and replace them with these specific types of piping.
| Type of Utility Piping | Average Cost of Installation Per Foot |
| --- | --- |
| Cast Iron | $18 |
| Copper | $6.25 |
| PEX (polyethylene cross-linked pipe) | $0.90 |
| PVC (polyvinyl chloride) | $4 |
Appliance Removal
Hiring an interior demolition expert to remove appliances in your home is typically one of the most inexpensive services they offer.
You can also hire a junk removal company to haul away the appliances for you for a competitive price.
The removal of a home appliance costs around $100 on average.
Removing additional appliances usually only adds around $30 per item to the total job cost, so if you have more than one appliance to get rid of, schedule a contractor to come and remove them all in one day to make the most of your time and money.
When removing refrigerators and freezers, be sure that your contractor is following local disposal guidelines.
There's freon gas in these appliances, which poses a threat to the environment if not disposed of properly.
Cabinet Removal
The cost of removing cabinets can range anywhere from $15-$80 per cabinet, with the median national average at around $35 per cabinet.
The amount of labor involved is the main factor affecting the price of cabinet removal.
If the intention is to donate or resell your old cabinets, your contractor will have to take special precautions in order to ensure the pieces are preserved, resulting in longer labor time.
Tile Removal
Removing tiles from your kitchen or bathroom ranges from $3-$6 on average per square foot.
Like most other demolition jobs, the price ultimately charged by the contractor is heavily dependent on labor time.
On the cheaper end of the pricing spectrum is the removal of tiles from walls, averaging around $3 per square foot.
Tile removal from walls is usually easy and requires less labor time, as the tiling can be pulled off in large sections by removing the drywall or backer board that the tiles are attached to.
Removing tile from a wood subfloor is slightly more difficult, and averages around $4-$5 per square foot.
The most difficult tile removal job that contractors typically come across is the removal of tiles from cement flooring, and averages around $5 per square foot.
Another important factor when tackling a tile removal project is the decision to have your contractor perform the job dust-free or not.
Having your contractor perform your tile removal dust-free is not only less expensive in the long run due to less cleanup time, but often a necessary health precaution for some homeowners.
Performing a dustless tile removal project is done by attaching custom vacuums to tile removal tools in order to greatly reduce the number of harmful particles released into the air.
Minimizing the amount of hazardous carcinogenic particles released in an area is beneficial to all customers, but residential homes that have high-risk inhabitants are highly recommended to opt into this type of tile removal service.
A home with children, animals, or adults with allergies, asthma, or similar lung problems, are candidates for complications if they have tile removed that isn't cleaned up properly.
Dustless tile removal is also beneficial for clients who have surface areas that they would like to protect.
The amount of money saved on cleanup and overnight accommodations during the demolition process can end up saving the consumer hundreds, to thousands, of dollars.
It is important to speak with an experienced contractor about your project and job site to determine what your best options are.
Non-Structural Wall Demolition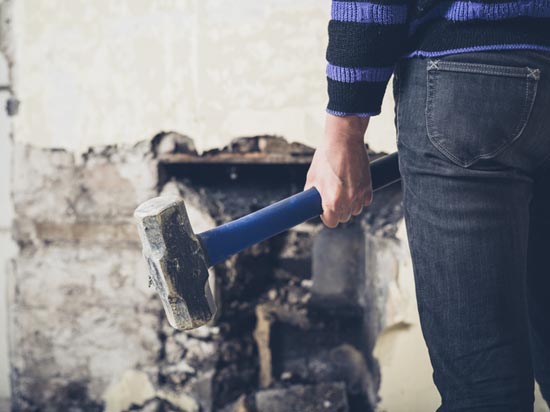 Non-structural walls, also referred to as non-load bearing walls, are interior walls within a house or structure that do not support any weight of the property's structure other than its own.
These walls are usually used to separate rooms within a building, and generally serve no other structural purpose.
On average, the price to remove a non-load bearing wall is between $300 and $1,000.
In addition to the size and location of the wall, the presence of electrical wiring or plumbing will increase the price your contractor will charge you.
These walls require more time due to the additional care and attention required to demolish them, resulting in higher fees.
Learn more: Wall Demolition Tips for the DIY Homeowner
Ways to Cut Costs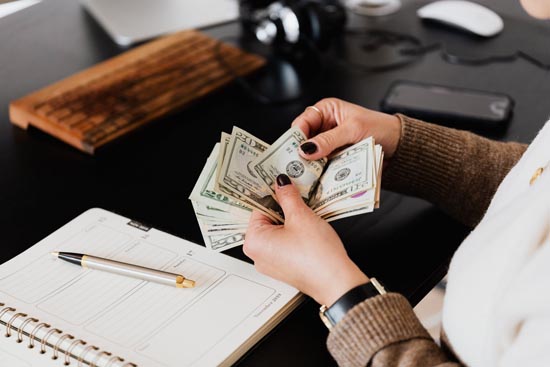 Now that we have broken down the different types of interior demolition and what drives their average cost, we can consider other factors that can help you cut costs on your project.
Recycle Demolition Debris/h3>
One way to ensure savings is by recycling your demolition waste.
If the material of your project is recyclable, the fee your contractor will pay to dispose of the debris will be about half of the fee that they pay for non-recyclable materials.
These cost savings will trickle down to you, the customer.
Not only that, but you can feel great about keeping items out of the landfill and negatively impacting the environment.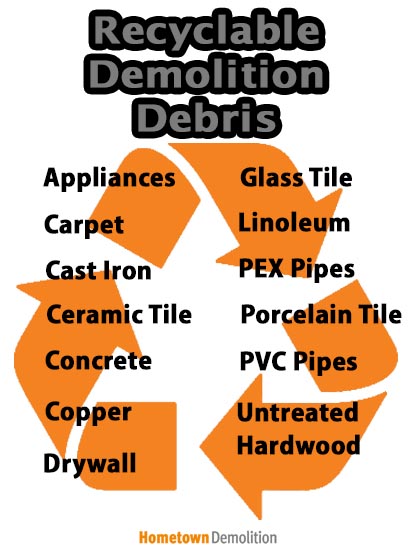 Examples of recyclable materials include appliances, carpet, cast iron, tiles (ceramic, glass, and porcelain), concrete, copper, drywall, linoleum, non-treated hardwood, PEX & PVC pipes, untreated wood cabinets, and more.
Some non-recyclable materials include plywood, particleboard, painted wood, laminated wood, varnished wood, and treated wood.
Resell
If you have appliances, tile, flooring, or cabinets that are in good working condition, you can likely sell them locally using Facebook Marketplace or Craigslist.
Many people are interested in cutting their own renovation costs and have cash in hand for your used materials.
Learn more: 5 Beyond-Easy Ways to Save on Bathroom Demolition Costs
Do Multiple Projects at Once
Another way to save money is to hire one contractor for multiple jobs.
If you have multiple rooms that you are wanting to remodel, your first instinct may be to only tackle one at a time.
While having multiple rooms in your home torn up may not be the most convenient approach for your family, it can save you money in the long run.
Many contractors offer discounts for larger projects.
Start Your Project in the Off-Season
Starting your demolition project in the fall or winter is a great way to cut costs.
The fall and winter are typically considered slow seasons for many contractors.
Not only will waiting until the colder seasons offer more contractor availability, but it can also save you money.
It is not uncommon for contractors to offer discounts during the off-season to secure jobs, so it doesn't hurt to ask.
Do It Yourself
A common way people think to cut demolition costs is to do the project themselves.
While being able to pocket 100% of labor costs can certainly be a great way to save money, it isn't always a safe option.
Continue reading to learn more about interior demolition DIY, and when it should, or should not, be considered.
Considering DIY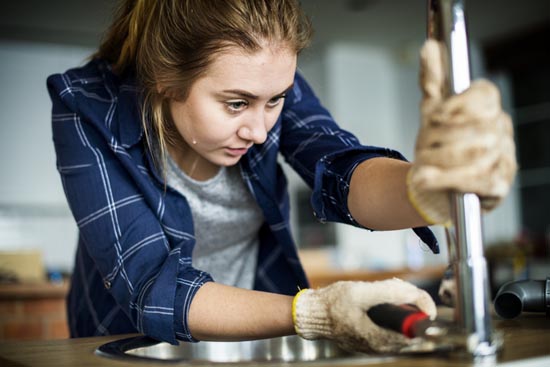 With access to the internet and YouTube, there are countless projects homeowners can do themselves.
With a few basic tools, like claw hammers, pry bars, screwdrivers, and a reciprocating saw, individuals can remove their own kitchen cabinets, old bathroom vanities, or even a non-load bearing wall that is void of electrical wiring or plumbing.
There are several instances, however, where doing it yourself should not be considered an option
If your project site has any presence of mold, asbestos, or lead, it is extremely important that you hire a professional.
Additionally, if you are not experienced with plumbing or electrical wiring, removing appliances hooked up to these systems can cause structural damage or bodily harm.
If you are unsure if the wall you want to demolish is load bearing or not, or if you are unsure whether there is wiring or piping present, you will need to hire a licensed interior demolition contractor.
---
---
Learn more about finding the right contractor: