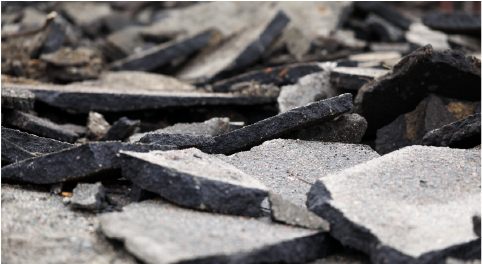 Updated January 23, 2023
Asphalt is typically cheaper to install than concrete, but asphalt also requires additional maintenance and tends to have a much shorter lifespan than concrete.
If your asphalt driveway, parking lot, or other surface is looking worse for wear, removing it is likely the best option.
In this guide, we'll go over the most common questions people have regarding asphalt removal.
Jump to:
---
---

When to Remove and Replace Your Asphalt
If your asphalt only has a few chips and scratches, it likely doesn't need to be replaced.
In fact, there are many ways to repair minor asphalt damages for a minimal amount of money and effort.
However, there are a number of signs that you should replace the asphalt, like:
Cracks more than two inches deep
Asphalt is no longer level
Sunken in or raised areas
Potholes
How Asphalt Removal Is Done
There are two ways to remove asphalt: with heavy, powered equipment or by hand with basic tools.
The most common asphalt demolition tools include excavators, backhoes, as well as circular saws and/or jackhammers in some cases.
The asphalt removal process may vary slightly from situation to situation, but it typically is done like this...
The crew member of the company you hire will begin by locating where your asphalt is the most damaged. (This will be where they start breaking up the asphalt.)
Before tearing up the asphalt, a dumpster truck/trailer will be positioned nearby so the debris can be dropped directly into it.
Using their equipment of choice—an excavator in most cases—the crew member will then start scraping up the asphalt.
As they rip up the asphalt with the bucket of their excavator, they will drop the asphalt directly into the nearby dumpster.
They will work up and down the asphalt until it is completely demolished and removed.
Who to Hire for Asphalt Removal
Asphalt demolition tools like those listed above are extremely powerful and can be dangerous if not handled properly.
The average person has never used a jackhammer, skid steer, or excavator before, which is why we recommend hiring an asphalt removal professional to remove the asphalt so you can avoid serious injury and property damage.
However, before reaching out to contractors, we recommend gathering as much info about your driveway, parking lot, or other surface as possible.
For example, you should know the current condition of the asphalt, roughly how long and how wide the surface is, any obstacles or nearby structures that may pose an issue for equipment, like light posts, flag poles, fences, etc.
The more information you have regarding your particular project, the more accurate your asphalt removal estimate will be.
We recommend speaking with at least two or three contractors before hiring so you can compare estimates, customer service, and availability.
This will make it easier to be sure you're choosing the best contractor for the job.
Hometown makes the process of finding the right asphalt removal contractor fast and easy. Simply enter your zip code, answer a few questions about your project, and instantly submit a quote request to up to three local asphalt removal contractors.
You can also learn more about each company and read customer reviews to see what they have to say about their services.
Average Cost of Asphalt Removal
Asphalt removal costs $1-$3 per square foot on average, including debris disposal.
For example, the cost to demolish and remove the average size asphalt driveway would fall between $1,000 and $3,000.
However, there are a number of factors that will affect the cost of your specific asphalt removal, like:
Size and depth of the surface
Where the asphalt is located and how accessible it is
Cost of living in the area
Who you hire to do the work
The geographic location and accessibility of the asphalt will play a big role in cost, as does who you hire.
Your exact project cost will depend on these factors, and the best way to get an accurate estimate for your project is to reach out to multiple contractors in your area for a quote.
This not only ensures you get the best price but also allows you to choose the best concrete/asphalt removal contractor for the job, not just the cheapest.
---
---
Keep reading: