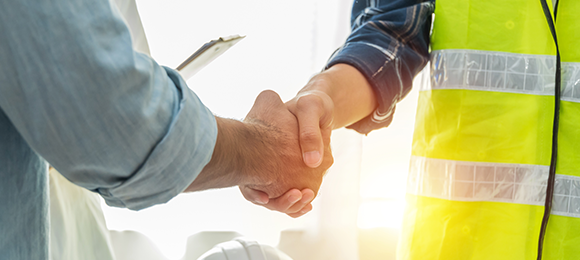 Updated December 14, 2021
In this guide, we'll explain:
---
---
How to Find Demo Contractors in Your Area
It's easy to browse demolition contractors that serve your area based on project type with Hometown.
Click "Find Pros" at the top of the page and select your project category.
From there, you can scroll down to select your State then your City to view a complete list of companies in your area.
Learn More About Each Company's Experience
Interested in learning about the experience and history of the company you're hiring? Most customers are!
Each company profile contains details about that contractor, like how long they've been in business, what their expertise is, and what makes them stand out among the competition, among others.
Getting an idea for what each company stands for can help you get a better idea of who you should choose to hire.
Read Verified Customer Reviews
Hometown collects and publishes reviews from customers who hire contractors through our site.
Not only does this ensure that customer reviews on Hometown are verified and real, but it also confirms that customers are satisfied with the services they get from companies on our site.
When reading reviews on Hometown, there's no need to worry about competitors leaving phony reviews because we follow up with each customer to ensure their review is legitimate.
Seeing what other customers have to say about contractors' services can be extremely helpful in the hiring process.
How to Get Multiple Quotes from Demolition Pros
With Hometown, requesting demolition quotes from qualified contractors in your area is as easy and straightforward as inputting your zip code and answering a few questions.
Then, with the click of a button, we'll send your project quote request to up to 3 different contractors in your area who offer that service.
We do the work for you, so there's no need to spend time manually sending the same request to multiple contractors.
Requesting quotes from multiple local contractors helps to ensure you pay a fair price for your project while getting great customer service, too.
Here's how it works...
Step 1: Click "Find Pros"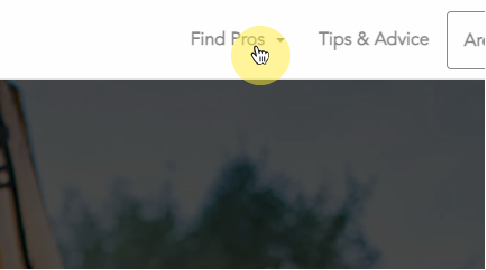 Step 2: Select the Service You Need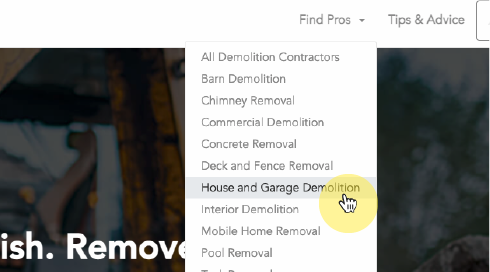 Step 3: Enter Your Zip Code to Get Started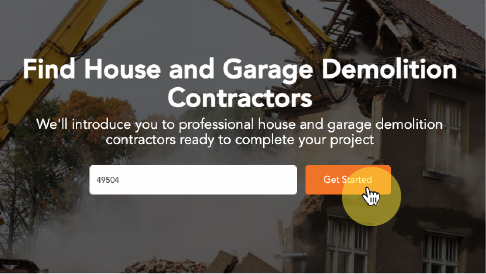 Step 4: We'll Ask You a Few Questions About Your Project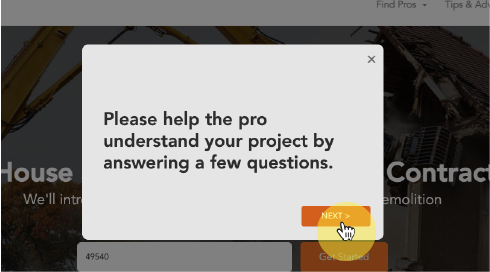 Step 5: Enter the Zip Code for the Project's Location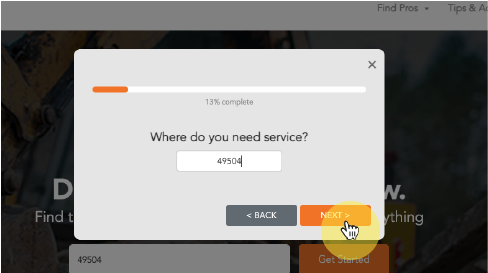 Step 6: Select the Type of Demolition You Need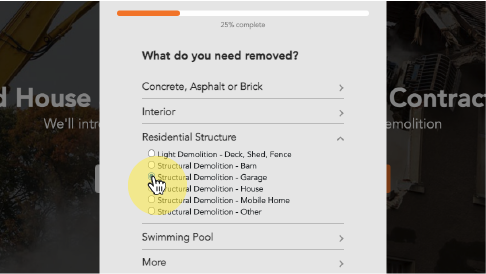 Step 7: Describe Your Project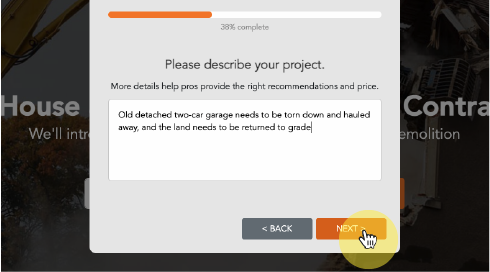 Step 8: Select How Many Contractors You'd Like Quotes From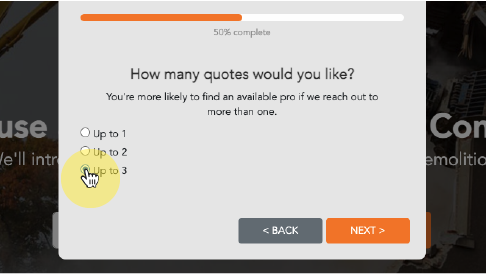 Step 9: Enter a Mobile Phone Number to Get Updates About Your Project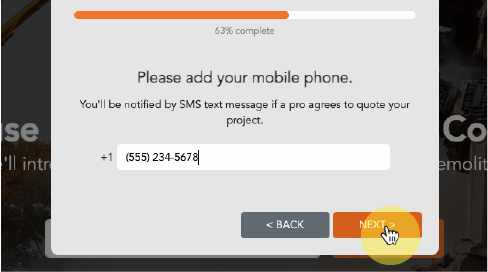 Step 10: Enter the Address of the Project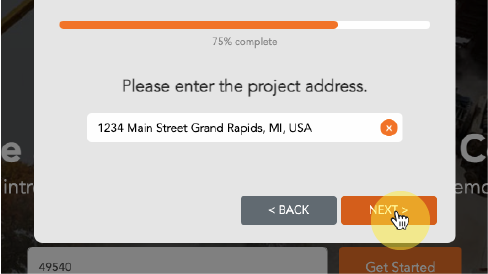 Step 11: Let Us Know Your Contact Details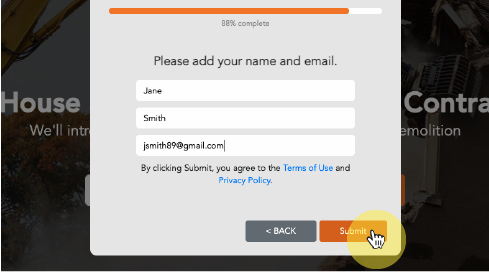 Once you've submitted your request, the contractor(s) will then receive a limited view of your quote request and choose to accept or decline it (if they are busy or unable to perform the work for some reason).
If they accept it, they will soon reach out to you to discuss your project and provide you with a detailed free estimate.
We recommend waiting to sign and agree to an estimate until after you've been able to read and compare at least three in order to ensure you get a fair price and great services.
---
---
How to Compare Quotes and Choose the Right Contractor
Not all contractors prepare their quotes the same way.
Because of this, it's important to understand what information to look for so you can make an informed decision on who to hire.
Qualified, legitimate contractors are transparent and upfront about what they charge for labor (whether it's hourly, daily, or by project), materials, and permits.
For starters, the contractor's estimate should detail what type of labor rate they charge for the work.
For example, if they charge an hourly or daily rate, they should also estimate how much time they expect the project to take based on the information you gave them.
If any replacement materials are needed, be sure all cost information is outlined, not just summed up into one number.
Most demolition projects call for a permit before work can start, too, which is usually a couple hundred dollars or more.
Make sure you understand permit costs and ensure it's included in the quote.
It's also crucial to understand payment terms, like their accepted forms of payment and the payment schedule. Also, do they request any money upfront? (It should not be more than 30% of the total estimate, and you should always pay as you go vs. paying for everything upfront.)
If you're unsure about something in your estimate, ask your contractor to explain it.
If a contractor is unwilling to explain their estimate or answer your questions, that is a red flag and a sign that they are likely someone you should not be doing business with.
Once you fully understand the demolition quotes you have, you can make an informed decision of who to hire, sign the contract, and schedule your project start date.

Then, your project will proceed as discussed with your contractor. Once completed, you'll do a walkthrough of the final result, and the contractor will go on their way.
---
---
Keep reading: