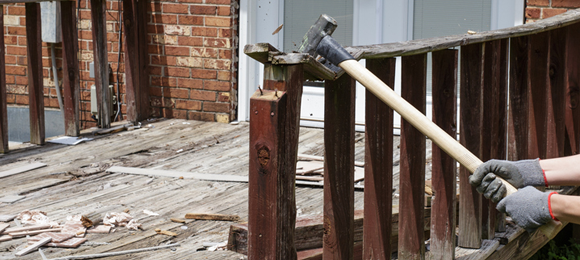 Updated July 14, 2023
In recent years, the do-it-yourself (DIY) movement has become hugely popular, and it's easy to understand why.
Not only can doing things yourself save you some money, but it can also do wonders for your self-sufficiency, sense of pride, and appreciation for the world around you.
Why Do People Love to DIY So Much?
Our day-to-day lives typically involve eating food someone else grew and wearing clothes someone else made without fully appreciating where it came from or how it got to you.
DIY presents an opportunity to use your hands creatively and boost your brainpower, while allowing for a deeper connection to the world and a better appreciation for the things around you.
When you fully understand what goes into making a desk, you begin appreciating all desks, not just the ones you've built yourself.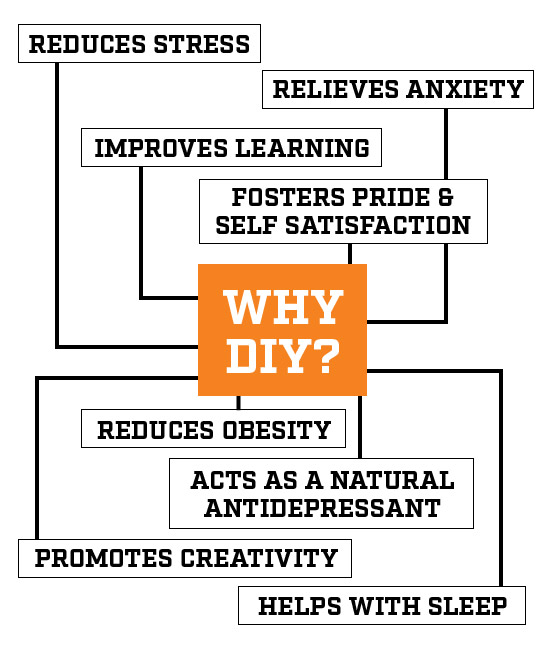 Taking the time and effort to make something with your own hands rather than going out and buying it makes it that much more meaningful and valuable to you, and it brings a new appreciation for items that you didn't make, too.
When we make something with our hands (even if it's not perfectly done), we're expressing ourselves, which has been scientifically proven to reduce stress and anxiety.
By enjoying the process rather than just the final product...
We gain more self-awareness.
We become more confident.
We sharpen our decision-making skills.
We become better problem solvers.
We become more resilient.
However, just because DIY is a possibility for some, doesn't mean it's necessarily a possibility for you and your particular project/situation.
What Should I Take Into Account Before Doing a Project Myself?
With so much information available out there—from YouTube videos to HGTV, Home Depot demonstrations, and the Internet in general—it's likely you can figure out how to do pretty much anything with enough time and patience (and money).
However, those easy-to-find how-tos are cookie cutter instructions and don't account for all the different little (and not-so-little) complications that can arise.
Some projects may sound relatively simple and straightforward on paper but turn out to be much more complicated than you thought.
For example, moving a wall to give yourself a little extra space in the kitchen sounds like a pretty easy job, but in reality, it can involve a lot of work, like moving the plumbing around and rerouting electrical wires.
Even the most experienced handymen have admitted to spending thousands of dollars each year to rescue DIY projects gone wrong.
So if you think you're the exception, think again.
If you don't feel equipped to handle a project safely, or you don't like getting your hands dirty and solving problems (because they do arise), then DIY just isn't for you. Hire a professional to help you handle the project safely and properly.
Keep reading: ​Projects to Tackle While Social Distancing at Home
In order to better determine whether or not your particular project is DIY-worthy...
Assess Your Skills
Do You Have a Can-Do Attitude?
Two must-have traits for a DIY: the ability to enjoy a challenge, and the ability to employ patience in the face of frustration, because problems inevitably will arise.
Are You Willing to Ask for Help?
Using written or visual resources, like books and videos, can only go so far. Sometimes it takes a helping hand.
Checking in with staff at home improvement stores or friends and family with experience completing similar projects can be a huge help in getting a job done.
However, if you're not the type who likes admitting when you're stuck in your project, asking questions at Home Depot, or spending some time on YouTube, then going the DIY route may not be the best one for you to take.
Do You Know Exactly What's Involved in the Project?
As you do your research and learn what your project will demand of you, write down each step of the process.
Being able to clearly see what the project requires will make it easier for you to decide if it's something the pros should handle.
If there are some steps of the process that you're unsure of, then your best bet is to avoid DIYing blindly. Hire a professional instead.
Consider the costs.
Oftentimes, when people think 'DIY," they think 'less expensive," but that's not always the case.
Doing projects yourself eliminates labor costs, which can save you 25% - 50% in theory, but mistakes can lead to do-overs, which can lead to empty pockets.
If work is improperly done, you'll have to pay to have it fixed. And if you leave your mistakes, not only can it be dangerous to the house's structure and overall stability, but it can also be a turn-off for potential buyers when selling your home in the future.
Not to mention, you'll need tools and materials, which also cost money.
One of the benefits to hiring a contractor rathing than doing it yourself is that they can typically buy materials at much lower costs than individuals. Not to mention, they already own all the necessary tools.
Now, if you want to DIY, you don't have to have Tim "The Tool Man" Taylor's tool shed to do so, but having the basic equipment on hand (preferably before you start) goes a long way in getting a job done in a timely manner.
HELPFUL HINT: You don't necessarily have to run out and buy a ton of tools to complete a project. A great resource for your one-time tool needs is a tool rental shop. Most home improvement stores rent out all kinds of tools, both big and small.
Going the hybrid route is the most cost effective way to go. You can save on the cost of hiring a contractor by doing some of the easier, more unskilled demo and cleanup work yourself. Be sure to check with your contractor to see whether or not this is a possibility and how much you could save by doing so.
Don't forget: The more quotes you get from contractors, the better.
A few extra minutes of calling around will pay off in the long run, helping to make sure you choose the best person for the job.
Determine the Demands
Money isn't the only factor to consider when deciding whether or not to DIY a project.
It takes a serious amount of time and effort to do all the necessary research, shopping, and physical labor involved when you DIY a project.
Sit down with your list of steps and make a detailed time and labor assessment.
Before even considering whether you're physically capable of completing a job on your own, ask yourself if you have enough time available and if that time investment is worth it to you.
For example, if you want to replace your kitchen countertops and cabinets, but you only have time on the weekends to work on it, you can expect to be tip-toeing through a dusty mess for weeks, maybe even months.
If you hire a contractor, they'll be able to dedicate the entire day to your project, while also having plenty of subcontractors to turn to when they need an extra set of hands. The experts can streamline the process, resulting in less time spent looking at an eyesore.
Even the most experienced DIYers leave some home improvement jobs for the pros because they know that the risk just isn't worth the reward.
Many jobs can take an enormous toll on your body, and the risk of injury far outweighs the possibility of saving some money.
Make the Decision
When deciding whether or not you want to DIY a project, consider:
the monetary risks
the time investment
the physical demands
the overall complexity of the project
Honestly ask yourself if you think DIY is a feasible possibility for your project, and whether or not you're willing to get the job done no matter how long it takes (or how much it costs).
Which Projects Should I DIY and Which Should I Hire a Pro to Handle?
Removing a Wall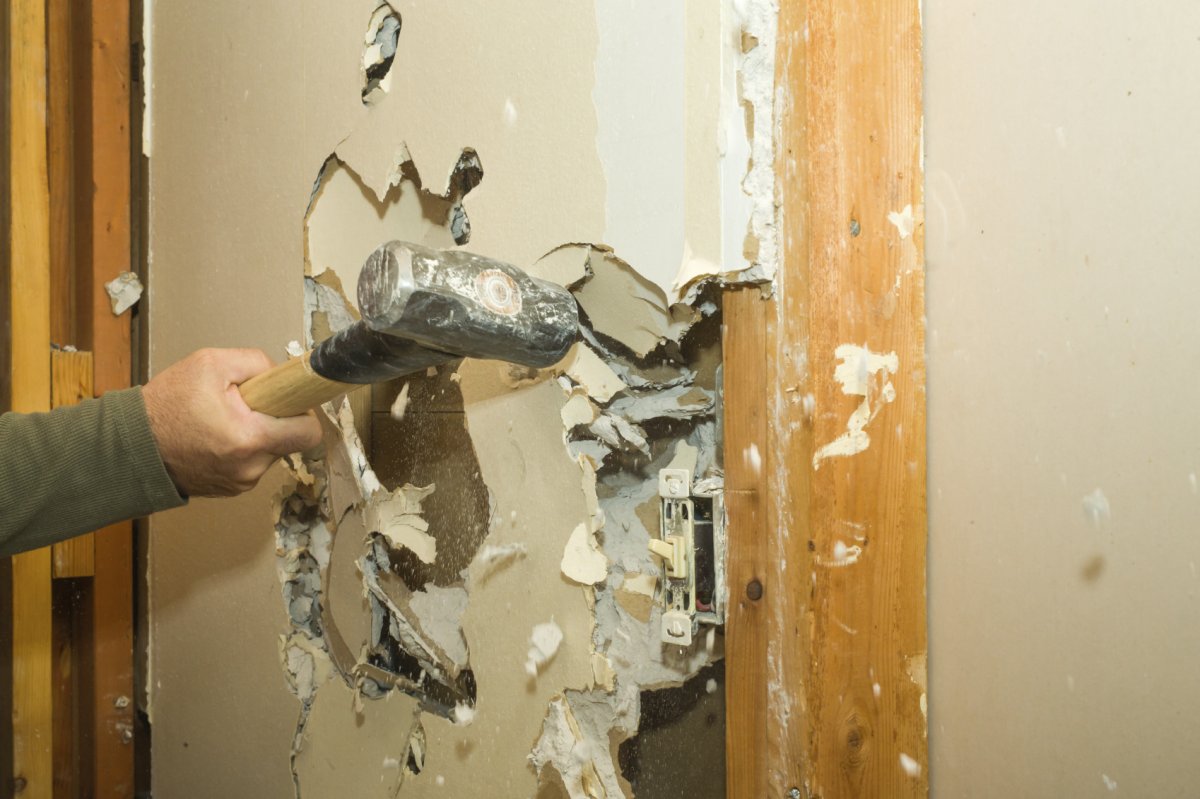 Removing a wall isn't as easy as just taking a sledgehammer to it and calling it a day.
There are a few things you need to check for first, like:
Is the wall load-bearing?
What's inside the wall—plumbing, electrical, HVAC, etc.?
When to DIY: If your home is one story, and you know without a doubt that it is not load-bearing and does not have any gas lines, pipes, electrical wires, etc. behind it
When to Hire a Pro:
If you don't know what's behind your wall, a great way to find out is by hiring an experienced contractor to do an initial consultation. This can be done for as little as $100 in some areas.
You can also hire an architect, which is a great option if you're looking for a second opinion on design. An architect will consider different alterations that may not require removing as much wall, which could save you some money.
If you have a two-story home, you will need to hire a structural engineer. Removing a single wall can add excessive stress to the other walls in your house, so you'll definitely want to hire an expert for this.
Learn more about DIY interior demolition:
Removing Floors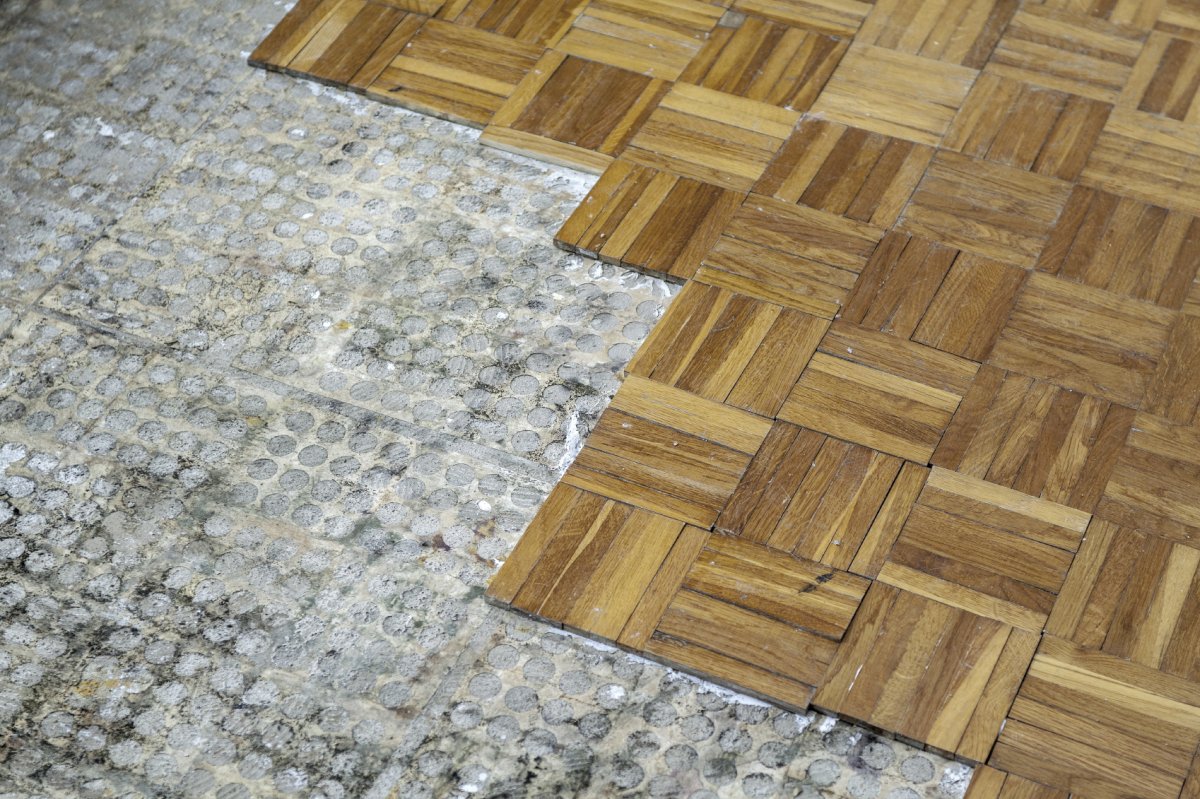 In general, tile floors, wood floors, and flooring are relatively easy to remove with some basic skills and a little bit of elbow grease.
When to DIY: If your floor isn't too large and you're comfortable working with a circular saw, pry bar, or other tools
When to Hire a Pro: If you don't feel comfortable using a circular saw or hacking at some tiles—or your floor is particularly large—a professional can make quick work of your floors.
Removing a Shed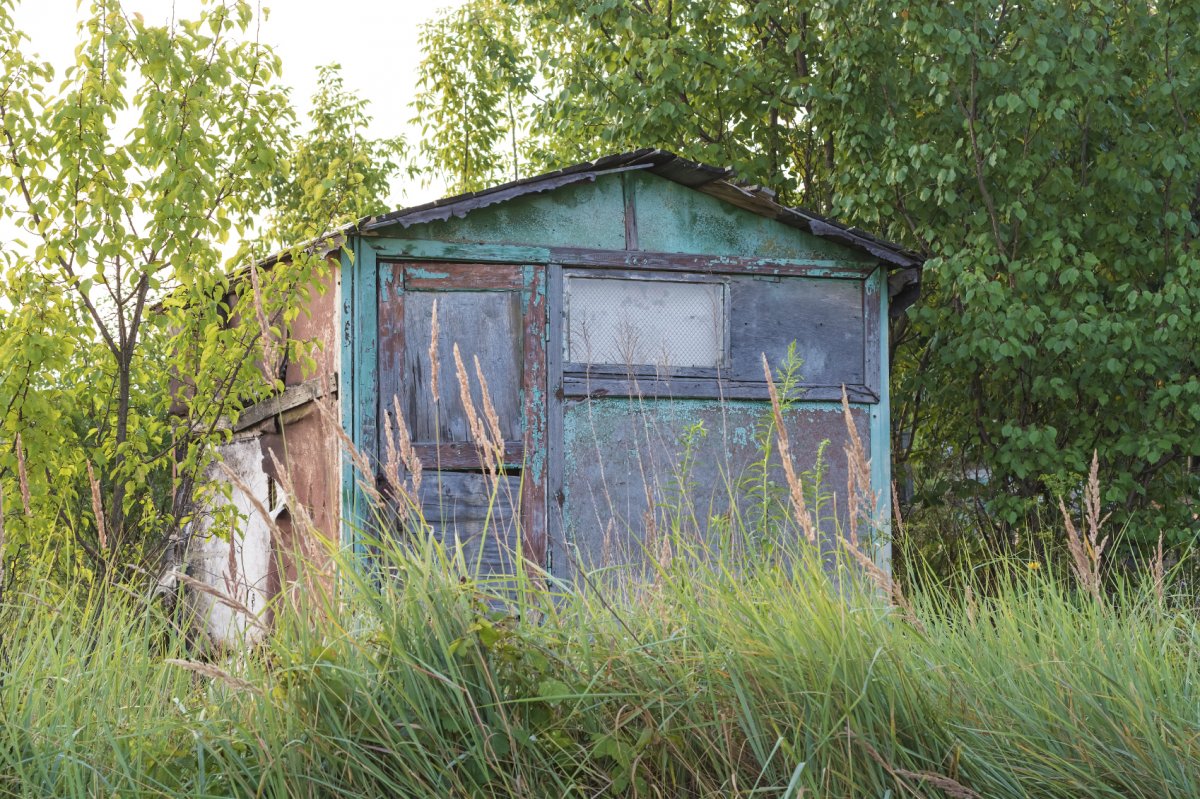 You can remove a shed yourself by dismantling it piece by piece, but this can take some serious time and strength.
When to DIY: If your shed is relatively small, and you're willing to commit the time and effort to take it apart
When to Hire a Pro:
If your shed is on the larger side and you don't have the time or energy to rip apart a shed, then hiring a pro is the way to go.
Even if you have the bound-tos to take apart your shed yourself, if it has electricity, running water, heat, etc. (Are you sure this is a shed?), then you're better off hiring a pro. They will be able to safely shut off and remove any utilities, keeping you and your property safe.
Keep reading about shed demolition:
Ripping Out a Wood Fence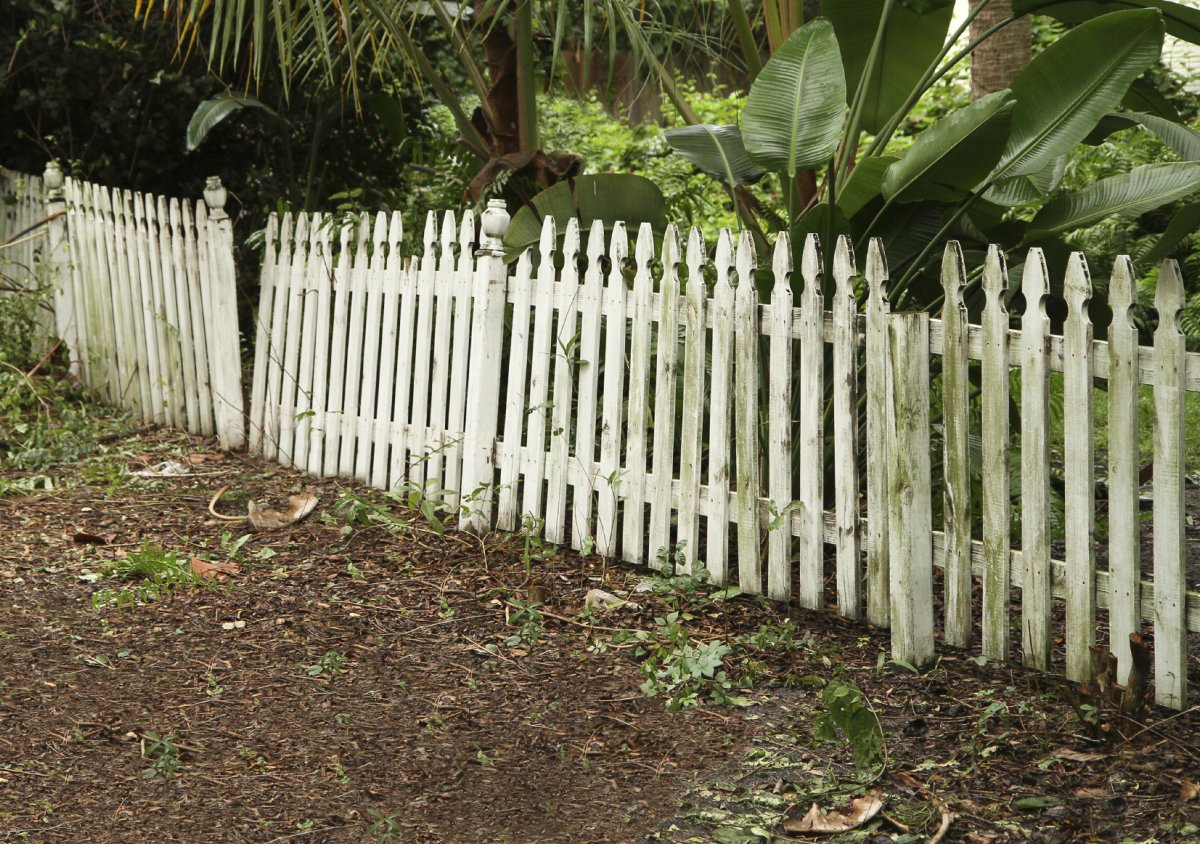 Removing a wood fence can be relatively uncomplicated, but that doesn't mean it's easy. It requires a decent set of muscles and some power tools.
When to DIY: If you like the idea of taking out your frustrations by ripping a fence out of the ground, and you have the physical ability to do so
When to Hire a Pro:
If you don't have the brute strength required to rip posts out of the ground, DIYing this project is definitely not for you.
If your fence posts are in cement footings rather than just the ground, removing them will be more of a challenge, both physically and in terms of how long it takes you to do it. This might be a job better left for a pro.
Learn more about fence removal:
Ripping Out a Deck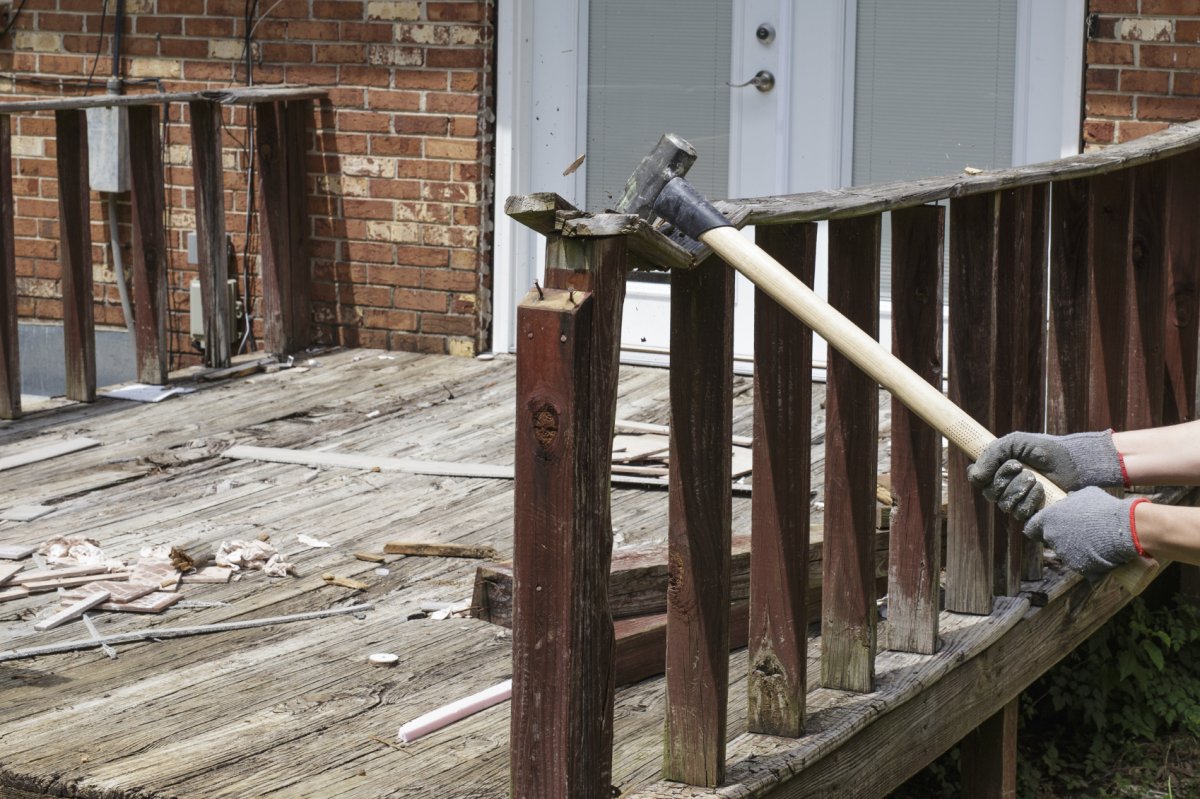 If your deck is made of wood, removing your deck is as complicated as ripping out some nails and tearing out some boards (or taking a sledgehammer to it if that's more your style)—not rocket science, but not for the faint of heart either.
When to DIY: To put it simply—you must have the adequate strength and a comfort using tools in order to even consider DIYing a deck rip-out.
When to Hire a Pro: If you're not confident in your physical ability to do the manual labor of ripping out your deck