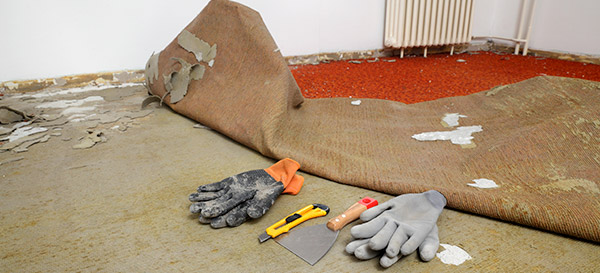 As COVID-19 spreads across the country and beyond, many businesses are closing, and states are urging residents to stay home and social distance.
If you have more time on your hands at home, it may be a great opportunity to tackle those home projects you've been putting on the backburner.
---
There are many home projects you can complete while social distancing.
We all have projects we've been putting off. Sometimes it's simply cleaning out our home, organizing, and rearranging; other times, the projects are a bit more involved.
Floor removal, deck removal, fence removal, painting, kitchen remodeling, bathroom remodeling, and more—many of these projects can be accomplished while you're home social distancing.
Note: Safety always come first. If you have any concerns about your ability to safely do the work, err on the side of caution and wait until you can hire a professional to help you complete the work.

 
Floor removal
Tile floors, linoleum, carpet, and other types of flooring are relatively simple to remove in terms of tools and skills, and the end result can be very rewarding.
Underneath all that flooring—especially vinyl, tile, or linoleum—is a bunch of glue or thinset that must be removed before laying down new flooring.
Although flooring removal doesn't require specialized tools and isn't overly complicated work, it can be extremely tedious if the flooring is glued down or breaks off easily.
We recommend you hire a professional if any of the following are true:


You have back or neck pain.


It's painful to be on your knees for extended periods of time.


You don't have the patience or desire to pry up an entire floor.


Fence removal
Removing a fence can be relatively uncomplicated, but that doesn't mean it's easy work.
Most fence posts are attached to cement footings buried in the ground, making them difficult to remove.
This job requires power tools and decent strength to get the job done.
We suggest you hire a professional if:


You don't have the brute strength required to rip posts out of the ground.


The fence posts are in cement footings rather than just the ground.


You have back or neck pain.


You don't have the patience to do the work.


---
Learn more about fence removal:
---
Deck removal
If the deck is made of wood, the process is pretty simple: Remove the nails and then the boards.
If you have the necessary strength needed to tear out a deck, as well as the necessary safety equipment, then you can easily deconstruct the deck yourself.
If the following statements are true, wait to hire a professional:


You're not confident in your physical abilities.


You have neck or back pain.


---
You can rent a dumpster while following social distancing rules.
Tearing up floors, ripping up your deck, or removing your fence—all of this creates a lot of debris that can lead to problems if not managed and disposed of properly.
Renting a dumpster is a great way to manage the debris from all types of home projects, and it's compatible with social distancing protocols, too.
Dumpster delivery and pick-up can be arranged without ever coming into contact with anyone.
How to rent a dumpster while social distancing:


Contact at least 3 dumpster rental companies in your area using Hometown Dumpster Rental—it's free! This will help you choose the right provider for you.


Explain to each company the type of debris you will be disposing of. They will help you choose the dumpster size that is best for your project.


Choose the dumpster provider that is right for you based on customer reviews, container size availability, price, etc.


Schedule a dumpster drop-off time with the rental company via phone or email and explain where you would like the dumpster to be placed once it arrives.


Fill the dumpster within your agreed upon rental period, taking care not to overfill the container or exceed your agreed upon weight limit.


Call the dumpster company when you're ready to have the dumpster picked up.


Pay for the dumpster services over the phone or online using a card.


The process is a simple and safe way to get rid of your debris and other junk. Don't put off those household projects any longer—rent a dumpster to get your home projects done today.​