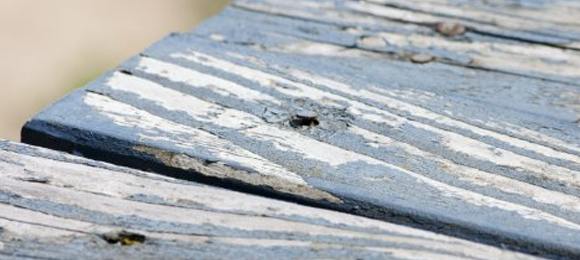 Updated May 5, 2023
Your deck has grown tired over the years and has started to chip and sag. You've been putting off the idea of removing it for years, because let's face it—it doesn't sound like a fun job.
Removing a deck isn't a one-size-fits-all project. There's more than one way to get rid of your deck, just as there's more than one reason to do so.
The condition and material of your deck, as well as your desired budget and timetable, all come into play when deciding which deck removal process you're going to choose: doing it yourself, hiring a professional, or a combination of the two. We recommend thoroughly assessing your options, approaching the job methodically, and making a plan.
With the help of our deck demo guide, you'll be able to say goodbye to your deck without saying goodbye to all your hard-earned cash, free time, or sanity.
Jump to:
---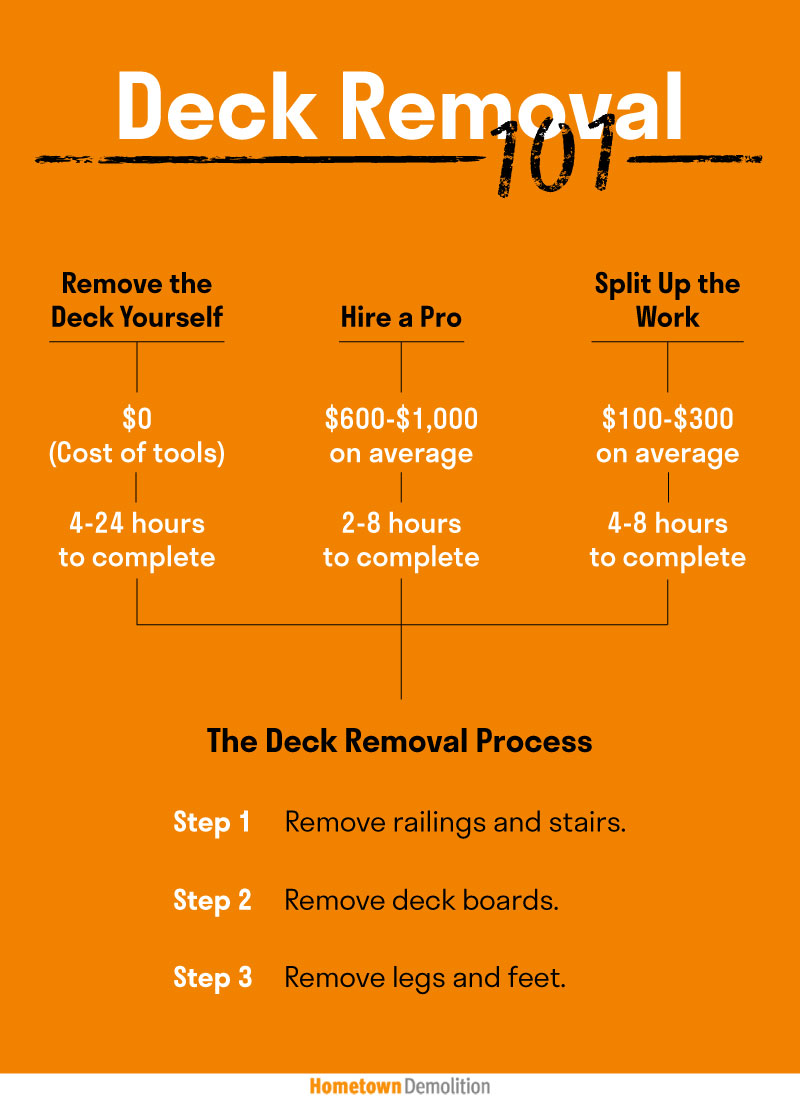 DIY Deck Removal
Getting rid of your deck doesn't mean you have to destroy its materials in the process. The lumber used in decks is often valuable and can be reused for a wide range of projects. Not to mention, deconstructing a deck is a job you can finish on your own with some elbow grease and a few basic tools.
Step 1: Remove Railings and Stairs
Start by removing all railings and stairs. A majority of decks nowadays are built with screws, which are simple enough to remove with a drill or electric screwdriver.
If your deck was built with nails, simply pull out the nails using a claw hammer.
Step 2: Remove Deck Boards
Once railings and stairs are out of the way, you can then remove the deck boards. Take care when doing this as to not hurt yourself or the wood. Railings, stairs, and deck boards are in high demand due to their versatility.
Weathered wood is perfect for all kinds of DIY projects. You can transform your old deck into a bench, a table, a frame, landscaping trim, or anything you can think of—or you can sell it to someone else via Facebook, Craigslist, etc.
Step 3: Remove Legs and Feet
From there, remove your deck's legs and feet. Most decks have concrete feet that are relatively easy to remove from the ground with a shovel and some muscle.
If your deck's concrete footings are too difficult to remove by hand, you will need to utilize a Bobcat, backhoe, truck, quad, tractor, etc. to get the job done. If this is the case, we recommend hiring a professional to handle this step.
Deconstructing your deck yourself is a free albeit physically challenging way to save on costs.
Renting a dumpster to manage your fence debris is typically the most convenient and inexpensive option. Find dumpster rental companies near you if you plan on removing your fence yourself. Having the dumpster in place prior to starting your project will ensure your property stays clear of debris while also increasing efficiency so you can complete your fence removal as quickly and safely as possible.
Keep reading:
Professional Deck Removal Services
If you're not comfortable with the idea of taking apart your deck on your own or you're unable, a deck removal professional or junk removal company can have it removed quickly and safely.
The video below does a great job of breaking down each step of the process and explaining what you can expect the contractor or junk removal company to do when removing your deck.
Hometown Demolition can help you find deck removal experts in your area. You can find out more about each company, read authenticated customer reviews, and reach out to them for a quote.
We recommend getting multiple quotes to ensure you hire the best company. With Hometown, you can request up to three quotes with the click of a button. Simply enter your zip code into the search bar above, answer a few questions about your project, then Hometown will work to find the right pros in your area who are willing to quote your project.
When speaking with contractors, be sure to ask questions to side-step scams.
For those who want to save a bit of money and don't mind getting their hands a little dirty, you can do some of the deconstruction yourself, then hire a contractor to do the tougher work.

Depending on your level of enthusiasm, you can remove all the wooden material yourself—railings, stairs, and deck boards—and have a contractor help you remove the cement footings.
Deck Removal Cost
The average cost of professional deck removal is $800-$1,000.
However, your deck removal project could be more or less to remove depending on a number of factors, like deck material, the deck's condition, how it was assembled, where it's located and how accessible it is, how well-attached it is to the home, the average cost of living and disposal fees in your area, as well as who you hire.
Again, we recommend getting multiple estimates from fence removal pros to increase your chances of paying a fair price for deck removal in your area.
---
---
Learn more: