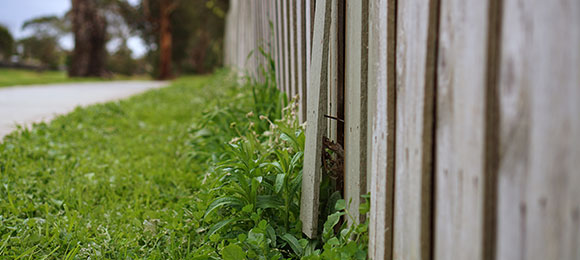 Updated May 11, 2023
If you have a fence you want removed, you're probably wondering how much it's going to cost you.
At Hometown, we know that getting the best price for your fence removal is important to you, and we want to help ensure you get that.
This cost guide will go over:
---
---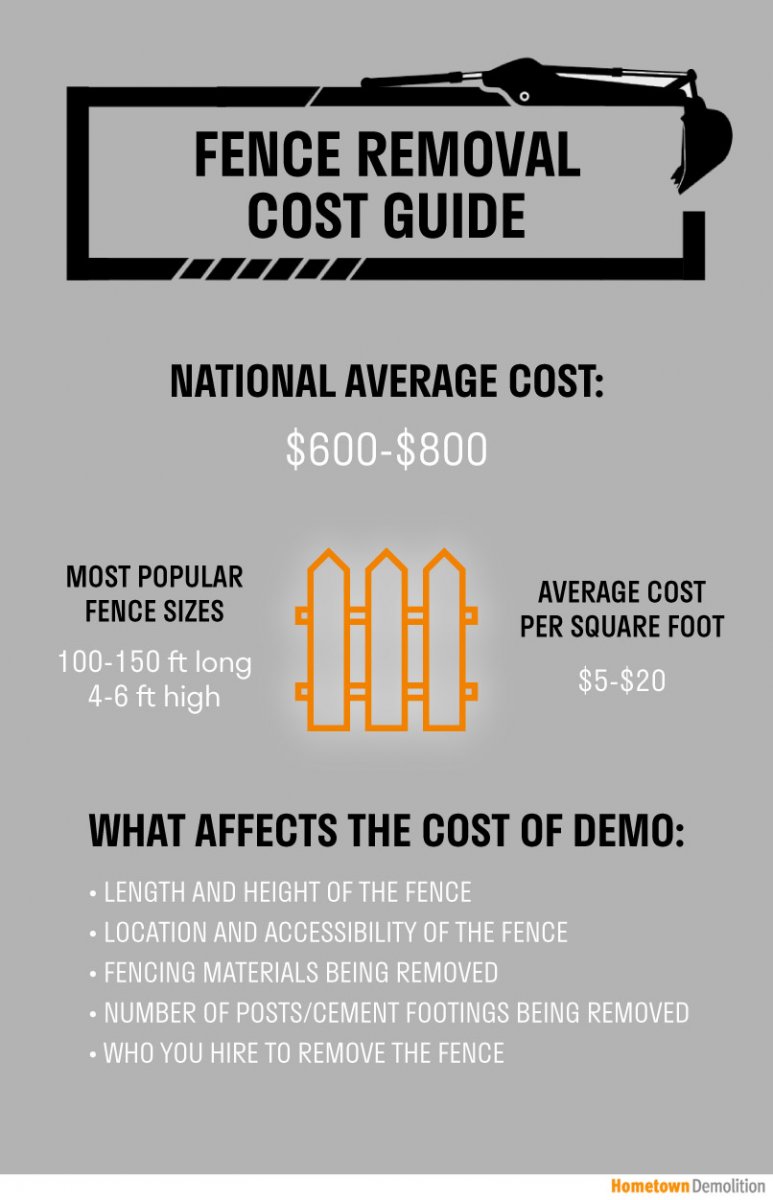 Fence Removal Average Cost
The national average cost to remove a fence is $600-$800, including debris disposal, but can cost as little as a couple hundred bucks or as much as a couple thousand in some cases. Generally speaking, you can expect to pay $5-$20 per square foot to remove your fence.
However, your exact fence removal cost can vary based on:
Where you live
Material and size of the fence
How accessible the fence is
Who you hire to do the work
Whether or not you're also having the fence replaced
Below are real-life examples of what people across the country have paid for their fence removal project.
Fence Removal Cost Examples
| State | City | Project Description | Project Cost |
| --- | --- | --- | --- |
| Illinois | Elmhurst | Removal of 140 ft long wood fence | $650 |
| Illinois | Naperville | Removal of 200 ft long cedar fence | $650 |
| Illinois | Westmont | Removal of 108 ft long wood fence | $600 |
| Iowa | Des Moines | Removal of 40 ft long wood fence with concrete footings | $625 |
| Maryland | Baltimore | Removal of 42 ft long wood fence | $900 |
| Michigan | Grosse Pointe Farms | Removal of 60 ft long wood privacy fence | $1,200 |
| Michigan | Warren | Removal of 30 ft long rotting wood fence | $800 |
Learn more:
---
---
Factors That Affect Fence Removal Pricing
The cost to remove your old fence will depend on:
The length and height of the fence.
The location and accessibility of the fence.
The fence material being removed.
Whether or not the fence has cement footings.
The contractor you hire for the job.
If you plan to have your fence replaced, not just removed, then your fence removal cost will likely be included in the total cost of replacement.
Likewise, the specs of the new fence will affect your project cost, too, including the length and height of the new fence, the number of posts needed, and the fencing materials you choose.
Read more:
How to Find the Right Fence Removal Contractor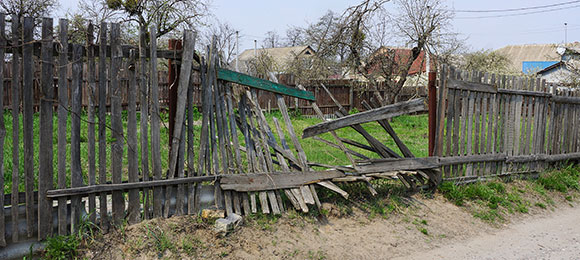 Though ripping out your fence yourself may be tempting, we recommend hiring a professional to handle your fence removal. This is almost always the safest, fastest, and most convenient option. A professional can have your fence removed in a matter of hours, haul away the debris when they're done, and then either leave you with a clean space or install a new fence.
We recommend getting at least three estimates from different contractors to ensure you hire the right professional for your fence removal project without overpaying.
Hometown helps make it easy to find contractors in your area, read customer reviews, and request quotes from as many contractors as you'd like.
Learn more:
---