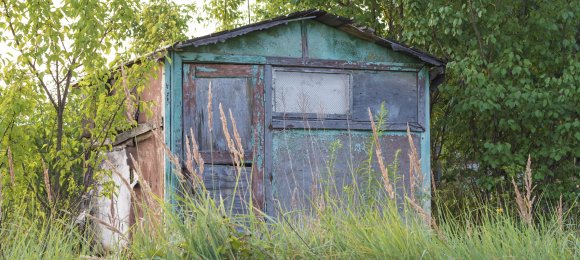 Updated May 5, 2023
When it comes time to get rid of an old shed, you're likely wondering the best way to get it done without overspending. This guide outlines how the shed demolition process works, who to hire to do the work, when to repurpose it instead, and more.
Table of Contents:
---
---
Shed Repurposing vs Removal
If you want to remove our shed because you simply don't use it, you may want to consider repurposing it instead.
Your shed is likely taking up valuable space on your property, so why not repurpose it to better suit your needs?
Not only does repurposing rather than removing a shed keep materials out of the landfill, but it also can breathe new life into your property for less money.
If your shed can be redeemed, consider these new and inspiring shed ideas for transforming your old outbuilding into something spectacular...
Art Studio or Creative Space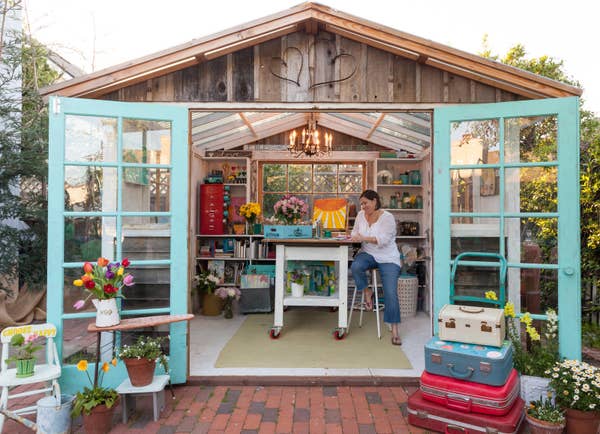 Bar Area or Wine Lounge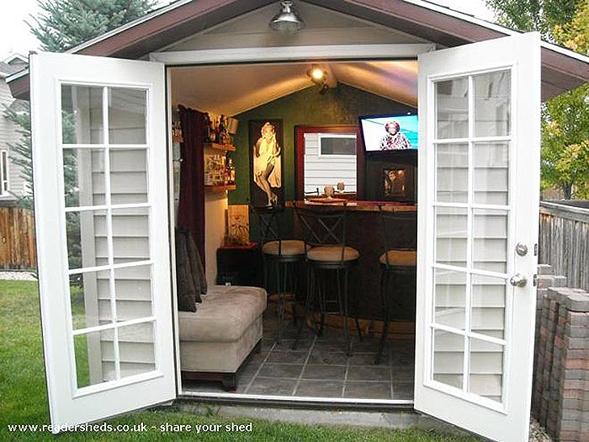 Find out more:
How to Get Rid of a Shed
The shed demolition process is relatively simple, but there's more than one way to get it done. For example, if you hire a professional to demolish the shed, they will likely tear it down using a hydraulic excavator. However, if your shed has salvageable materials, then deconstruction may be a better option. It costs more upfront, but what's recouped from your salvageable materials could offset this price.
When it comes to physically taking apart your shed by hand, the general rule of thumb is to start at the top and work your way down, with the exception of entrances, exits, and windows. If electricity or other utilities run to your shed, you'll need to have them shut off prior to demolition/deconstruction.
Here is a good example of what the shed deconstruction process is like:
Step 1: Remove Windows
Remove any trim around the interior and exterior of the window.
Remove any window jambs/frame pieces holding the window panes in place, and carefully remove the window sashes.
Pry the window frame from the wall opening.
Step 2: Take Off Doors
With the door closed, tap the hinge pins loose (they should pop up an inch or two) by tapping on the bottom of the pin with a hammer and nail.
Once loose, pull them out with your fingers, or use a flat-head screwdriver to drive up on the underside of the pin.
Place a piece of cardboard or a protective sheet underneath the door to protect the floor, and carefully lift the door off the hinges.
Step 3: Tear Off Roof
Taking the proper safety precautions, carefully strip shingles off the shed's roof.
Disassemble the wooden framework of your roof be removing nails then prying them up.
Step 4: Tear Down Walls
Remove any existing drywall by first sawing a line from one end of the wall to the other, minding the studs, and then firmly but carefully removing it by hand. With some luck, it will rip off relatively easily, in big pieces.
Once all drywall in the shed is removed, you can begin prying apart/removing the walls one-by-one.
Step 5: Rip Up Floors
If there's wood flooring, pry it up using a pry bar or flooring tool.
If there is no flooring, just a concrete slab, this will have to be broken up and removed (if you don't wish to leave it in place). You can do this by hiring a contractor, or renting the proper equipment and handling it yourself.
Keep reading:
Professional Shed Removal Services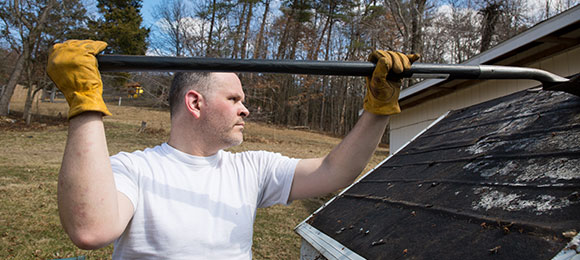 Depending on your location, there may be restrictions to who can and cannot perform a shed removal. Hometown Demolition is a great resource for helping you find the contractor you're looking for. You can search for contractors in your town, read customer reviews, and request as many free quotes as you'd like—all in one place.
More often than not, a shed demolition requires a permit from your local building department. In a majority of cities, permits are needed when any structure is built, altered, or demolished. However, there are some places that don't require a permit when demolishing a small, detached structure, like New York City, NY and Seattle, WA, for example. Check with your city's Building Department to make sure you get all the necessary permits and follow all safety guidelines.
Learn more:
Shed Removal Cost
The average cost of shed demolition is $600-$2,000, including the price of debris disposal.
But, like any demolition job, the price to remove a shed depends on a number of factors...
Location of the Shed
Simply put: Removing a shed in higher-income areas will be more expensive than doing so in low-income areas.
Not only that, but where your shed is located on your property plays a role in pricing, too.
The closer your shed is to the street or the driveway, the easier (and less expensive) it is to remove.
If your shed is difficult to access with demolition equipment, it takes more effort to complete, and therefore, more expensive.
If your municipality requires that your project has a permit, the associated fee will be included in your overall cost.
Condition of the Shed
If your shed is in very poor condition, more safety precautions will likely need to be taken to remove it. This can increase overall project costs.
If your shed is in decent condition, it's very possible that someone will be interested in taking it off your hands.
Try putting your shed up for sale on Craigslist. You may be able to sell it to someone who will come and remove it for free.
Connections to the Shed
If the shed is anchored to a concrete slab, it will be more expensive to have removed.
Also, if the shed is wired for electricity, gas, or plumbing, these utilities will have to be disconnected, perhaps removed—all of which will be reflected in the price.
Shed removal costs can vary a great deal depending on its size, and whether or not it is anchored, wired, or in good condition. On average, shed removals cost $600-$2,000.
DIY Shed Removal
Shed demolition is a relatively straightforward process, but that doesn't mean it's an easy job.
Not only will you need to be comfortable up on a ladder, but you'll also need to have the strength and time to complete the work.
However, if your shed is small and you're up for the challenge, you more than likely can perform the removal yourself.
Disassembling your shed may not save you any time, but it will likely save you some money.
If you're up for the challenge, here are some of the basic tools you'll need to remove your shed by hand:
Safety equipment (glasses, gloves, work boots, etc.)
Hammer with ripping claw
Pry bar
Ladder
Tarps and drop cloths
Hand saw
Drill
Pliers
Heavy duty broom
Adjustable wrench
Find out more:
---
---
Shed Removal Debris Disposal
Just like any demolition project, shed demo produces quite a bit of debris.
If you hire a professional to handle the shed removal project, they typically handle the debris disposal for you. (Be sure to confirm this with them when reaching out for project quotes.)
If you are handling the demolition work yourself or are otherwise responsible for debris management and disposal, we recommend renting a dumpster.
In addition, depending on your state or city ordinances, it's possible that there is a law regarding the number of materials you must recycle.
Regardless of local laws, we always encourage you to recycle materials whenever possible. Non-profits, like Habitat for Humanity, accept all kinds of used building materials in good condition.
For materials that can't be recycled, renting a dumpster makes it easy to contain all the demolition debris, potentially with room to spare for other junk/materials you have lying around the house.
Keep reading: What Can I Put in a Dumpster? A Quick Guide to What's Allowed in a Roll-off Containers
---