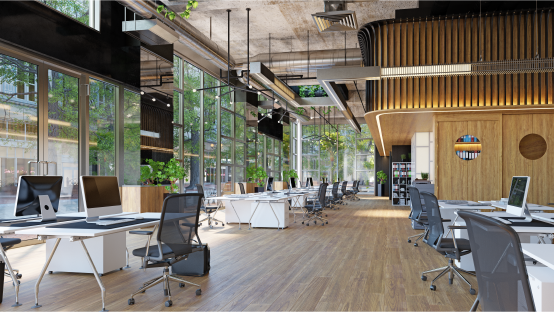 Updated February 22, 2023
Renovating your company's office space or a newly purchased commercial property is a great way to set your business up for success.
This guide will outline the steps involved in remodeling an office space, regardless of your company's size or vision, so you can maximize your company's renovation.
We'll go over the following steps:
---
---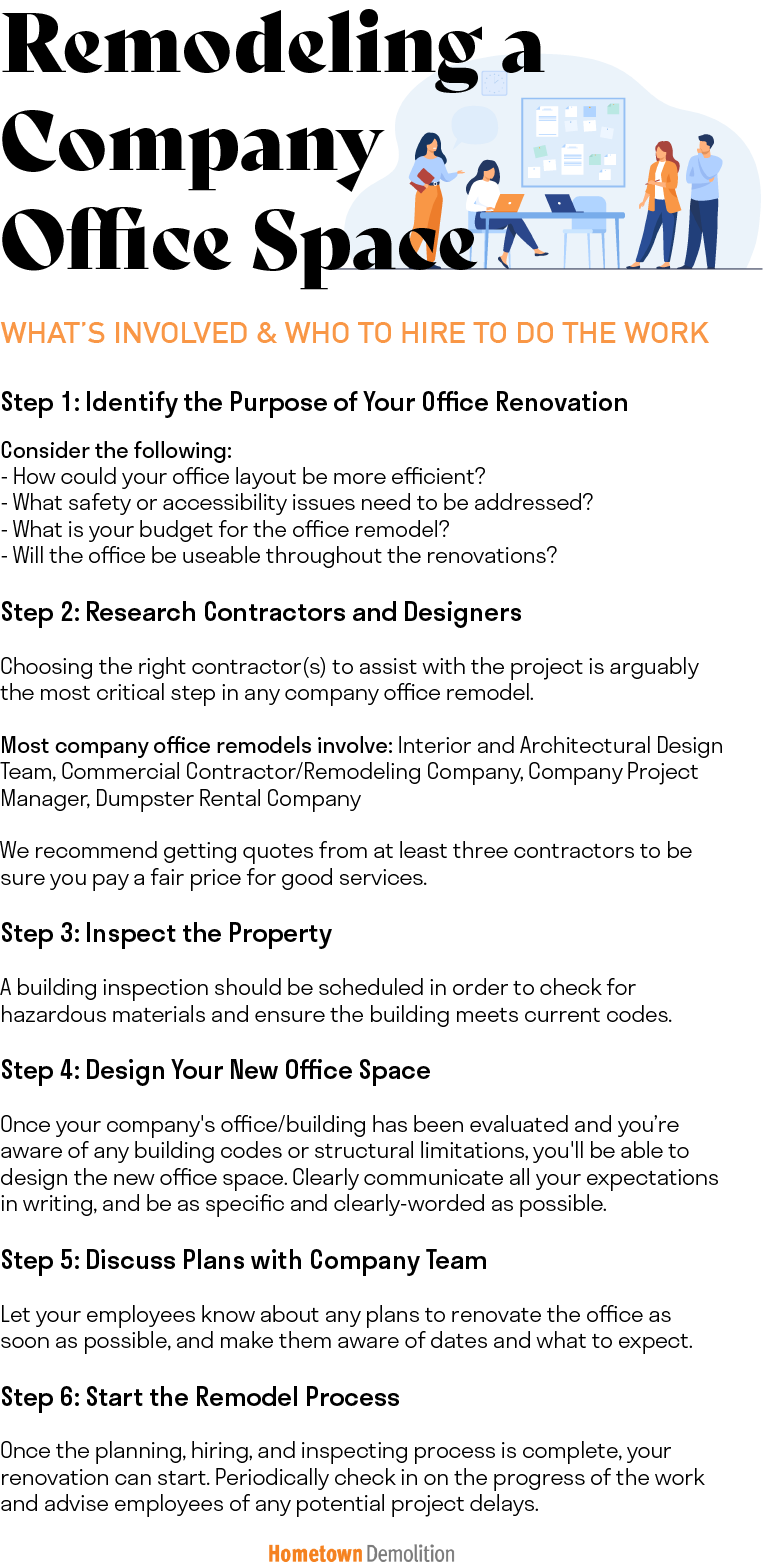 Step 1: Identify the Purpose of Your Office Renovation
Before beginning the design process, make sure you have a clear idea of what the purpose of your office renovation is.
Having an understanding of the result you're looking for will help to inform your decision-making throughout the remodeling process.
If you still need help setting goals for your company's office remodel, consider the following:
How could your office layout be more efficient?
What safety issues need to be addressed, such as exits, tripping hazards, ADA compliance, etc.?
Would your team(s) benefit from open, collaborative spaces or designated areas and individual offices?
Do you need to add more desks, tables, conference rooms, or designated workspace(s) for your employees?
Do you have enough bathroom and kitchen space to accommodate your existing staff and potential growth?
Once you have a solid understanding of your company's office remodel goals, consider the following:
What is your budget for the office remodel, including a percentage for contingencies that may arise?
Will the office be useable throughout the renovations?
When do you need to ensure the remodel is complete?
Do you need to hire a design firm to consult with about the remodel?
Will you also need to replace the office furniture, lighting, appliances, etc.?
Read on:
Step 2: Research Contractors and Designers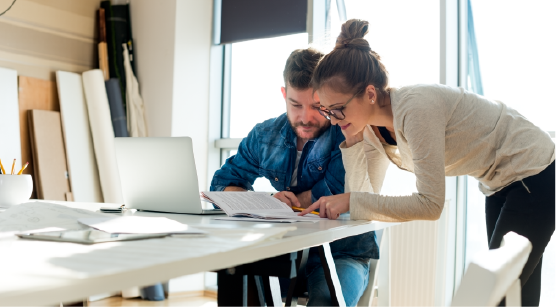 Choosing the right contractor(s) to assist with the project is arguably the most critical step in any company office remodel.
Ensuring your company's remodel is carried out properly by qualified professionals will help to minimize stress and additional expenses in the long run.
Most company office remodels involve the following professionals/services:
Interior and Architectural Design Team: These are the pros who specialize in interior and architectural design, which allows them to bring your vision to life with the help of the contractors who perform the physical work.
Commercial Contractor/Remodeling Company: These are the pros who renovate the building in accordance with the design team's plans.
Company Project Manager: This should be an individual within your company who will handle communicating with the various pros doing the work and those within the company.
Dumpster Rental Company: Find a reputable local dumpster rental company to handle the construction debris disposal.
Commercial demolition and remodeling contractors typically have the experience necessary to provide design advice, but hiring a separate interior design team can be highly beneficial, especially if you anticipate making a lot of design changes to the building.
We recommend getting quotes from at least three contractors to ensure you get a fair price for good service.
When reaching out to contractors and companies to gather estimates, look for those that have experience with office building remodels.
We also recommend asking for references from past clients and getting photos of their past work if you can't visit those buildings to see their work first-hand.
---
---
Find out more:
Step 3: Inspect the Property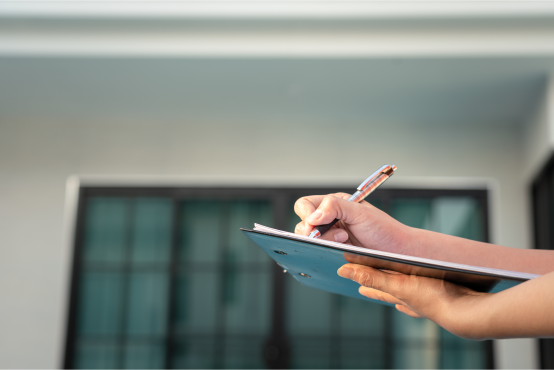 Once you have established your team of pros, a professional building inspection should be scheduled in order to check for hazardous materials, like asbestos, lead, and mold.
They will ensure that the building meets current codes before making any changes.
This will help to avoid costly surprises or mistakes as well as help with resale (and return on investment) down the line.
Areas to evaluate include:
Electrical, plumbing, and mechanical systems
Load-bearing walls and support beams
Emergency warning systems
Historic aspects of the building, especially if you'd like them preserved
If your contractor offers to handle the building inspection, we still recommend having a local building inspector present.
Read on:
---
---
Step 4: Design Your New Office Space
Once your company's office/building has been evaluated and you're aware of any building codes or structural limitations, you'll be able to design the new office space.
Whether you work with a design team or just an interior demolition/remodeling contractor, be sure you clearly communicate all your expectations with them in writing.
Be as specific and clearly-worded as possible. For example, if you need to create a collaborative workspace for 30 employees while making room for five offices and three conference rooms, make that clear to them.
Learn more: Remodel and Interior Design Trends to Watch in 2022
Step 5: Discuss Plans with Company Team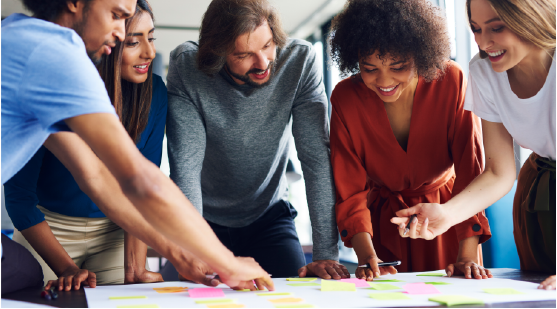 Let your employees know about any plans to renovate the office as soon as possible.
Even if you don't need to close down the office during the renovation, make them aware of any design changes and when they can expect inspections or demolition/construction crews.
If the office does need to be shut down, make sure you make them aware of dates and what to expect during office closure, as well as who to turn to with any questions they may have.
Step 6: Start the Remodel Process
Once the planning, hiring, and inspecting process is complete, your renovation can start.
Remember to maintain an open line of communication with your project manager and the work teams involved to stay on schedule as much as possible.
If your office is closed at any point during the remodel, periodically check in on the progress of the work.
Be sure to advise employees of any potential project delays.
Keep reading:
Enjoy the Benefits of Your Office Remodel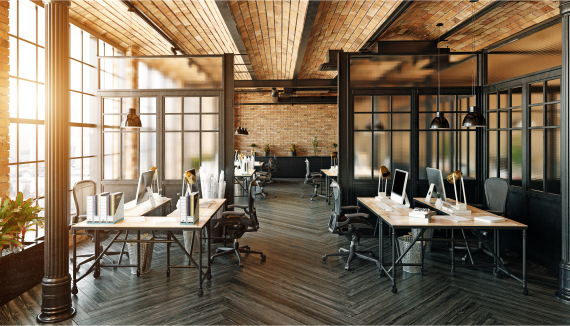 A corporate remodel can give your team a fresh and efficient space to work, which can foster work satisfaction and a better work ethic.
If your current office space doesn't work for your company, or you're outgrowing the space in some way, you can transform it into a more suitable and collaborative environment rather than moving.
---
---
Learn more: