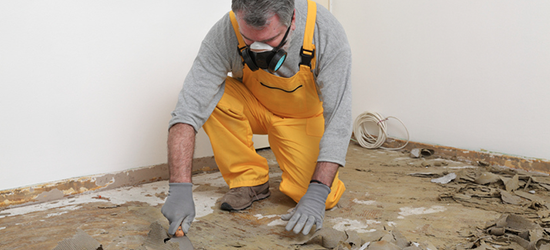 Updated July 20, 2021
When it comes to the world of DIY, there is endless information available to us. However, not every project can be completed with just a simple set of directions; some are more complex than that, and complications can easily arise.
We'll make it easier for you to determine whether or not your interior demolition project is DIY-able or better left to the pros.
There's no shame in admitting you need help with your project, so make sure you come to the best, most educated decision for you and your home.
The main factors you'll want to consider include:
Your experience
Time constraints
Cost
Non-Load-Bearing Wall Demolition
Experience Level: 2 / 5

Time Requirement: 2 - 5 hours

Average Cost: $0 - $100
Removing a non-load-bearing wall yourself isn't too complicated, and the only costs are basic tools and disposal.
However, it is still important that you do your due diligence before going to work.
Are you 100% certain this wall is non-load-bearing?
What is behind (or inside) the wall you are about to demolish?
Are there any electrical lines, pipes, gas lines, or hazardous materials, like asbestos, inside?
These are things you should know for sure before tearing down a wall.
If you can't answer these questions, don't leave anything to chance—get a hold of a professional.
Learn more about wall demolition:
Load-Bearing Wall Demolition
Difficulty Level: 4 / 5

Time Requirement: 5 - 15 hours

Average Cost: $500 - $1,000
Getting rid of a load-bearing wall is serious work and should not be underestimated.
Not only will pipes and electrical wires need to be rerouted, but the weight of the house will have to be safely redistributed elsewhere.
When a load-bearing wall is removed, it must be replaced with one of the following...
Horizontal beam - A "hidden" beam that stretches between two walls and has no vertical resting point
Beam and post - In addition to the horizontal beam, there is also a vertical post that extends to the floor, helping to support the beam and the weight above it.
Unless you have experience doing this type of work, you shouldn't take the risk.
Find a professional who knows what they're doing.
Kitchen Remodel
Difficulty Level: 4 / 5

Time Requirement: 24 - 72 hours

Average Cost: $10,000 - $30,000
Kitchen remodels can be big and complicated, or they can be simple and straightforward.
The overall difficulty and cost of this type of project will depend greatly on the work you want done.
If you want to relocate a sink or appliances, or if you want to change the overall design of your kitchen, that's a job best left to a professional.
However, if you just want to redo your cabinets, replace your appliances, and paint, then that's likely a job you could handle yourself.
Keep reading about kitchen remodeling:
Bathroom Remodel
Difficulty Level: 5 / 5

Time Requirement: 18 - 48 hours

Average Cost: $8,000 - $10,000
Don't get blown away by the experience level and average cost listed above; this is the average cost for complete bathroom remodels.
Just like kitchen remodels, bathroom remodels can be as simple or in-depth as you'd like, as cheap or as expensive as your budget allows.
If you simply want to replace your floors and toilet and paint the walls, you can expect to do so for a fraction of this average.
A simple remodel like that would be pretty straightforward to do yourself if you have the strength to carry a toilet and pry up flooring.
If you are planning a total bathroom remodel, on the other hand, it can be an extensive and complicated project.
If you plan on changing your bathroom layout and relocating your sink(s), toilet, bathtub, or shower, then there will be quite a bit of plumbing work that needs to take place.
Similarly, if you plan to relocate outlets or lighting fixtures, you'll need to have some electrical work done.
Because so much can go wrong with plumbing and electrical work, we always suggest hiring a professional to do the work unless you have extensive experience yourself.
Learn more about bathroom remodels:
Flooring Removal
Difficulty Level: 1 / 5

Time Requirement: 2 - 8 hours

Average Cost: $100 - $400
While floor removal is essentially the same process regardless of the type of flooring, the exact approach to take will depend on the specific type of flooring and whether or not you want to salvage the materials.
Generally speaking, flooring removal involves:
Carefully removing baseboards and/or trim work
Removing any built-in furniture or appliances if possible
Using the blunt side of a hammer to break up the first tile, panel, etc.
Using the chisel side of a hammer or pry bar to pop up the flooring
This isn't overly complicated work and doesn't require many tools, but it can get tedious if the flooring was installed with glue or breaks apart easily.
And if you want to salvage the materials, you will have to take the time to be careful not to snap or break the tiles, panels, or floorboards.
We recommend hiring a professional if any of the following are true:
It's painful to be on your knees for extended periods of time.
You have back pain.
You don't have the time or patience to pry up an entire floor.
Keep reading: Should I Handle Floor Removal Myself?
---
If you are impatient, get frustrated easily, or don't like the idea of doing manual labor during your free time, then DIY interior demolition isn't for you, and that's okay!
There are countless highly qualified interior demolition contractors near you who can help.
Find the best one for you with Hometown Demolition Contractors!
Learn more about hiring the right contractor for the job: