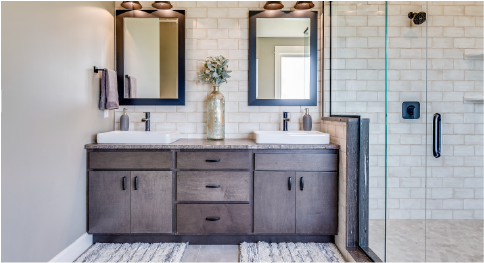 Updated January 23, 2023
Accessibility within a home is incredibly important and something most homeowners have to consider at some point throughout their life.
Whether you are preparing for old age in your existing home, moving a parent into your home to assist in caring for them as they age, or you or a family member have disabilities, a more accessible home is functional and reduces accidents.
In this article, we'll outline 3 projects that can not only improve your home's accessibility but potentially your home's value too.
Jump to project:
---
---
Improve Entryways
If your home has a porch, stoop, garage, or mudroom with steps or an inaccessible doorway, you'll likely need to build a concrete ramp (or install a metal ramp).
The pathways that lead from your front door to the garage and/or parking areas should measure at least 48 in. wide to be considered fully accessible.
Similarly, if you have a gravel driveway or pathways, these will need to be paved or adequately tamped and laid to make the surface smooth to accommodate wheelchairs and eliminate tripping hazards.
Overgrown plants or other landscaping that limits accessibility will also need to be trimmed back and relocated as needed to ensure pathways are clear.
If you have a front porch or stoop, it should measure at least 5 ft x 5 ft.
Finally, the door frames themselves will need to be large enough to accommodate wheelchairs.
A front door (and any interior door) is considered accessible if it is a minimum of 36 in. wide with at least 32 in. of clearance.
If you need to extend the width of your door frames, you can hire a contractor to help you.
Consider the Stairs
Stairs in a home can pose a particularly big challenge for those with physical disabilities or those getting up there in age.
This is why it helps to make a plan as early as possible in regards to the stairs.
Oftentimes, the most straightforward solution is planning a first-floor living area.
For example, you can turn a den and/or dining room into a suite for someone unable to easily go up and down the stairs.
A first-floor bedroom is desirable for all kinds of potential homebuyers.
If you need to remove interior walls to accommodate a first-floor suite, reach out to interior demolition contractors near you.
Upgrade Bathroom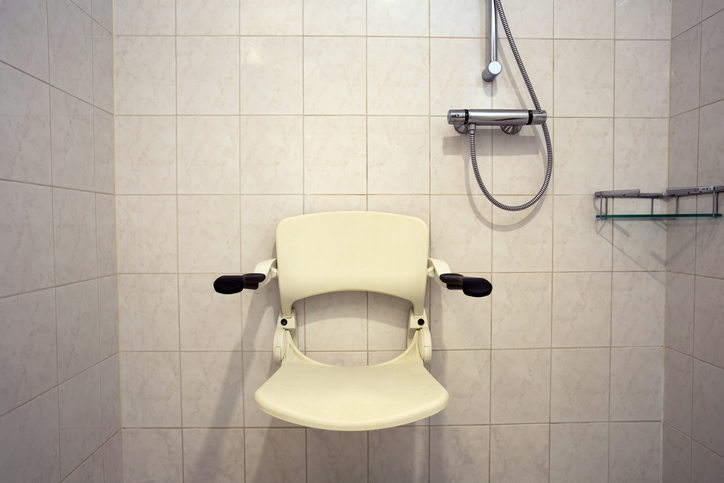 Bathrooms are another high priority when it comes to creating an accessible home.
Bathrooms are a necessity for everyone, and a high-risk zone for falls, which is why it's so important to go the extra mile to ensure accessibility and safety in this space.
To install grab bars and wall-mounted shower seats, the bathroom walls will need to be reinforced first.
If you need to expand the room to accommodate room for a wheelchair or assisting somebody in the bathroom, you'll need to knock down a wall to allow for this.
The sink should also be single-lever with at least 29 in. of clearance under the front edge of the sink and 30 in. x 48 in. of space in front of the sink.
The toilet should be 33-36 in. tall, with the seat roughly 17-19 in. off the floor.
A shower seat increases accessibility and general comfort, but should be 17-19 in. from the floor to be considered universally accessible.
A hand-held shower head with a hose 60 in. or longer is ideal, and a curb-free shower makes the shower fully accessible.
If you need to demo and remodel your bathroom, hire a local pro to assist you.
---
---
Read on: